Getting good-fitting sandals for wider feet may be a challenging task.
However, today I want to introduce you to an excellent sandal brand called TEVA, which creates some of the best available sandals to cater to wider feet.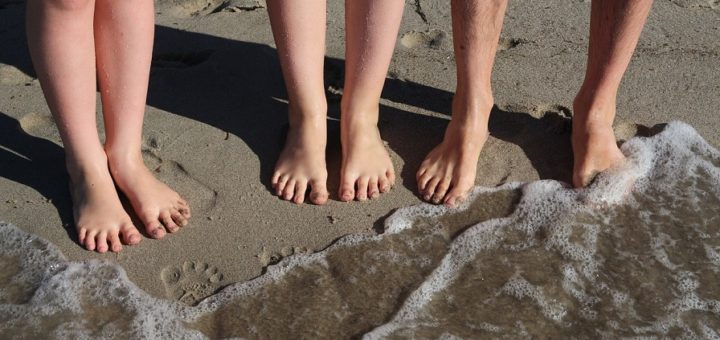 ---
---
The Issues with Wide Feet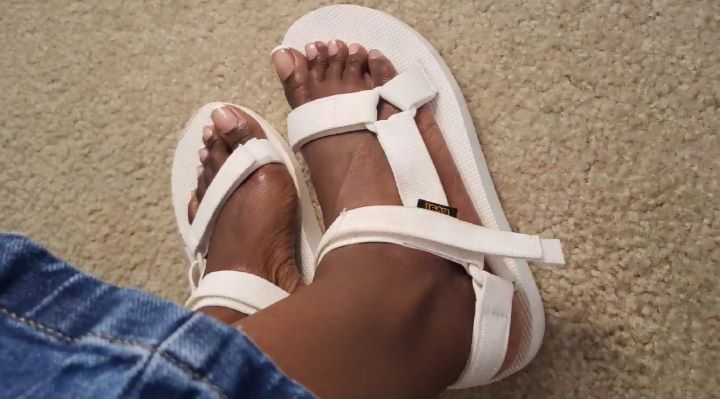 Whether you were born with naturally wider feet or caused by a medical condition or aging process, wide feet come with many challenges.
Most sandal brands and designs are narrow fitting and not flattering for wide feet.
The improper-fitting sandal can squeeze wider feet and toes, causing pain and issues such as Bunions, hammertoes, or even Claw Toes.
With wider feet, you need a wider, more roomy design sandal to provide comfort and room for your specific foot shape.
---
How are Teva Sandals Ideal for Wide Feet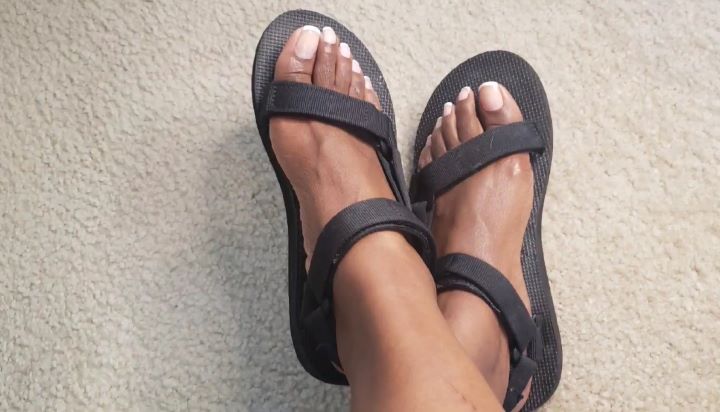 Adjustable Fit – All Teva sandal Models have either full, universal, or adjustable features for the fit. Hook and loop closures or buckle closures allow you to fully adjust the width and fit of the sandal to an extent where it is customizable. This, in turn, is ideal for a wider foot type.
Wider Width Options – Some Teva sandal models offer a wider width fit, such as the B or D width options, although they are not available in most models.
Roomy Fit and Footbed – Generally, I find that Teva sandal has a very roomy and accommodating Footbed and sole that will offer ample space for a wider foot type and plenty of cushioning and comfort.
---
Related Articles on Wide Feet Sandals
---
Features of a Good Sandal for Wide Feet

Teva Original Universal Styles – The Teva Universal from the Original Canyon range is their first sandal and top favorite. The Teva Original features universal adjustable straps, easy hook and loop closures, and a quick-drying Polyester blend material. The EVA footbed is designed for all-day Adventures. There is an EVA Midsole with a heel cup and cookie arch for better support. The Rubber outsole offers exceptional durability nf grip on a variety of surfaces. The Teva Original also does not feature a Microban treatment that fights bacteria and odors efficiently. This sustainable Vegan Sandal is created using synthetic and plant-based materials, and the webbing is constructed off recycled plastic using traceable and verifiable REPREVE technology polyester yarns.
The Teva Hurricane Style – Another favorite in a more robust sandal, the Teva Hurricane XLT range offers even more comfort and much better traction than ever. The XLT has adjustable soft straps, a cushioned footbed, and a highly durable and high-traction Durabrasion rubber outsole. Furthermore, the Hurricane features a Nylon shank for stability and underfoot protection in the sole.
Mush Flip Flop Design – The Mush Flip Flop, now available in the latest Mush 2, is afoot, conforming comfort Flip Flop with new styles and designs for all-day wear. The Mush Flip Flop has Repreve Polyester upper Webbing, a comfortable Mush Technology Cushioning Topsole, and an EVA foam outsole.
The Teva Tirra Design – The Teva Tirra is a multi-purpose design sandal for ladies with quick-dry polyester webbing utilizing the Repreve recycled plastic Polyester fibers fully adjustable with Hook and Loop Closures. A supportive EVA midsole with additional arch support and a nylon shank for stability on uneven terrain. The footbed features a Shock Pad in the heel for better impact absorption and comfortable cushioning. The Rubber outsole has a rugged Spider design that is ideal for wet conditions and extremely durable. You can also get the Tirra in a design with a closed toe for added protection.
The Teva Omnium Fisherman Style Sandal Range – The Omnium is an all-purpose closed Fisherman's style sandal from Teva with premium mesh and synthetic uppers fully adjustable with a hook and loop closure. The Footbed is cushioned with Shoc-Pad technology in the heel to absorb impact and treat Microban technology to fight foot odor. There is a Spider design rubber outsole for optimal traction on wet surfaces and a protective rubber toe cap.
Teva Voya Sandals for Women – The Voya range is a versatile and quick-drying sandal with loads of style and fashionable appeal for ladies. The Voya has a range of strappy designs for ladies and is an absolute summer staple. The Voya features the popular light, and comfortable Mush technology cushioned footbed and Repreve Polyester upper webbings. The Elastic Gore allows for a quick and easy on and off, and lightweight EVA foam provides comfort and support. The Sole is likewise treated with Microban for protection against bacteria and odors. You can get the Voya in closed style and slip-on styles.
The Original Dorado Teva Sandal – The original Dorado from Teva is a retro sandal water-ready and environmentally friendly with versatile style and comfort features. The Quick-dry upper consists of the Repreve Polyester with adjustable features and hook and loop closures. There is a supportive and comfortable Molded EVA footbed and heel cup with air cushioning for shock absorbency. The Rubber outsole offers long-lasting durability and traction, and Microban technology ensures your feet are odor-free.
The New Hurricane Drift – Like Hurricane XLT, the Hurricane Drift has a few different features in store. The sandal features an injection Molded silhouette with a super lightweight design. There are easy hook and loop closures for adjustability, and only synthetic and plant-based materials are used to make the Drift.
The Teva Meacham and Minham for Gents – For the Gents, the Teva Meacham and Minham are more fashionable sandals that still offer full adjustability with hook and loop closures. Shoc-Pad heel cushioning technology and an EVA footbed offer cushion, comfort, and a durable, rugged Spider outsole. The uppers are quick-drying and synthetic, and the midsole is likewise contoured for better support.
The Teva Terra F1 5 Universal for Men Range – We end with the Teva Terra f1 5, similar to the Universal design, with better features. The Terra has a quick-drying silhouette that is lightweight and fresh in design. There is a molded PU midsole for support and an ultra-grippy rubber outsole. The improved quick on and off-design hook and loop closure is durable and allows optimal fast adjustability.
Width Options – Although Teva does not offer wider width options in most of their sandal ranges, I have chosen models for our list that generally have a wider fit. Teva sandal is a medium to wide fit design with adjustability features in its straps, allowing you to fully adjust the fit for comfort, even if you have wider feet.
---
Reviews: Teva® Best Sandals for Wide Feet
Here are some of the best models in Teva sandals that offer a wide and comfortable fit.
We hope you love the sandals we recommend!
We may collect a share of sales or other compensation from the links on this page.
---
1
Outdoor Sandals for Wide Feet
The Teva Hurricane XLT is an Outdoor design sandal from Teva that offers full adjustability for a wider and more comfortable fit.
The uppers consist of Repreve Polyester, recycled plastic fibers with quick-drying technology.
All upper straps' full adjustability allows you to get the most comfortable fit.
The footbed is a robust EVA for all-day adventuring with a Nylon shank for stability on uneven terrain in the sole.
There is a durable rubber outsole for traction and grip on most outdoor surfaces.
The Injection Molded straps also allow for quick and easy grip and adjustability.
---
2
One of the Top favorite Teva sandals for all shapes and sizes of feet is their Original Universal fit sandal.
The Upper consists of quick-drying webbing made from Repreve Polyester fibers with full adjustability features and hook and loop closures.
There is a comfortable molded EVA footbed with a heel cup and cookie arch for support.
The outsole consists of durable rubber and has a high-traction tread.
Furthermore, the top sole is treated with Microban Technology to prevent odors and bacteria.
You can get the Teva Universal in many colors and patterns in the upper, with the solid black sole.
---
3
Flip Flop Sandal for Wide Feet
The Teva Mush Flip Flop is soft and comfortable for everyday wear, with a more open and wide-fitting design.
You can wear the Mush every day casually or even to the beach and pool. It is available in a few styles and colors for your perusal.
The uppers are soft and quick-drying polyester webbing.
The soles are the popular soft, Mush, lightweight EVA firth with a durable outsole for traction.
The MSUH technology top sole offers exceptional plush and light comfort.
---
4
Outdoor Sandal for Wide Feet
The Teva Sierra and Katavi are adjustable sandals with a wide fit for wider feet.
The Minam has waterproof leather and textile uppers, while the Sirra features a quick-drying Polyester upper.
Both sandals offer an adjustable fit for wider feet with hook and loop closure systems.
There is a supportive and cushioned EVA Foam footbed, and the Minam also features shock-pad technology in the heel.
The Midsole shank in the Sirra ensures better stability and support.
Both sandals feature a durable Durabrasion rubber outsole for grip and traction.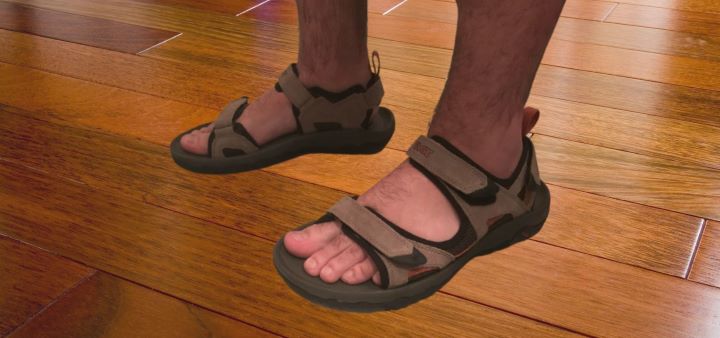 ---
5
Wide Feet Water Friendly Sandal
The Teva Original Dorado has an adjustable fit and a roomy and comfortable design for wider feet.
The uppers are fully adjustable in fit with an easy-to-use plastic buckle as a closure.
The uppers consist of a soft and quick-drying Repreve Polyester.
There is a molded PUEVA cushioned footbed for support and comfort,
The Durable rubber outsole ensures excellent traction and grip on wet and dry surfaces.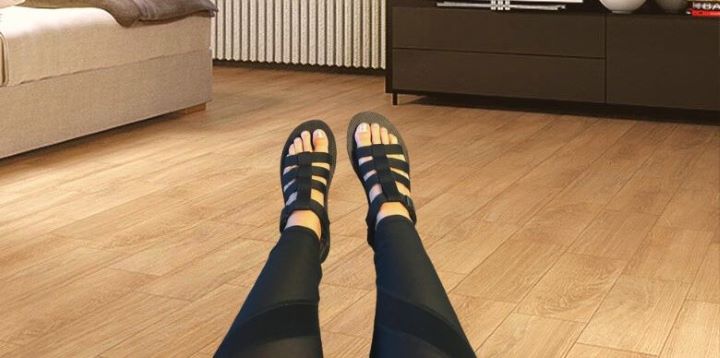 ---
6
Leather Flip Flop Sandal for Plantar Fasciitis
The best available design for wider feet is a comfortable and roomy Teva Voya Flip sandal with the foot-conforming Mush Top sole.
The Upper webbing consists of premium leather, soft microfiber lining, and a roomy fit.
The Footbed has a MUSH technology plush top sole and a lightweight and supportive EVA midsole.
The patterned lug outsole provides excellent traction.
There are also a few neutral color options available from which you can select.
---
7
Teva Hiking Sandals for Wide Feet
The Hurricane Verge offers a customizable and wide roomy fit for wide feet.
The sandal is ideal for hiking and everyday wear.
The footbed offers good support and cushioning,
The outsole is a durable rubber.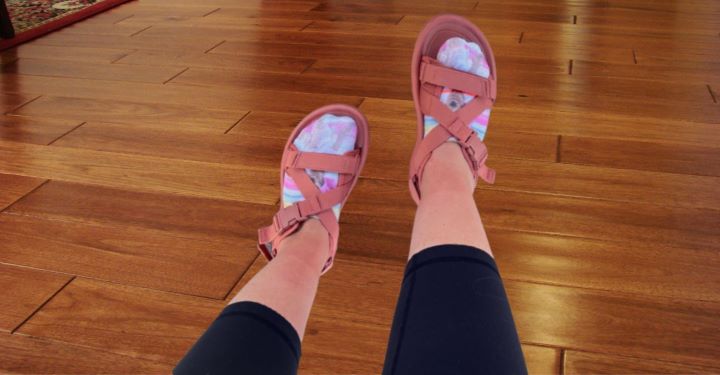 ---
8
These are two wide-width flip-flops for wider feet.
They have leather and synthetic uppers.
The footbed is cushioned with Mush and EVA.
There is a durable and high traction rubber outsole.
---
9
Here we have strappy slide sandals for wide feet.
The fit is wide and roomy, with wide widths available.
There is an EVA foam footbed and a durable outsole for good traction.
The flip-flops are available in a few more colors.
---
10
Outdoor Wide Feet Sandals
The Teva Hurricane 4 is the ideal hiking sandal for wide feet.
It has adjustable and textile uppers that dry fast.
There is a Cushioned footbed with ShockPad cushions.
The sole is a Durabrasion high abrasion-resistant rubber.
---
Index Table: Top Rated Sandals from Teva® for Wide Feet
---
---