Bunions can be unsightly and very painful, as anyone who has them knows. A Closed style shoe may add unnecessary pressure to Bunions and may not always be ideal in the hot summer weather.
In this article, we concentrate on a specific brand, Teva, and look at some sandal models that they have to offer, ideal if you have Bunions.

---
Issues with Bunions
A Bunion is a painful bone deformity that causes much pain and stiffness in your Big Toe.
Bunions are mainly caused because your Big Toe presses against your next toe or shoes, mainly because of wearing shoes that are too tight-fitting or high heels.
Pain And Discofmort – Bunions are Painful and uncomfortable and can be especially uncomfortable and painful when shoes or sandal presses against them.
Stiffness in Your Big Toe – Bunions may cause stiffness in the big toe, and you may eventually not be able to move your big toe anymore.
Pain and Imbalance When Walking – It may be painful to walk, and you may struggle to keep your balance when you have a more severe Bunion.
Looks Unsightly – Let us face it. Bunions do not look good, and this, in turn, may curb your confidence and cause you to wear even more improper footwear to hide the fact.
Confined to Hot Closed Footwear – When you have Bunions, you may want to hide or protect them by always wearing closed-style footwear. This can cause more pressure on Bunions and become very hot in warmer weather conditions.
Chafing and Frictions – Bunions that chafe against your shoes or socks can become blisters and sores, eventually making them even more painful and risking infection.
---
So What Should You Do
The main way to prevent further aggravation of Bunions is to wear proper Footwear, which does not place pressure on Bunions and provides good underfoot cushioning.
Sandals for Bunions – If you think about it, sandals may not hide your Bunions as much, but they do provide open freedom with no pressure that can help to prevent and alleviate Bunions. As we feature from Teva, some sandal designs will create an illusion hiding Buniosn while not putting any extra pressure on them.
Cushioning for Bunions – A cushioned and supportive footbed helps to prevent painful impact when you walk or run that can affect your Bunions.
Adjustability – What I absolutely love about the sandal range from Teva for Bunions is the fact that they offer full adjustability. So you can adjust the fit not to place pressure on your Bunions but still to offer a secure fit to prevent friction and slip.
---
Features of a Good Sandal for Bunions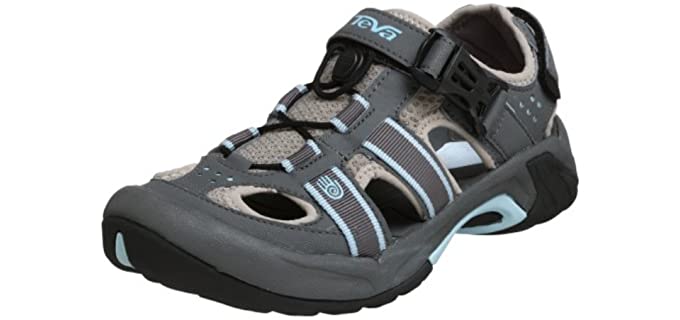 Teva Original Universal Styles – The Teva Universal sandal comes from their original Canyon range. The Universal Design of this sandal allows for full adjustability with easy hook and loop closures. This, in turn, is a great option to accommodate Bunions and painful foot deformities, as you can adjust the fit according to your precise needs. Furthermore, the footbed offers cushioned comfort with an EVA footbed that has a heel cup and cookie arch for support, as well as a shock-absorbing EVA midsole. Mocriban technology keeps odors and bacteria at bay, and the high traction rubber outsole ensures better stability and long-lasting durability. The uppers consist of a quick-drying, soft, and comfortable Polyester that will not chafe or irritate your feet.
The Teva Hurricane Style – The Teva Hurrican XLT is a light and comfortable sandal for Hiking and outdoor trips that comes with the new innovative soft padded heel strap. The uppers are a sift Repreve Polyester material that dries quickly and is gentle against painful bunions. The uppers are likewise fully adjustable with hook and loop closures. A comfortable and robust EVA footbed and a Nylon shank in the sole offer better stability on uneven terrains. The straps are injection molded at the ends, providing more comfort, and are easy to adjust. Then we get the Hurricane Drift, which is similar in design, yet much more lightweight and ideal for water activities and festival wear. The Hurricane Drift has adjustable hook and loop straps with Full injection-molded EVA as materials to be ultra-lightweight and comfortable on your feet.
Mush Flip Flop Design – For something comfortable to wear at home that will not exactly hide your Bunions but allow them some rest, the MUSH Flip flops in both the original and second design are ideal. The Upper consists of soft polyester webbing, which will not touch your Bunions. The Footbed is extremely plush and comfortable with a MUSH technology Top sole and a lightweight EVA foam outsole and midsole for shock absorbency. The Mush design is available in more color options and other styles besides the Flip Flop range.
The Teva Omnium Fisherman Style Sandal Range – A design that, to me, is perfect for Hiding unsightly Bunions yet still providing comfort is the closed style Omnium from Teva. The Omnium has a Fisherman-style closed design with soft Mesh and synthetic uppers that will not cause any friction and a protective rubber toe cap. The footbed is cushioned with Shoc-Pad technology in the heel and a soft EVA footbed. Microban technology in eth top sole provides extra protection against odors and bacteria. The outsole is a rugged spider web design with durable rubber to better grip slippery and uneven terrains.
Teva Voya Sandals for Women – For the ladies, the way sandal range offers a more strappy versatile style in various designs that will hide unsightly Bunions and provide excellent comfort. The Voya range comes in many different strappy and other styles with the soft Polyester upper from Repreve sourcing and a comfortable and lightweight MUSh cushioned top sole. The Lightweight EVA midsole provides excellent shock absorbency, while the durable rubber outsole ensures exceptional grip and traction. Furthermore, there is a Microban top sole to keep odors at bay and reduce bacteria growth. Many styles and colors are available from which you can choose, and there are also low-heeled or wedge sole options.
The Original Dorado Teva Sandal -The Original Dorado is a water-ready outdoor sandal with adjustable polyester webbing uppers from verifiable Repreve Polyester fibers. There are easy hook and loop closure straps for full adjustability and a plastic buckle closure system that is easy to close. The Molded EVA midsole with heel cup and cookie arch provides optimal support and comfort, along with the protection of a Microban treated top sole. A durable rubber outsole ensures excellent traction on a variety of surfaces.
The Teva Meacham and Minham for Gents – For the gents, the elegant and stylish Meacham and Mina are comfortable and fully adjustable sandals with hook and loop closures to accommodate and hide unsightly Bunions. These sandals offer synthetic and textile uppers lined for your comfort that are also water-ready and rugged. The footbed is a comfortable EVA with Shoc-Pad heel technology in arch support. There is a Nylon shank in the sole for stability and underfoot protection and a highly durable rubber outsole with the spider tread for optimal traction and grip on uneven terrains and wet surfaces. Furthermore, the contoured design of the EVA midsole ensures that you have better support and comfort.
The Teva Terra F1 5 Universal for Men Range – For outdoor enthusiasts, the Teva Terra F1 5 is an all-terrain sandal with quick-drying uppers as well as an old comfort PU midsole for cushioning. The Upper consists of the quick-drying Reperev polyester with adjustable hook and loop straps so that you can get a more accommodating fit for Bunions. A rugged spider rubber outsole for optimal traction and grip in wet conditions is very durable and long-lasting.
---
Reviews: The Best Sandals for Bunions
Below you will see some of the best styles and designs in TEVA sandals that will provide comfort and protection when you have Bunions;
---
1
The Teva Omnium is my top favorite for Bunions as it offers a wide and comfortable fit and hides unsightly Bunions.
The Upper is a soft synthetic leather with a smooth mess lining to prevent friction against painful Bunions.
There are adjustability features in the fit with a Bungee Lacing system.
The Molded EVA foam midsole offers excellent support and cushioning.
There is also a Spider Rubber outsole that offers superb grip, especially n wet conditions.
There are a few color options available in neutral colors from which you can select.
---
2
The Teva Hurricane XLT is a fully adjustable design sandal with hook and loop closure straps, allowing you to get a fit that accommodates Bunions.
The Upper consists of water-ready polyester webbing that is soft and non-irritating against your skin.
The Upper is fully adjustable in fit with easy hook and loop closures.
Ther is a robust and comfortable EVA footbed with a durable Nylon shank for stability in underfoot protection.
The Injection Molded strap ends allow quick and easy grip as well as a comfortable fit.
Furthermore, a durable rubber outsole with lug tread ensures superb traction and grip on various surfaces.
This model is available in plenty of color and print options from which you can select.
---
3
The Original Universal from Teva offers a comfortable and fully adjustable fit, and their original style is available in many colors and print selections.
The Quick-drying uppers webbing consists of Repreve Polyester materials sourced from recycled plastics.
The uppers offer full adjustability with quick and easy hook and loop closures.
There is a Molded EVA footbed with a Heel cup and cookie arch for full support and a microban treated top sole to prevent odors and bacteria.
The rubber outsole provides durability and excellent traction for most surface types.
---
4
The Teva Sierra has a More Open and Strappy design with very light and adjustable Textile straps.
The Lite and Adjustable textile straps are gentle against Bunions and still create a feminine flair.
The Ladder Lock design fit offers you a customizable fit option.
There is an EVA foam midsole for lightweight comfort and a rugged Durabrasion outsole for grip and traction.
You can likewise select from a large variety of bright and neutral color options.
---
5
The Teva Tirra is another excellent model for Bunions in a more rugged outdoor sandal.
There are synthetic uppers with adjustable straps and quick-drying materials.
Neoprene foam and stretch mesh linings are gentle on the skin and provide a moisture-wicking barrier.
The spongy EVA cushioned Topsole, and the EVA midsole provide extra cushioning and comfort, while a Microban treatment keeps odors at bay.
There is also shoc-pad technology for impact absorption in the heel.
Other than that, you can rely on a very durable and high traction full rubber outsole with a lug tread.
The specific model I have chosen is a wider B width, which is more accommodating for bunions.
---
6
The Teva Dorado has soft textile uppers that offer a fully adjustable fit and open toe.
While the strappy uppers create a more appealing feature and less focus on your Bunions, your big toe is still open with absolutely no pressure or friction.
The Upper consists of a soft, quick-drying Polyester that is adjustable, with a plastic buckle closure for quick and easy on and off.
Ther is a PUEVA foam midsole for cushioning and support.
A durable rubber outsole provides excellent traction and grip[.
These sandals are also available in a large range of colors and patterns.
---
7
The Teva Hurricane Verge has adjustable uppers to accommodate bunions and a design that will also hide them.
The uppers are a quick-drying textile, and there is a lug rubber outsole.
The footbed is cushioned and supportive.
This sandal is ideal for trail walking and hiking.
---
8
Although your bunions may show a bit in these flip flops, they will not be agitated or overheated.
The flip flops have comfortable leather and textile uppers and a durable rubber outsole.
There is a MUSH top sole and EVA midsole for a plush and comfortable cushioning.
There are also a few more color options available in the Flip Flop.
---
9
These are slide sandals that provide more coverage and an accommodating fit for bunions.
They have synthetic and textile uppers straps and are easy to slide on and off.
The footbed is a Light EVA and supportive.
They are ideal for casual and leisurewear at home or elsewhere.
---
10
The Teva Hurricane 4 is another Hiking and outdoor sandal for bunions.
It has quick-drying textile uppers.
The design offers some coverage and a comfortable adjustable fit.
It has a cushioned footbed that also features ShocPad shock-absorbing technology.
The outsole is a Durabrasion high abrasion-resistant rubber.
---
Index Table: Top Rated Sandals for Bunions

---
---