Having wider than normal feet means that you will need to invest in good footwear that accommodates the width of your feet.
Keep in mind that this will also be applicable to your slippers. Slippers generally do offer a more roomy fit. However, you may need to look for the best slippers for wide feet.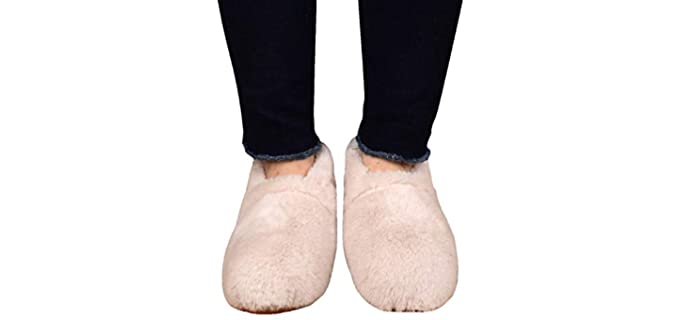 ---
Slippers for Wide Feet
When you need to consider slippers for wide feet, you should look for quality brands that offer a more wide and roomy fit.
Most Orthopedic slippers have wider fits and usually have an adjustable style so that you can customize the fit.
You can likewise opt for slippers that are available in wide and extra-wide width options.
---
Why Wear Slippers at Home
You may have wondered, besides just for keeping your feet warm, why there is such a fuss about wearing slippers at home.
Well, here are a few compelling reasons why wearing slippers at home are so beneficial;
Keep You Healthy – Did you know that walking bare feet on cold floors can actually lead it illnesses such as colds and flu. When your feet are cold, your body, in turn, becomes cold, and losing heat means there is less blood circulation. Thus, your immune system is impaired by the lack of blood circulation, increasing your risks of getting illnesses, such as cold and flu.
Protection – Slippers provide protection against physical hazards such as slips and falls, puncture and pressure wounds, as well as against fungal and bacterial infections.
Healing – When your feet are aching, swollen, or just tired, there is nothing like a good pair of slippers to help provide comfort and support, as well as a more accommodating fit to reduce swelling. The heat slippers provide improved blood circulation, which also helps with healing and swelling.
---
Features of a Good Slipper for Wide Feet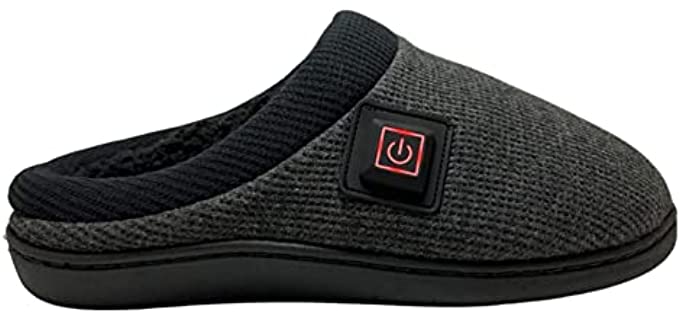 Uppers – Slippers can have Genuine soft leather, suede, knit, fleece, or fabric uppers depending on the models.
Comfort Features – For comfort the slippers may have a cushioned footbed or insole that can be EVA, or Memory foam, or Foam. The footbed may also offer arch support and a comfortable lining.
Outsole – The Outsole may be a soft leather or suede for indoor use only, or a more durable rubber for indoor and outdoor use.
Options – Depending on the brand and model there may be some color choices, as well as wider width options.
---
Reviews: The Best Slippers for Wide Feet
These are some of the most comfortable, and cozy slippers for wider feet;
---
1
From Isotoner, we have two slipper models that are ideal for wider feet.
They are both open-back and closed-toe slippers that are more suited to summer and warmer weather conditions.
The Isotoner slippers for women consist of 100% polyester, with soft micro terry and a stain trim.
They have a uppers indoor and outdoor rubber outsole.
There is a supportive, and cushioning memory foam footbed and a Multi-layered PillowStep cushioned insole to hug and support your feet.
The Isotoner for men has microsuede uppers that are also 100% polyester. They offer good arch support with a Gel Infused insole and memory foam footbed.
There are more colors and wider widths available in both slipper models.
---
2
The Acorn Moc slippers are a roomy fit and closed design slipper for wide feet.
The premium design is a Moccasin House shoe design.
There is a memory foam and flexible Cloud cushioned insole and a memory foam footbed.
The uppers are soft and breathable, ideal for winter and summer.
There are genuine suede sidewalls and a durable indoor and outdoor rubber outsole.
Sizes are extended, and wider widths are available, along with a few neutral color options.
---
3
The Orthofeet Orthopedic slippers come in wider widths and have adjustable fit options, with a Velcro strap on the uppers.
They are leather slippers with an open back and lined interior.
The slippers offer layers of cushioning that are removable to accommodate your own orthotics and good arch support.
They have a deep heel cup and stability sole.
There is a durable indoor and outdoor use rubber outsole.
The slippers are available in a few neutral color selections.
---
4
Adjustable Slippers for Wide Feet
The LongBay slippers are ideally Orthopedic and diabetic slippers that too have adjustable fit uppers.
They have a durable and non-slip rubber outsole.
The slippers feature soft velvet corduroy uppers with a cozy coral fleece lining and a hook and loop wrap strap for a customized fit.
There is a high-density 80-D memory foam and EVA cushioning system and ergonomic design for full support and cushioning.
There are three color options available from which you can choose as needed.
---
5
Moc Toe Slipper for Wide Feet
The UGG Olsen and Dakota slippers are moccasin slippers with a roomy fit for wide feet.
They are genuine soft suede leather with dyed sheep fur for a lining and a moccasin toe style.
The slippers are a closed and warm design for cooler weather.
They have a durable rubber outsole of excellent slip resistance.
The UGG slippers are available in a few more neutral color options.
---
6
Light Summer Slippers for Wide Feet
These are two slide-style slippers from Dearfoams that are available in wider widths.
Because of their open design, the slippers are more suited to warmer weather conditions.
The men's model is polyester with a memory foam insole and durable rubber insole.
The men's model also features no-sweat breathable DF Adapt technology to keep your feet cool ad dry.
The women's model has a rubber outsole and Microfiber terry uppers with a lining and trellis stitching in the toe.
There is multi-density cushioning and wedge heel cushioning in the women's model.
Both slippers are machine washable and available in more colors.
---
7
Leather Slippers for Wide Feet
The Bearpaw Moc slippers are comfortable and lightweight for wider feet.
They have a high-quality design with leather uppers and a full sheepskin lining for warmth.
The slippers have a durable insole in TPR rubber for indoor use.
They are cushioned for comfort and have a roomy fit.
There are many colors available, as well as wider width options.
---
Index Table: Top Rated Slippers for Wide Feet
---
---