Knee pain is quite a common complaint among many adults. There are many ways to remedy and even help prevent knee pain: wearing supportive and cushioned shoes daily.
When relaxing in your favorite slippers at home, you may not have given them much thought, but they also need to provide good support and cushion, especially if you suffer from knee pain.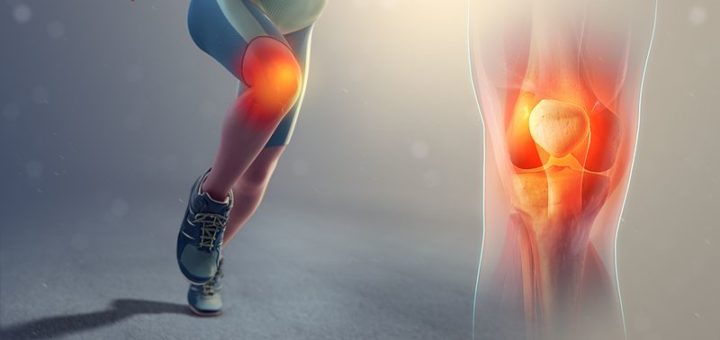 ---
---
Common Knee Problems
Most knee problems are because of the aging process and continual stress and wear on the knee joints. Other knee problems may result from sudden movements causing strains or overuse injury.
Whatever the cause, the right shoes and, in turn, slippers can help with the symptoms and the healing process.
Here are a few common knee problems, in which case a good pair of supportive slippers may offer some help;
Strained and Sprained Ligaments – A strained or sprained knee ligament or muscle may lead to knee pain. This can be caused by a sudden twist, jerking movement of the knee, or even a blow to the knee.
Torn Cartilage – Any trauma to the knee can tear the shock-absorbing menisci pads of the cartilage, causing pain and inflammation. Sprains can also lead to cartilage tears.
Tendonitis – Inflammation in the tendons in your knees resulting from an activity or overuse injury from running, jumping, or cycling can cause knee pain. Tendonitis in the Patellar tendon, often called Jumper's Knee, is the most common.
Arthritis – One of the most common types of Arthritis that affects your knees is Osteoarthritis. It is a degenerative type of Arthritis that gradually wears away the cartilage in your joints. Osteoarthritis mostly affects middle-aged and older individuals. Excess joint stress can be caused by overweight or a repeated injury. Rheumatoid Arthritis is another type of Arthritis that can affect the knees, causing the joints to become inflamed and destroying knee cartilage.
---
Preventing and Treating Knee Pain
Besides wearing properly supportive footwear and slippers, there are a few ways in which you can treat and prevent knee pain;
Try to Keep Your Weight Down – Excess weight can cause stress on your knees, feet, and ankles and, in turn, may lead to knee pain. Keeping a healthy weight can help.
Proper Preparation For Sport – be careful with sport and exercise. Please ensure you warm up properly and that you only gradually increase the pace and introduce new returns to prevent injuries to the knee.
Rest – If you have a knee injury or inflammation, it is advised to hold off on physical activities and give your knee some time to rest and heal before starting with activities again.
Be Smart About Excise – Good exercise is always advised, but be careful with your exercise routines. If you have bad knees or suffer from knee pain, avoid exercise routines involving movements that impact your knees. Switch to routines such as swimming and low-impact activities.
Proper Footwear – It is important to wear the right shoes daily and for exercise and sports to protect your knees from impact and support your feet properly. This is also advised for slippers.
---
Features of a Good Slipper for Knee Pain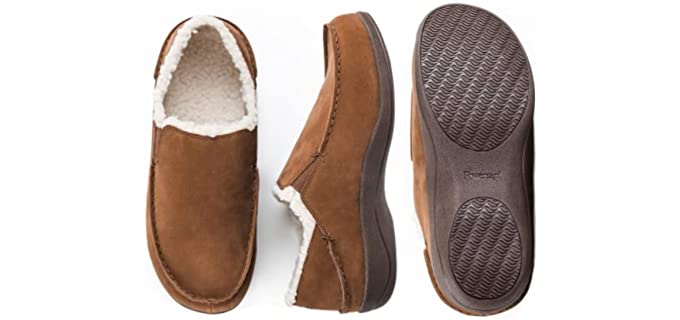 Uppers – Look for slippers that have comfortable uppers that offer a roomy and flexible fit. Soft leather, suede, knit, and fabric uppers are ideal, depending on whether you need warmer winter or cooler summer slippers. Many winter slippers likewise come with a warm fleece or shearling lining.
Proper Heel-To Toe Drop – Your slippers need a slight heel-to-toe drop rather than just a uniform sole that may benefit your knees.
Support and Cushioning – Look for slippers with a slightly more rigid sole for stability and a well-cushioned footbed. Arch support and a heel cup are beneficial as they provide good alignment and stability.
Outsole – I suggest a firmer Indoor and outdoor outsole for Knee Pain slippers, as a soft sole may not provide needed cushioning and support. However, some indoor EVA soles may be acceptable. Rubber offers a durable and slip-resistant outsole.
Options – The slippers we have chosen for knee pain will be available in a few more color selections, plenty of sizes, and wider widths in some models.
---
Reviews: The Best Slippers for Knee Pain
---
1
Orthopedic Slippers for Knee Pain
The Propet Cush N Foot slippers are Orthopedic slippers ideal for Knee Pain.
The uppers are flexible and have an adjustable fit.
The slippers are cushioned with a removable footbed, allowing you to use your orthotics.
There are also more colors available.
The outsole is a durable rubber.
---
2
The Keen Howser has a sturdy design and secure fit for knee pain.
They offer stability and support and memory foam cushioning to prevent knee pain.
The uppers are flexible and waterproof.
There are also more colors available.
---
3
Cushioned Knee Pain Slippers
The Acorn slipper is a Moc toe plush slipper.
The slipper has suede uppers and faux fur lining.
There is a rubber outsole for durability and stability,
The slippers offer plush memory foam cushioning and a contoured footbed for support.
They are also available in many colors, as well as upper materails.
---
4
Knee Pain Closed Heel Slippers
The Spenco Supreme and Siesta slippers have a closed design and comfort features for knee pain.
They have orthotic-grade arch support and a compression-molded, cushioned EVA footbed.
The outsole is a non-marking and slip-resistant rubber.
There are also a few more color options available in this range.
---
5
These slippers may be different brands, but they are similar in style and ideal for knee pain.
The Dr. Comfort slipper has suede leather uppers with a fleece lining and a gel-cushioned insole.
The Vionic slipper has sued uppers, a shearling lining, and a wrapped EVA cushioned footbed.
Both slippers have stability and a durable rubber outsole.
---
6
Orthopedic Slippers for Knee Pain
Orthofeet is a popular Orthopedic slipper brand that makes some of the best slippers for knee pain.
Their slippers have layered cushioning and good arch support.
The footbed has an anatomical shape for proper alignment.
They are available in wider widths and have a roomy toe box.
---
Index Table: Top Rated Slippers for Knee Pain
---
---