The right flip flops for wide feet can be very comfortable and suitable for those warm summers.
This article will examine flip-flops offering good comfort features and a wider fit option.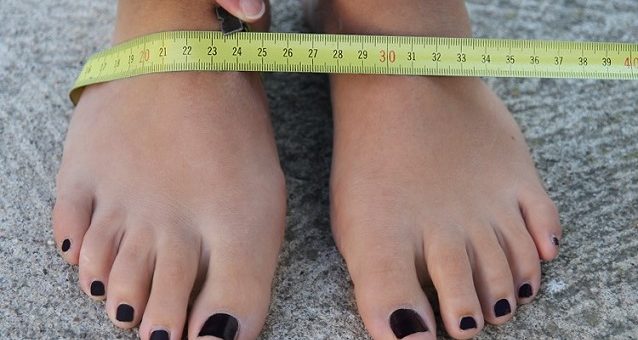 ---
---
Wide Feet Causes and Concerns

As someone who has wide feet, you may be wondering what some of the causes and concerns are to these foot shapes;
Causes of Wide Feet
Most people are just born with wider feet than others. However, there are cases where age or gaining weight can also cause your feet to loosen a little and become a wider shape. Certain foot deformities and injuries may add to feet becoming wider with time. Footwear that fits improperly can cause damage and deformities, leading to wider feet.
Lastly, feet that swell quite a bit will generally be wider.
Some Concerns Related to Wider Feet
Most concerns develop with wide feet because shoes usually do not fit properly, leading to issues such as bunions, calluses, Cross Over toes, and hammertoes.
Wide feet on their own may not cause problems, but your shoes and even flip-flops must fit properly.
Wide feet are caused by excess weight or fallen arches, and flat feet may be at more risk of other issues because there is no proper arch support. Your feet may also be wider and flatter if you have very low or fallen arches.
This is where heel pain, Overpronation, and other health concerns may come into play.
---
Choosing Flip Flops for Wide Feet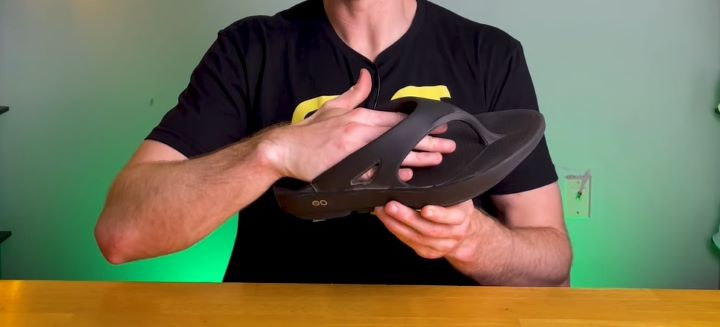 There are a few features that you need to consider in a good Flip Flop for comfort and support generally, but for a wider foot type, your main aim is to get a flip-flop that is available in a wider width option;
Fit – Opt for flip-flop sandals that have a general wider fit or are available in wide-width options. Also, look for something with extra depth and flip-flops that may offer adjustability on the uppers.
Uppers and Sole Materials – There are not many options in uppers for Flip Flop sandals; they will be either a polyester or textile fabric, mesh, genuine or synthetic leather, rubber, or a Pu material. For the outsole, your best option is a rubber or EVA rubber blend for cushioning. The outsole tread should be lug and patterned for optimal slip resistance.
Support and Comfort features – Generally, a wide design shoe may make your feet look even wider. Yet when you choose any footwear with good arch support and proper alignment, your fete will automatically look slimmer. The same goes for Flip Flops. Look for flip flops with a contoured or arch support footbed with cushioning insole and midsole for shock absorbency and support.
Options – Besides wider width options, flip flops for sandals will also come in more size and color options, varying according to the specific brand and model.
---
Features of a Good Flip Flop for Wide Feet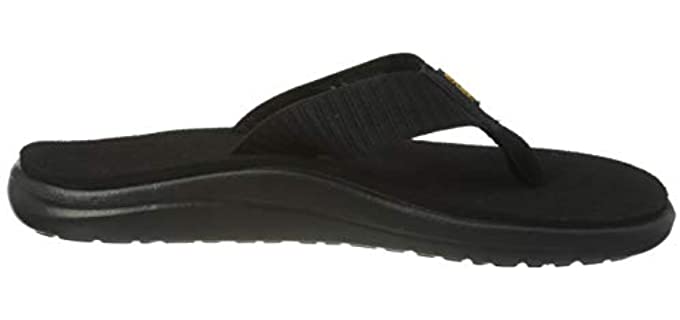 Uppers – The Uppers should offer a wide, roomy fit. The straps include leather, genuine, synthetic, textile fabrics, and plastic or rubber.
Support and Cushioning – Look for flip flops with a supportive footbed with a contoured design and good arch support. Cushioning in the midsole and footbed is ideal for shock absorbency.
Outsole – Always opt for rubber or synthetic outsole with patterns for grip and traction.
Options – Flip Flops for wide feet should generally be available in wider-width options. You may also have some color options and extended size options.
---
Reviews: The Best Flip Flops for Wide Feet
These are some of our favorite choices in flip flops that are ideal for wider foot types;
We hope you love the flip-flops we recommend!
So that you know, We may collect a share of sales or other compensation from the links on this page.
---
1
The Dr. Comfort Shannon and Collin Flip Flops have arch support and cushioned design with a wide fit for wide feet.
The flip flops are available in wide and extra-wide width options.
It offers a very roomy fit with leather and textile upper webbings and a comfortable footbed.
The footbed has an integrated post shank for stability and a dual-density cushioned midsole, with a cushioned top sole for comfort.
There are also more colors available to you.
---
2
The Teva Voya range is available in wide and medium-width options for men and women with wide feet.
The Voya has soft textile uppers and a synthetic slip-resistant outsole.
The footbed has a mush cushioned top sole and forms to your feet for comfort and support.
There are also a few color options available.
---
3
The Oofos Recovery sandal is comfortable for wearing at home, post-surgery, or post-injury. They are also great for wide and swollen feet.
The fit is very roomy and wide and comfortable underfoot cushioning.
The flip flop has a rocker design sole and an Oofoam technology footbed for pressure relief.
You can select from a few available colors for both men and women.
---
4
Two Flip Flop Models from Skechers are available in wider widths, the Bosnia for men and the On The Go 600 Sunny for women.
They have fabric, synthetic leather upper webbing, and a durable slip-resistant rubber outsole.
The Bosnia has a 360-degree fit and a memory foam insole for comfort, while the Sunny has a Goga Mat footbed and 5Gen cushioning system.
Both flip-flops are available in more colors for you to look over.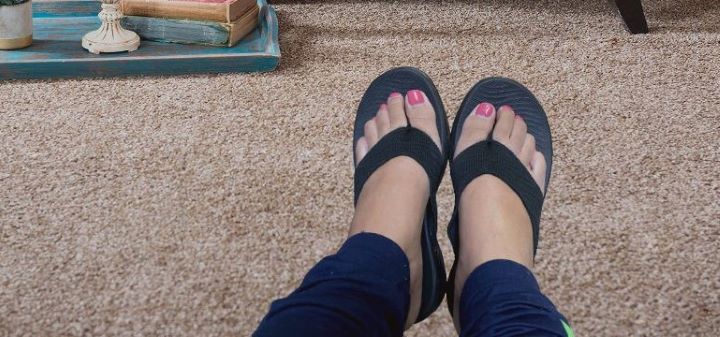 ---
5
The Rainbow sandal selection offers a wide-width fit option and good arch support.
The uppers are Double Layered premium leather with a bonded Nylon thread fabric with a Box X Toe construction.
The footbed is comfortable and cushioned.
It also features excellent arch support and a wide fit.
---
6
The FtFlop Iqushion, in my experience as someone with reasonably wide feet, does offer quite a wide fit in general.
They offer excellent features for persons with flat feet who are overweight or suffer from heel or ball of foot pain.
The sole is soft and cushioning foam, with an additional heel and ball of foot cushioning.
The flip-flop also has full arch support for flat feet and low arches.
The webbing is a thin, rubbery, non-irritating material with a generous fit for a wide foot.
They are also available in plenty of color options.
---
7
The Teva Flip Flops have an excellent fit for wider feet.
They have fabric and synthetic leather uppers. and a synthetic and rubber outsole.
The footbed is cushioned with MUSH and EVA.
There are also more color options available to you.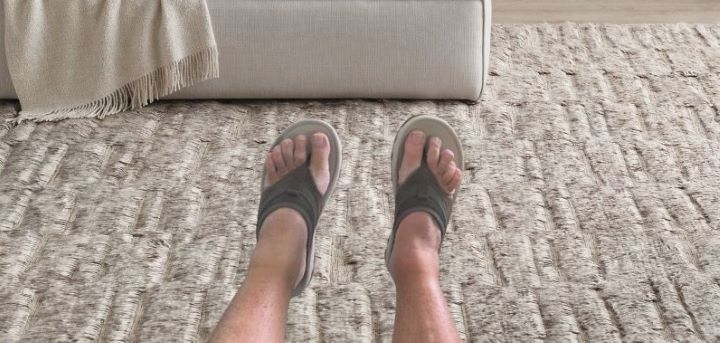 ---
8
These are two leather flip flop sandals that we recommend for wide feet.
They offer a wider and roomier fit.
The footbed is cushioned ad supportive.
The outsole also offers excellent grip and traction.
---
9
The Vionic Tide flip flop range offers a wider fit option for wide feet.
The footbed features Vio Motion three-zone support and cushioning.
The uppers are a quick-drying textile material.
There are also a few more color options available.
---
10
The Crocs Bayaband flip flop range also offers a wider and more roomy fit for wide feet.
They are a soft crosslite foam and very comfortable to wear.
Also, ideal for water use as the foam is water-friendly and easy to clean.
There are a few more color options available.
---
Index Table: Top Rated Flip Flops for Wide Feet
---
---