Cracked heels are quite a common foot ailment and are most prevalent in persons who wear open shoes and sandals most of the time.
Cracked heels can be painful at times and uncomfortable, not to mention quite unsightly, so we do want the best footwear, even when it comes to slippers, to hide them and provide comfort.
The best slippers for cracked heels will have a more closed design and offer plenty of comforts, cushioning, and moisture control, so let's look at them further.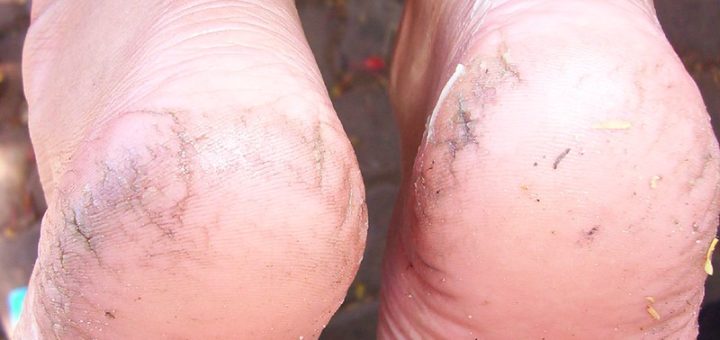 ---
Cracked Heels and How Your Slippers May Help
Cracked Heels and Heel Fissures are quite common among many individuals, and they can cause daily pain and discomfort,
Cracked heels are mostly the result of dry skin and are usually accompanied by thickened skin and sometimes yellow or brown calluses around the heel and sides of the feet.
One of the biggest issues with cracked heels is their appearance. However, sometimes, the cracks may become very deep and can become infected and painful.
Proper foot care such as grooming and pedicures can help to heal and prevent cracked heels. I also usually advise a closed-style shoe for cracked heels that offer better protection and moisture balance.
Slippers with a more closed style provide soft underfoot comfort and gentle material against the excellent skin for healing and protecting cracked heels.
---
Some Tips on Treating Cracked Heels
Besides wearing comfortable closed shoes or slippers, here are a few more tips to help treat and prevent cracked heels;
Emollient and Humectant Moisturizers – Apply an Emollient or humectant moisturizer to your feet and heels. This type of moisturizer penetrates the skin to reduce water loss and fills in the gaps between the flakes.
Occlusive Moisturizers – After Applying the Emollient, apply an occlusive moisturizer such as petroleum jelly, silicone, or mineral-based moisturizer, which seals in moisture and protects your heels.
Pumice Your Heels – Gently remove thickened skin from your heels with a pumice stone or file, wash them and apply the moisturizers.
Liquid Bandage – You can use a liquid bandage on your heels to heal and provide moisture to the cracks.
Wear Cotton Socks to Bed – Wearing Cotton Socks also generally helps protect and control the moisture levels in your feet when you have cracked heels.
---
Features of a Good Slipper for Cracked Heels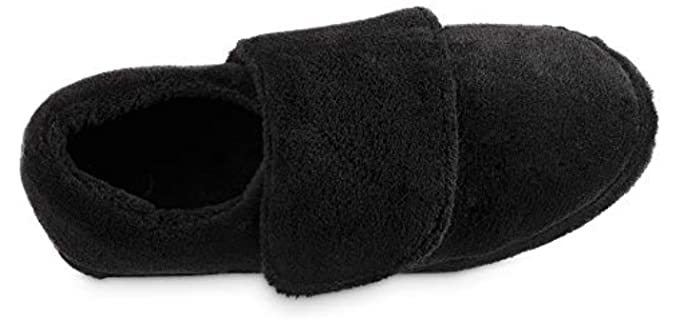 Closed Heel – Slippers that have a closed heel design hide not only your cracked heels but also protect them. Closed design slippers actually reduce cracked heels and help them to heal.
Materials – A smooth and comfortable material such as cotton or polyester that does not scrape against your cracked heels is a good option in your slippers. Also, look for slippers with breathable and moisture-wicking materials or linings to reduce sweat and odor, which can cause infection and discomfort.
Cushioning – A cushioned footbed will provide comfort and protect painful cracked heels against hard impacts when standing or walking in your slippers.
Fit – Slippers that are too big may chafe cracked heels, and slippers that are too small can cause painful pressure, so make sure that you get a comfortable and snug fit.
Outsole – The outsole should offer some shock absorbency and a thicker design. Along with this, look for an outsole with a patterned tread for slip resistance and traction.
Options – Most slippers ideal for cracked heels do come offering more color and size options, which of course, will depend on the specific brand and model available.
---
Reviews: The Best Slippers for Cracked Heels
In the review section below, we have some of the best available slippers ideals for wearing cracked heels.
---
1
Slippers for Cracked Heels
The Acorn Wrap slippers are therapeutic slippers with a terry cloth interior, designed specifically for cracked heels and other foot conditions.
The Spa Wrap Slipper consists of 100% terry, a cotton fiber ideal for cracked heels.
The uppers offer a comfortable and adjustable fit.
The footbed is cushioned, and the sole is quite flexible,
The slippers offer comfortable and breathable support.
---
2
Summer Slipper for Cracked Heels
From RockDove, the sipper models offer you a closed heel design, comfortable memory foam cushioning, and a more flexible and accommodating fit.
The Slippers both have soft and comfortable fabric uppers and offer a relaxed and comfortable fit.
The interior has an odor-resistant and moisture-wicking lining to keep the moisture balance and prevent infection.
The footbed is fully cushioned with memory foam for comfort and support,
The rubber outsole is durable and offers excellent slip resistance.
---
3
The Spenco Supreme and Spenco Siesta slippers have a closed heel to protect and hide cracked heels, as well as proper cushioning and support features.
The Spenco slippers provide complete contoured support for your feet and optimal cushioning.
They have a compression-molded EVA footbed and Orthotic grade arch support,
The interior is lined for moisture control, and there is a deep heel cup.
The rubber outsole is designed to offer excellent indoor and outdoor slip resistance.
---
4
Slipper for Cracked Heels
The Flojos Que Lined slippers have a shearling lining for warmth and comfort and breathable perforation details to prevent excess sweat and moisture build-up.
These are soft fleece-lined slippers that provide a soft surface for cracked heels.
They have a cushioned footbed and comfortable uppers, with a shearling lining for warmth.
The rubber outsole offers thick protection and support yet is still quite flexible.
There are more colors available and plenty of size options.
---
5
The Skechers Bobs and Expected X slippers offer plush memory foam cushioning, and a more flexible sole design, with optimal heel comfort, for cracked heels.
The Uppers are a soft fabric and synthetic materials. The Expected X also has a winter lining, and the Ice Angle and more flexible sole.
The Ice Angle slippers are available in plenty of colors and sizes.
Both slippers have a plush memory foam footbed, a flexible sole, and a durable rubber outsole.
---
6
Slipper for Cracked Heels
The Two Slipper models from Clarks do not only offer excellent comfort and support for supination but are likewise slip-resistant.
The Slippers have soft leather and synthetic uppers with a comfortable suede sole.
They have a cushioned footbed for warmth and comfort,
The gripped sole can be used indoors and outdoors, as it is slip-resistant.
The sole is likewise more flexible.
There are also a few neutral colors available from which you can choose.
---
7
The Dearfoams are comfortable and hide cracked heels.
They have polyester uppers and micron wool.
They are cushioned for comfort and have a slip-resistant sole.
More colors are available to you.
---
8
From Ultraideas, we have a closed-style slipper for cracked heels.
They are microfiber with a rubber sole.
The insole is soft and cushioned.
There are also more colors available to you.
---
9
Slippers for Cracked Heels
UGG slippers boots are comfortable and ideal for cold winters.
They can be worn as boots or slippers.
They are genuine leather with a wool lining.
The sole is a slip-resistant rubber.
10
Slippers for Cracked Heels
---
The Deer Stags slippers are also a closed design.
They fit perfectly for cracked heels and have a cushioned insole.
The uppers are soft and comfortable.
The Outsole is a durable TPR.
---
Index Table: Top Rated Slippers for Cracked Heels
---
---