Memory foam has made an uproar and is used in many products for its numerous benefits and comfort features.
Memory foam can create the most comfortable and supportive cushioned base for your feet in shoes or slippers.
Memory foam slippers have taken the market by storm, and they are one of the most comfortable slipper designs that you will find.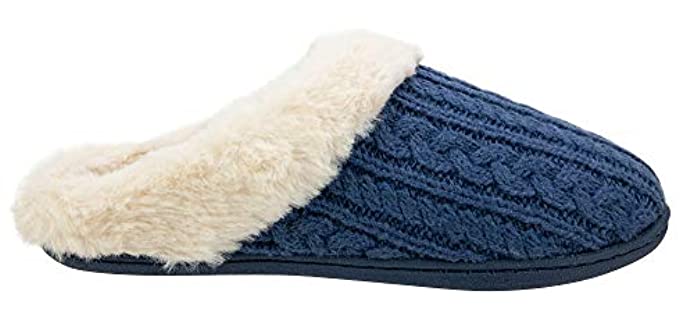 ---
Benefits of Wearing Slippers
Firstly, in general, slippers have so many benefits that we are not always aware of.
Memory foam slippers are even more beneficial because of the cushioning and unique support.
Protects you Against Colds and Flu – When you walk barefoot on your cold floors at home, the cold from your feet affects blood circulation, which in turn can impede your body's defense against viruses that may cause colds and flu.
Bacterial and Fungal Infections – Bacteria and fungus can grow on any floor, even in your own home, and going barefoot places you at risk of a bacterial or fungal infection.
Relaxes and Supports your Feet – A pair of comfortable slippers offer better support, cushioning, and relaxation for your feet than going barefoot or wearing other shoes.
Swollen Feet – Most slippers have a very accommodating fit that is ideal for sore and swollen feet.
---
is Memory Foam in Slippers Good?
Memory foam is one of the best materials used in slippers, and many shoes, in turn.
Memory foam has these superb benefits;
Memory foam relieves pressure o your feet and provides cushioning that can help with many foot ailments.
Memory foam slippers are temperature sensitive. They are firmer when cold and will mold with your body heat for the perfect contoured shape.
Memory foam in slippers, especially high-density memory foam, can protect your feet from hard protruding objects on the floor.
Because memory foam naturally retains heat, it is ideal in winter slippers to keep your feet warm and comfortable.
The new open-cell style memory foam used in slippers today also has improved ventilation.
---
Features of a Good Memory Foam Slipper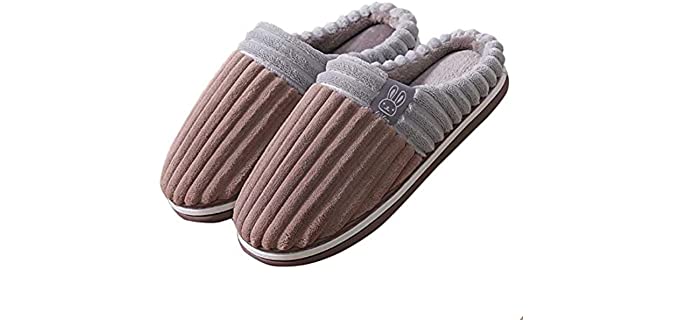 Uppers – The uppers of your memory foam slippers can consist of a variety of materials such as leather, suede, fabric, textile, or even knit materials. They may also be lined with wool, faux fur, terry, or fleece.
Design – Memory foam slippers come in many styles, and designs. These include closed back, mules, moccasins, and even bootie style slippers.
Fit – Make sure you get a slippers that offers you a comfortable fit in the correct size.
Density – You get different thicknesses, or densities in memory foam which can provide firmer or softer support and cushioning. Dual-density will offer slightly firmer support.
Ventilation – Your feet need to stay dry and cool, especially in summer so look for ventilated slippers for these seasons, as memory foam may retain heat.
Indoor or Outdoor Insole – Memory foam slippers may have a hard rubber indoor and outdoor outsole, or a soft leather, or suede indoor only outsole.
---
Reviews: The Best Memory Foam Slippers
As you will see from our reviews, we have quite a several choices in some high-quality slippers that have memory foam footbeds;
---
1
From Hanes, we have two plush memory foam slippers models for men and women.
The slippers are an open-back slip-on design with memory foam cushioning.
They consist of premium and durable, soft materials and durable rubber, indoor and outdoor outsole.
The slippers have a plush insole and moisture-wicking lining.
---
2
The Izod slippers are classic design slippers available in many colors options from which you can choose.
The slippers have a comfortable memory foam insole that will conform to the shape of your feet.
They have soft microfiber uppers and a durable high traction rubber outsole.
The slippers are a lighter design for warmer weather conditions.
---
3
Knit Warm Slippers with Memory Foam
From Coface, we have comfortable slippers boots for those very cold winters when you need extra warmth and comfort.
They are a wool blend indoor design slipper boot with high-quality knitted uppers, and a closed-back suede reinforced heel.
The slippers have an ankle length and a warm lining.
There is a thick anti-skid indoor and outdoor rubber outsole.
Furthermore, they feature a plush and high-density memory foam insole for comfort and cushioning.
The slippers are available in three colors from which you can select.
---
4
Cold Feet Memory Foam Slippers
The Dearfoams slippers that we have chosen are also plush memory foam slippers.
They have a no-sweat comfort lining that wicks away moisture and keeps your feet dry and cool.
The slippers are a boot style with a warm fur lining and leather uppers.
They have gel-infused memory foam in the footbed that will overheat and provide excellent cushioning.
The slippers are available in a few more neutral colors selections.
---
5
The Miles Kimbal slippers are one of the most comfortable memory foam slipper ranges.
They are a suede sole indoor-only slipper design, but they are also slip-resistant.
The slippers have a memory foam cushioned insole for comfort and cushioning under your feet.
The fit f the slippers is adjustable and at the sides and the back for feet that tend to swell and for other foot conditions.
The slippers have a plush and comfortable lining.
---
6
From Ultraideas, we have their very comfortable and plush memory foam cushioned slippers.
They have a soft and thermal wool-like blend upper with a closed suede back and a comfortable fit.
Though they are warm slippers, they are still breathable and comfortable.
The slippers have a faux fur lining for warmth, and memory foam and EVA cushioned insole for proper support, and cushioning,
They are fully machine washable and quick drying.
The slippers have a durable rubber outsole for indoor and outdoor use.
---
7
Memory Foam Slip On Slippers
The RockDove original slippers are two-tone color design slippers with memory foam.
They are comfortable and versatile slip-on mule-style slippers available in many two-tone colors for men and women.
The slippers have waffle knit design uppers that are pure cotton and spandex.
They are more lightweight in breathable for warmer weather conditions.
The slippers have a shock-absorbing and comfortable memory foam insole.
---
8
From Sasas, we have slip-on mule-style memory foam slippers.
They have a plush fleece design upper, with a fuzzy lining for warmth and comfort.
There is a memory foam insole that conforms to the shape of your feet and provides comfortable cushioning.
The durable rubber outsole is slip-resistant for indoor and outdoor use.
The slippers are available in a few colors and plenty of size options for men and women.
---
Index Table: Top Rated Memory Foam Slippers
---
---