When you travel quite a bit, or even just for a less frequent trip, one of the most important items not to forget is your favorite comfortable slippers.
However, those thick fluffy slippers may take up half of your luggage space if you are anything like me that enjoy a thick heavy, cushioned pair of slippers.
There are other options, though, and you can consider the best slippers for travel that are designed to be more compact and foldable in order to take up less space in your luggage.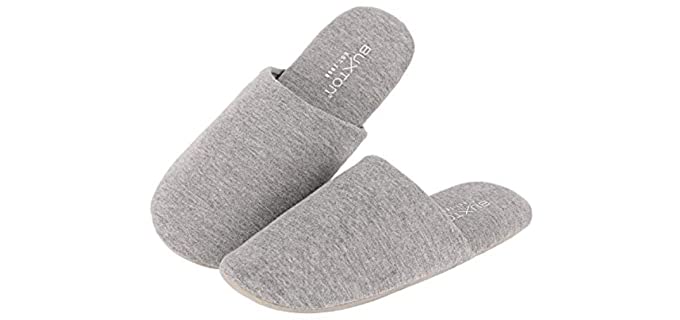 ---
Why do You Need Slippers for Travel
Just as you need slippers at home for underfoot protection, comfort, and to keep your feet warm, you need them even more so when traveling.
Hotel floors and public floors are full of physical and other dangers such as bacteria and fungus, which may lead to fungal infections.
You cannot risk walking bare feet at a hotel or public accommodation as it is even more dangerous than your floors at home.
Slippers for traveling will take up less travel space, and you even get disposable slippers that you can discard when you head home or after use.
---
What Makes a Slipper Ideal for Travel
There are a few things that make slippers ideal for travel;

Foldable – Most slippers for travel have a flexible and foldable sole so that you can fold them into a more compact shape that can easily be stored in a small backpack or suitcase.
Lightweight and Compact – Travel slippers will likewise be more lightweight to reduce the weight on your luggage. They also generally have a more compact design that is small and easily stored.
Comfortable – Do not forget comfort features. You still want a warm and comfortable slippers that provide some cushioning and support for your feet, even if they are just travel slippers.
Disposable – There is likewise the option of disposable slippers that you can use for travel. They normally come in packs of four r more. You can store them as needed and dispose of them afterward.
---
Features of a Good Travel Slipper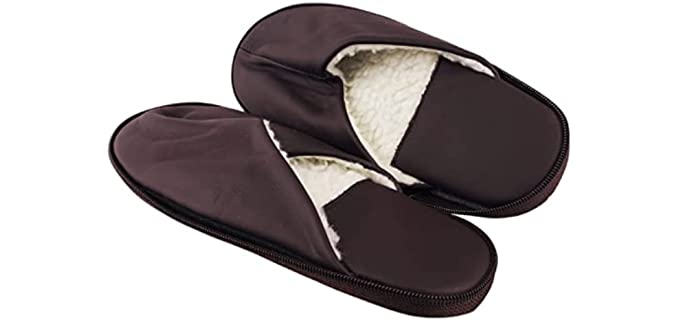 Design – Travel slippers need to be compact and easily foldable to fit into your luggage. You do get disposable options and re-usable travel slipper options.
Materials – Most travel slippers will consist of a variety of material such as polyester fleece, cotton bamboo and other materials, with and EVA, soft or rubber outsole.
Options – Travel slippers come in a number of size options, and some models may offer more color options.
---
Reviews: The Best Travel Slippers
In our list we have some ideal slippers that you can use for Travelling;
---
1
The Crocs Classic Convertible slippers have an easy on and off heel to convert from a slide slipper to a closed heel slipper.
They are synthetic slippers with a warm style and flexible rubber outsole for indoor and outdoor use.
The slippers have a smooth and comfortable lining.
The compact style and easy foldability make them ideal for travel.
You can also choose from a few more available colors.
---
2
The Bergman Kelly slippers are spa slippers that have a closed toe and a slip-on design.
They consist of a fluffy coral fleece material with an attractive design.
The EVA sole is flexible and offers good shock absorbency.
The travel slippers come in a set of six slippers or 12 slippers, and they are disposable as needed.
They are only available in the white color option, although there are more sizes.
---
3
Breathable Travel Slippers
From Scurtain, we have durable re-usable slippers for travel.
They are stretchable and moisture-wicking slippers, with knitted mesh uppers and a venting hole on the toe cap.
The slippers are ideal for warmer weather and travel.
There is a durable and flexible rubber outsole so that the slippers can easily be folded.
They have a cushioned removable mesh insole for comfort and to wick away moisture.
The travel slippers are available in a few more neutral colors and sizes.
---
4
FWehave a six-pack of travel and spa slippers from Nicely Neat with a slip-on design.
They are soft coral fleece slippers with an open toe and airy feel for warmer weather.
The slippers are perfect as home slippers, spa slippers, or for travel.
They have a cushioning and shock-absorbing EVA sole.
They are only available in white color, however.
There are some size options available, however.
---
5
Lightweight Travel Slippers
The Buxton Cozy are slippers that come with a mesh bag for travel.
They have a soft foam sole for cushioning and indoor use.
The slippers have a slip-on design and an open back.
They consist of ultra-soft and breathable materials, and the sole has non-slip grips.
The slippers are available in a few more neutral colors and sizes.
They come with an easy-to-carry mesh bag for travel.
---
6
The Artisan's Bazaar leather travel slippers are a much more durable design.
They have leather uppers consisting of genuine leather with quality stitching.
There is a fluffy interior lining for warmth and comfort.
A skilled artisan in Mexico makes the slippers.
They have an anti-slip soft sole.
The slippers are foldable for storage and travel.
They are available in black or dark brown color options, as well as more sizes.
---
7
From Acorn, we have the longer-length slipper socks, which are also perfect for travel, especially in colder weather conditions.
The slipper sock has a long length with a blend of wool, nylon, and spandex for stretch.
They have a genuine leather thick and soft sole that is hand sewn.
The slippers fold very compact and are easily stored for travel.
They are available in a few more printed and solid colors and size options.
---
8
The Cior travel slippers are lightweight and comfortable with an open-back design.
They are cotton blended slippers with textile uppers.
The durable rubber sole is ideal for indoor and outdoor use.
They have a TPR rubber used in the outsole for traction.
There is a high-quality insole that has layers of dense memory foam for cushioning.
Not the most compact and foldable slippers, but by far the most comfortable for travel.
Similarly, many color options are available in this range.
---
Index Table: Top Rated Travel Slippers
---
---