During pregnancy, especially in the later trimesters, you cannot go without a good pair of slippers.
You may even find yourself spending most of your time in comfortable slippers.
Slippers for pregnancy need to accommodate swollen feet and provide comfort and support features that are durable enough for the added weight.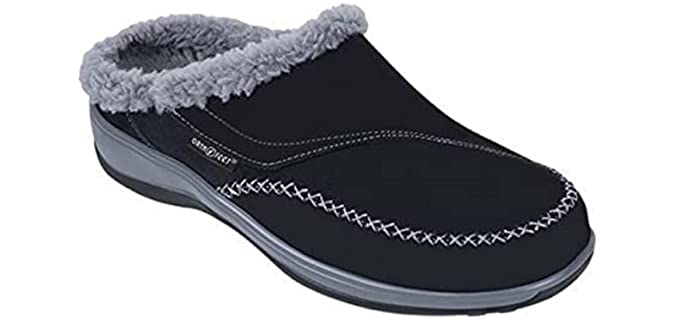 ---
---
How Your Feet are Affected During Pregnancy
Pregnancy often comes accompanied by many changes in the Musculoskeletal system. Particularly in our spine and lower extremities.
The changes can be due to excessive weight gain, hormonal changes, and other reasons.
During Pregnancy, you may notice the following changes in your feet;
Changes in the Structure of Your Feet – The Length, width, and arch height of our feet may change during pregnancy. You may not know that your feet may become wider and even longer during pregnancy. Your arches may also flatten or become lower. Because of hormonal changes, your joints have more flexibility that can loosen them, causing your feet to become more relaxed and thus seem wider and longer.
Joint Mobility Changes – The Joints in your feet and ankles will be looser and more elastic because of hormonal changes. You may be much more unstable on your feet, and increasing weight can add to the instability.
Swollen Calf's and Pain – Swelling in your feet and calf are generally something you can expect during pregnancy. Because blood flow to your heart slows down, as your uterus and the fetus increase in size, fluid may build up in the legs, ankles, and feet. Similarly, this can easily be treated with compression socks, regular walking, staying hydrated, stretching, and massaging affected areas.
---
How Will proper Slippers Help
Slippers may become your best friend during pregnancy if you have a comfortable pair.

Support and Cushioning – Slippers can provide good support and cushion for your feet that may be painful and aching.
Accommodate for Swelling – Most slippers have a wide, relaxed fit with soft, flexible materials or adjustable uppers that accommodate swollen feet.
Take Pressure on Your Feet and Ankles – Slippers provide support and comfort to take pressure off your feet and ankles.
Provide Stability – Most slippers have a stable rubber outsole and stability features to help you keep your balance during pregnancy.
Reduce Impact from Excess Weight. Pregnancy slippers have impact-absorbing cushioning such as memory foam and EVA to prevent hard impact on your feet, especially because of the weight increase.
Keep Your Feet Warm or Cool – Pregnancy slippers will keep your feet warm and cozy in cold weather conditions. The right slippers, in turn, will wick away moisture and breathe well to keep your feet cool in summer.
---
Features of a Good Pregnancy Slipper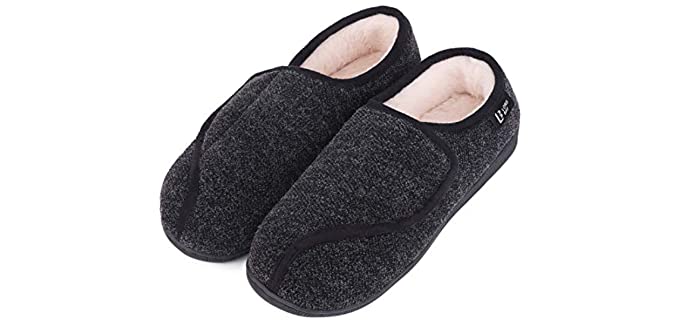 Uppers – Slippers for Pregnancy should come with flexible, soft uppers; some may even have adjustable uppers to accommodate swelling. They can consist form knit fabric, terry cloth, fleece, wool, or soft leather.
Cushioning and Support – A good slipper for pregnant women should have proper cushioning for impact protection, especially considering the extra weight. Support features such as a heel cup and stability, as well as good arch support, is, recommended.
Lining – Most slippers come with a lining of some sort. Some have a fleece or wool lining for warmth and are more suited to cold weather, while others may have a terry or cotton lining for warmer weather.
Outsole – Slippers may have a softer indoor or harder rubber outdoor outsole. I recommend a rubber outsole for its grip and shock absorbency.
Options – Luckily, with most slipper models, you will have many choices in varieties of colors, as well as prints.
---
Reviews: The Best Pregnancy Slippers
---
1
The Orthofeet slippers are Orthopedic slippers ideal for pregnant women.
The slippers have layers of cushioning and an extra depth design.
They are ideal for swollen feet, with adjustable fit uppers.
They are lined for comfort and have a durable rubber outsole.
---
2
The LongBay slippers are fluffy and comfortable slippers for pregnant women.
They have adjustable fit uppers for swollen feet and are available in more colors.
The slippers have wool-like knit uppers and a silky faux fir lining.
They are cushioned for comfort with memory foam and give a non-slip rubber sole.
---
3
The Minnetonka Moc toe slippers are comfortable and warm for pregnancy.
They have genuine sheepskin suede leather uppers and a wool lining for warmth.
The slippers are flexible and will adapt to the shape of your feet with time.
They have a durable rubber outsole and are available in more colors.
I recommend these slippers for cooler to cold weather conditions
---
4
The Vionic Indulge Relax slippers are more open-style slippers for summertime.
They have the perfect fit and support features for pregnant ladies.
The slippers have a deep heel cup for stability, and arch support, with the ball of the foot and heel cushioning.
They come in wider fits and many colors and printed options from which you can choose.
---
5
The Zizor slippers are adjustable-fit slippers for pregnancy.
They are the perfect Pregnancy slippers because of the comfortably cushioned footbed and wider fit design.
Ideally designed for diabetic feet, they are also Orthopedic, making them perfect for pregnancy.
The slippers are available in more colors and have a comfortable fur lining.
---
6
The Clarks Slide slippers have the perfect fit for swollen feet.
They are ideal as pregnancy slippers with a durable, grippy sole and adjustable closure.
The slippers come in many colors and prints so that you can choose your favorite pair or two.
They are more suited for summer wear, consisting of cooler fabrics with a more open design.
---
Index Table: Top Rated Pregnancy Slippers
---
---