Foot pain is something anyone at any walk of life can experience, which could have many causes and outcomes.
Wearing shoes that aggravate foot pain daily and to work can cause your feet to be extra sore in the evenings when you get home.
Slipping into a comfortable pair of slippers at home can truly help prevent and alleviate foot pain.
However, it would help to choose the right slippers for foot pain.

---
Foot Pain in General
You can experience foot pain for multiple reasons, and it can be uncomfortable and debilitating when severe.
Foot pain can be because of an injury, or maybe just because your feet are tired after a long day.
Here are a few reasons why you may be experiencing foot pain;

Walking or Standing on Hard Surfaces – If you work or spend your days standing or walking on a very hard surface all day, it may cause foot pain and fatigue as the impact can affect your feet.
Injury – You may have an overuse injury or an immediate injury to your feet that could be causing the pain.
Weight Gain – If you have suddenly gained quite a bit of weight, the excess strain on your feet can cause some complications that may lead to foot pain.
Overpronation or Underpronation – When your feet roll inward or outward excessively because of your arch type, such as flat feet, high arches, or for other reasons, the excess pressure on certain areas of the foot can cause pain. Impact and weight are unevenly distributed, and you may have pain in your heels, the balls of your feet, or the sides of your feet.
Foot Condition or Medical Condition – Certain medical conditions such as arthritis and neuropathy may lead to foot pain. Foot conditions such as bunions, hammertoes, corns, and calluses can also cause pain anddiscomfort.
Incorrect or Ill-Fitting Shoes – Wearing uncomfortable shoes that do not offer a proper fit, support or cushioning, may lead to foot pain.
---
So Why Wear Slippers for Foot Pain?
If you choose the right slippers, they can give your feet a much-deserved break after a long day and actually help to alleviate foot pain.
Slippers with proper support and cushioning features can reduce impact, provide proper alignment, and also a more comfortable and roomy fit for your feet.
Slippers are a great choice of footwear to wear at home or casually rather than walking barefoot or in socks, which will do much for painful feet.
---
Features of a Good Slipper for Foot Pain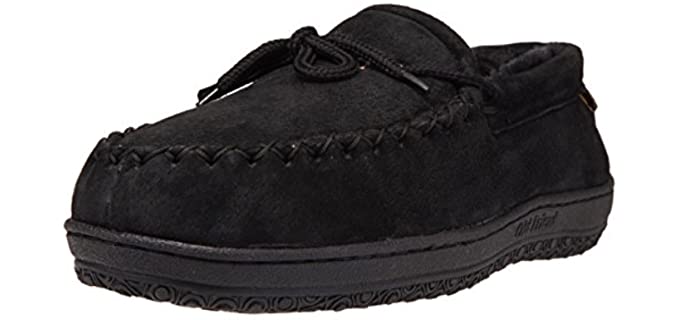 Uppers – Slippers for foot pain depending the weather they are for can have leather, suede, wool, textile, cotton or polyester uppers with a warm wool, fleece, or a lightweight terry lining.
Comfort and Support features – Comfortable slippers will have foam, EVA or memory foam cushioning to absorb shock. A contoured or arch support footbed is also ideal to reduce foot pain nd support your feet.
Outsole – The outsole may be a hard rubber for indoor and outdoor use, or a softer suede material for indoor use only.
Options – You get most slippers in more color options depending on the brand, and some are available in wider widths.
Fit – Your slippers should offer a relaxed and comfortable fit, but not so loose as to cause strain for your feet to try and keep them on.
---
Reviews: The Best Slippers for Foot Pain
In our list we have some of the most comfortable slippers that will help to alleviate foot pain;
---
1
From Orthofeet, we have the absolute best available slippers for foot pain.
They are Orthopedic design slippers that offer removable layers, extra widths, and extra depth to allow you to use orthotics or to accommodate foot conditions and deformities.
The slippers feature different layers of cushioning for soft underfoot comfort and firmer shock absorbency.
They have a rubber outsole for indoor and outdoor use.
The slippers have an adjustable Velcro uppers strap to allow you to customize the fit.
Furthermore, there are two colors available in these slippers.
---
2
The Skechers Bobs Ice Angle Slippers are cozy, warm, and help with pain relief.
They have soft cable knit sweater uppers and a plush lining.
The footbed has very soft foam cushioning for shock absorbency, and the sole is quite flexible.
There is a thick and durable shock-absorbing rubber outsole.
The slippers are an easy slide-on design, and they do come in more color options.
---
3
The Minnetonka Hardsole slippers have a lovely Moccasin style.
They are actually genuine sheep leather slippers with a soft wool lining.
Wool is naturally temperature regulating and will help to wick away moisture and eliminate odors.
The slippers have a moccasin toe and a comfortably cushioned footbed to support your feet.
The leather adapts to the shape of your feet for the perfect fit.
The hard rubber outsole is durable and offers good traction for indoor and outdoor use.
---
4
Dearfoams has an easy slip-on and off design slipper for foot pain.
They are ideal for summer and warmer weather with moisture-wicking and absorbent terry cloth materials with a quilted design.
The slippers will keep your feet cool and very comfortable.
They have a multi-density cushioned footbed with memory foam that molds to the shape of your feet.
The durable and slip-resistant rubber sole is designed for indoor and outdoor use.
The slippers are also available in a few more color options.
---
5
From Vionic, I have chosen the Indulge slipper range, which is also more of a summer slipper style.
As you will see, they are completely plush fleece with a cross strap upper and slide-on design.
There are so many colors and printed options available in this range.
There is a well-cushioned footbed with a contoured design and built-in arch support for comfort.
A heel cup provides better stability, and the three-zone comfort cushioning can really help to prevent foot pain.
The slippers have a durable rubber outsole for indoor and outdoor use.
---
6
The Skechers Bobs Cozy is a more closed-style slipper with a furry plush lining for colder weather conditions.
The slippers have fun comical prints and are available in more colors.
They have a roomy and comfortable fit with a smooth lining.
The slippers feature a plush memory foam footbed and flexible sole for your comfort.
The synthetic sole can be used both indoors and outdoors.
---
7
The Clarks Open Back terry Cloth slippers are perfect for summertime.
They have soft terry uppers and linings that are comfortable and moisture-wicking.
The fit is customizable with an adjustable closure and a more roomy design.
The slippers can easily be slipped on and of as needed.
They have a well-cushioned footbed to provide comfort and support.
The rubber outsole absorbs shock and offers excellent grip on indoor and outdoor surfaces.
---
8
From Longbay, I have chosen something really warm and cozy for those extremely cold winter temperatures.
The slippers have a longer-length boot design, and they have chenille velvet uppers with a fuzzy, plush fleece interior lining to keep you warm.
The slippers have 80D memory foam cushioning and padding in the insole for comfort and an ergonomic footbed for support,
The outsole is durable and flexible for indoor and outdoor use.
The slippers are available in a few more colors.
---
Index Table: Top Rated Slippers for Foot Pain
---
---