Slippers are a comfortable and cozy footwear option that we all own a pair of for lounging at home after a long day.
There are so many slippers designs today it can be hard to choose.
Specifically for the ladies, the ballet slipper is a dainty, feminine, and very comfortable slipper design for all weather conditions.

---
Benefits of Wearing Slippers
You may find some slippers hot and uncomfortable to wear at home and rather opt for going barefoot, but I want to tell you a few benefits that may change your mind about wearing slippers;

Wards off Illness – So many of us suffer from colds and flu throughout the year. While we concentrate on boosting our immune systems, we forget that cold feet can cause illnesses. When you lose heat through your feet, blood circulation decreases and leads to other health issues, and in turn, t also impedes your body's defenses to fight off diseases.
Prevents Bacterial and Fungal Infections – Most of us think that the floors in our homes are absolutely clean. There may be many bacteria and germs that you cannot see with the naked eye, which is even worse in public areas. These micro-organisms can enter through your feet and lead to fungal and bacterial infections.
Better Body Balance – Increases Body Balance Supportive, and comfortable ballet slippers can help you keep a proper balance if you struggle with balance on bare feet. Balance is an issue, especially in elderly women.
Heals Sore and Swollen Feet – If you have sore or swollen feet, a pair of comfortable slippers can give you relief and support, as well as reduce swelling.
---
What are Ballet Slippers
In terms we know, ballet Slippers refer to the slipper style ballet shoes that ballerinas wear.
However, about this article, I am referring to ballerina or Ballet slippers in terms of actual comfortable slippers that you wear at home when lounging.
Ballet slippers are regular slippers that are shaped and designed to look like ballet shoes or "slippers." They have a narrow fit that is snugger, with a snug elastic heel and a rounded toe.
Ballet slippers are more lightweight and dainty for ladies, and they are also ideal for warmer weather conditions.
---
Features of a Good Ballet Slippers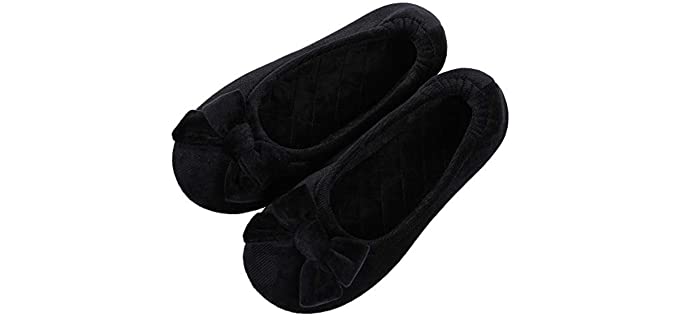 Uppers and Lining – The Uppers can consist of soft suede leather, textile materials, polyester, fleece, or terry cloth. The slippers may also have a lining.
Outsole – The outsole can be a soft suede or leather for indoor only slippers, or a durable robber for indoor, and outdoor slippers.
Comfort Features – Comfort features such as a cushioned foam or memory foam insole, and arch support, or contoured footbed is ideal.
Colors and Fit – The fit will be quite snug and comfortable. There are different size options available, as well as a few color selections.
---
Reviews: The Best Ballet Slippers
In our list we have some of the top favorite ballerina style slippers, especially for you ladies;
---
1
The Isotoner ballet slippers are the perfect treat and feminine slippers for you.
They come in as two slippers with a quilted design and a flat sole.
The ballet slippers are available in two color options, and the sets are mixed color options.
They consist of soft and flexible materials with a soft sole.
The ballet slippers are easily packable for portability and are machine washable.
Perfect for all occasions and weather conditions.
---
2
The Dearfoams Layla ballerina slippers are comfortable and a stunning style.
They have a soft suede outsole for indoor use only and a very soft design.
The ballet slippers gave a quilted footbed with Df adapt technology to keep your feet warm.
The outsole consists of genuine suede leather.
They are small in size and easily packable.
The slippers come in a variety of colors and sizes so that you can choose your favorite pair or two.
They are warm and breathable with a memory foam-cushioned footbed.
---
3
The DreamPairs slippers are comfortable memory foam cushioned ballet slippers.
They are ultra-soft and flexible with a ballet pump style.
The slippers gave an anti-fatigue marshmallow soft memory foam footbed for comfort and cushioning.
They Have a comfortable faux fur lining and are fully machine washable.
The slippers have a non-slip TPR rubber outsole for indoor and outdoor use.
---
4
The Isotoner Chevron Micro Terry Ballet slippers are comfortable slippers for warmer weather conditions.
They are extremely soft with a luxury plush design and chevron micro-terry fabric.
The slippers have a SmartDri lining that wicks away moisture to keep your feet cool and dry.
They are durable and fully machine washable.
The slippers run quite small, so it is recommended to size up.
---
5
The Snoozies ballet slippers are a feminine and fashionable style for ladies.
They are p[portable slippers that are ideal for travel because of their flexible and packable size.
The ballet slippers have a comfortable design and flat sole.
They are available in a few printed options from which you can choose.
Furthermore, there are plenty of sizes available, and they are fully machine washable.
---
6
The Dearfoams Katie is comfortable Microfiber velour feel ballet slippers.
They are sole espadrille slippers with a ballet style.
The slippers have Cloud soft cushioning with multi-density memory foam in the insole.
They have quilted velour uppers in microfiber fabric.
The slippers have a closed back and are machine washable.
The outsole is ideal for indoor and outdoor use.
---
7
From Muk Luks, we also have a stunning pair of Ballerina slippers, the Jolee jersey range.
The slippers have Aztec print soft and lightweight jersey knit uppers.
They are padded with a cushioned memory foam insole for your comfort.
The slippers are available in three printed color options from which you can choose.
They are available in most sizes and can be worn as casual shoes.
---
8
The Evshine slippers are comfortable ballerina-style slippers for ladies.
They are a fashionable ballet design that is available in many colors and cute prints.
The ballet slippers are warm and lightweight with a skin-friendly terry fabric.
They have a comfortable high-density memory foam footbed for cushioning.
There is a reasonable heel depth, and the design is stretchable for a comfortable fit.
---
Index Table: Top Rated Ballet Slippers
---
---