In those cold winter times, it is always good to have a trusted pair of slipper socks around.
Slipper socks have become quite popular because they are comfortable, easy to wear, light on your feet, and affordable.
In this article, we will look at some of the best available slipper socks, just for you.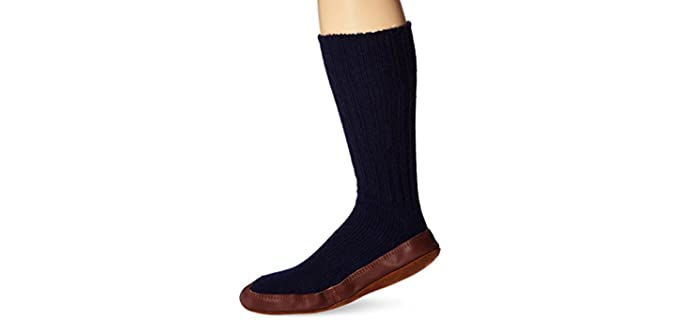 ---
What Exactly is a Slipper Sock
The Slippers sock is a hybrid between socks and a slipper, to put it plainly.
They are socks that are slightly thicker and more plush than regular socks with a grippy sole.
Usually, they will have a suede leather sole or grip rubber dots, silicone, or rubber outsole to prevent slips and provide underfoot warmth.
Slippers socks come in different length options, as well as many styles and colors, and some even come in sets of two or more.
---
When to Wear Slipper Socks
After a Bath – Slipper socks are ideal after a bath or even a spa session when you have moisturized and exfoliated your feet. They help to keep your feet soft and supple and keep your products on your feet.
At Home – Slipper socks are a very comfortable and ideal choice for where inside your home, they keep your feet warm and have enough grip for tiled and carpeted floors.
In Hospital – Slipper socks can be a great alternative to slippers for wearing in and out of bed when you are in hospital.
For Travel – Slippers socks are likewise an ideal choice for traveling, as they take up very little space in your luggage
---
Features of a Good Slipper Sock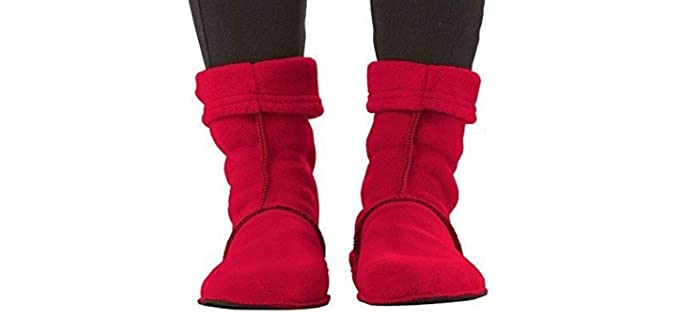 Materials – Slipper socks usually consist of soft materials such as wool, acrylic, fleece, and polyester, which are knit or woven. They may be lined with faux wool or plush lining.
Sole – Slipper socks have a grippy sole such as leather or silicone and rubber grip dots to prevent you from slipping, such as the case with a regular sock.
Design – Most slipper socks have a much thicker and more plus design than regular socks. They are double to triple-layered to serve as a slipper and sock in one.
Colors and Options – Most slipper socks are available in a one size fits all, though some models do offer more sizes. From the models we have chosen, you will also see that there are quite a few color options available.
---
Reviews: The Best Slipper Socks
These are some of the most comfortable and cozy slippers socks that are available today;
---
1
The Acorn Slipper socks have an extra length for warmth and a very durable indoor outsole.
They are mainly wool with some nylon and spandex for stretch.
The slipper socks have a genuine leather sole that provides good grip and durability.
They do come in unisex sizes from which you can choose, as well as a few more colors and patterns.
The slipper socks are well insulated, especially with the suede leather sole.
---
2
The Daventry slippers socks are ultra-thick and fluffy with a non-skid sole.
They are ideal as a house or hospital slippers to keep your feet warm and cozy.
The slipper socks have a stretchy design and a polyester lining for comfort.
They are available in more sizes and come in sets of three pairs, with different neutral colors available.
The slipper socks are a premium and thick design that is high quality.
---
3
From Antsang, we also have a set of slipper socks that is available in striped or solid color options.
They are very fluffy and soft with a blend of premium materials and a smooth seam.
The elastic cuff ensures that the socks stay up.
There is a non-skid slip-resistant sole with high-quality grips.
---
4
The Jormatt Slipper socks come in a set of three socks.
There are colors available for men and women.
The socks are soft and cozy with a smooth polyester lining and spandex for stretch.
They have a high-quality knit fabric and grippy non-skid sole.
The slippers socks do come in sizes for men and women.
---
5
Another option from Acorn is their Versafit Fleece socks.
These are not knit socks, but they consist of solid fleece baric with an elastic cuff.
The slipper socks have a mid-calf length and patented flatlock seams for less friction.
They are versatile, and the fleece will wick away moisture.
The slipper socks have a grippy non-skid sole.
They are available in printed options and a few more colors and sizes.
---
6
From Pudus, we have some ankle-length winter slippers socks.
The slipper socks have a cozy and fluffy shearling lining and cuff.
They are knit socks with a reinforced heel and toe.
The shearling lining provides excellent warmth and insulation.
The sole has a non-slip design that provides grip.
The outer layer is, and acrylic wool and the grips are a silicone.
The slipper socks are available in more colors, as well as size options.
---
7
The Janska MocSocks are double bottom warm winter slipper socks.
They are fleece with a double layer of fleece in the sole.
The sole is skid-resistant for secure footing.
They have exterior facing seams to prevent friction and irritation.
The slippers sock can be machine washed and are easy to care for.
They are also available in a few more neutral colors.
---
8
From Scurtain, we have short, low-cut slipper socks for summer and warmer weather.
The slipper socks have a durable rubber sole for optimal grip and traction.
The uppers are a stretchable and breathable elastic mesh that is knit with a venting hole in the toe cap.
There is a soft removable mesh insole for underfoot cushioning,
They are easy to slip on and off,
The slippers sock are available in a few more color options from which you can choose as needed.
---
Index Table: Top Rated Slipper Socks
---
---