When you have Athletes' Feet, you may need to adapt your shoes and socks to deal with the situation if you want to prevent it.
This may also count for your slippers. Being a warmer and more cozy shoe-wear option, slippers may cause excessive sweating and an increase in the Growth of fungi. However, the right features and materials in a slipper can make for the perfect slippers for an Athlete's Foot.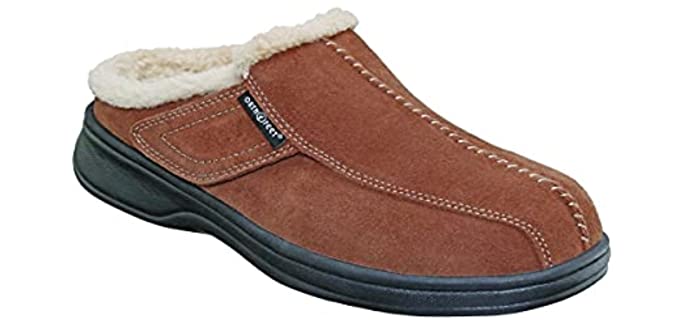 ---
---
Athletes Foot and How to Prevent It
Athlete's Foot is the colloquial name for tinea pedis, a condition that refers to a superficial fungal infection.
Athletes' Foot is contracted from walking barefoot in public areas such as gyms, swimming pools, lockers, and other areas.
You will usually notice flaky skin, itching cracking of the skin and soles, and itchy patches between the toes if you have Athlete's Foot.
How to Prevent Athletes Foot

Always wear shoes, slippers, and flip-flops in public places or at someone else's home. The fungus causing Athlete's Foot usually grows on these floors.
Always keep your feet dry and free from excessive sweat. Moisture is the breeding ground for Athlete's Foot. Athlete's Foot fungus grows especially well in moist, hot shoes and slippers.
Please wash your feet with mild soap and dry them properly daily.
Socks and slippers that consist of more natural fabrics will dry faster and wick away moisture.
Try to alternate shoes daily and change from shoes to slippers at home.
If you live with someone with Athlete's Foot, share towels, linen, or shoes, and do not walk barefoot in the living space.
Do not share shoes with someone else in general.
Wear shoes and slippers that will not overheat and build up moisture.
Opt for slippers with temperature-regulating materials such as wool and bamboo, which are moisture-wicking.
---
Choosing Slippers for Athlete's Foot
Wearing slippers after a long day can give your feet the rest and refreshment they need, as well as help to prevent and treat Athlete's Foot.
Open Ventilated design – Ensure the slippers you choose ventilate well and opt for open styles in warmer weather to prevent sweating and overheating.
Breathable Materials – choose a loose-fit slipper with breathable and moisture-wicking materials. Natural leather, wool, cotton, and bamboo are excellent material choices that regulate temperature and breathe well.
Clean Your Slippers – Clean Them regularly and allow them to air well. You can leave them in the sun for a short while daily to dry properly and to breathe.
Keep Your Slippers On – Always wear slippers, especially in public areas or when you are not in your own home. Even in your home, when you have an Athlete's foot,t or a family member has it, always wear slippers to prevent contracting it again or initially.
You can use an antifungal powder inside your slippers and on your feet to help treat Athlete's Foot.
---
Features of a Good Slipper for Athlete's Foot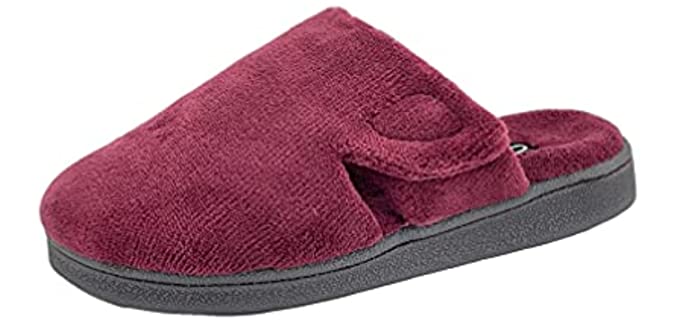 Uppers – Slippers for Athlete's Foot need more breathable and moisture-wicking uppers to prevent moisture and bacterial build up. Materials such as genuine leather, wool, cotton, and polyester are ideal.
Comfort Features – Comfort features including cushioning, support, and arch support, are ideal for your feet. Some slipper models have Gel-infused memory foam insoles that help to cool your feet, to prevent sweating, and provide cushioning.
Outsole – Slippers generally may have a softer suede or EVA indoor outsole or a more durable rubber and outdoor insole.
Options – From the slipper models w we have chosen, you should be able to get variations in colors, plenty of size options, and in some models, wider width choices.
---
Reviews: The Best Slippers for Athlete's Foot
Here are some of our top picks in slippers that are ideal for Athlete's Foot;
---
1
The RockDove slippers are comfortable slide summer slippers for Athlete's Feet.
They gave cotton and spandex that will absorb and wick away moisture.
There is a comfortably cushioned memory foam footbed and a durable rubber outsole.
The open design likewise allows for better ventilation.
---
2
The Minnetonka slippers are sheepskin wool-lined slippers.
Wool wicks away moisture and regulates temperature, which helps to prevent the Athlete's Foot.
The uppers are genuine sheepskin leather, and the lining is natural wool.
The slippers have a moccasin-style toe and a closed back.
There is also a durable rubber outsole for indoor and outdoor wear.
---
3
The Isotoner slipper is extremely comfortable and ideal for an Athlete's Foot.
The slippers have a Gel-infused memory foam footbed that cushions your feet and has a cooling function.
They are textile slippers, so they are cooler and well ventilated.
The slippers have a closed design and a comfortable lining to keep your feet warm and cozy.
---
4
The Dr. Scholl state slippers have an open design for Athlete's Foot.
They are slip-on slippers with soft knit uppers that are breathable.
There is a comfortable memory foam cool fit insole for cooling and cushioning.
The slippers are lightweight and available in more colors.
---
5
The Vionic Irving Adler is a closed-style slipper for colder weather.
They have soft leather uppers with a shearling lining that regulates temperatures and wicks away moisture.
The slippers are closed in design, with a rubber indoor and outdoor outsole.
The slippers have arch support and cushioning features to reduce stress on your feet.
---
6
The Minnetonka Slippers are genuine sheepskin and wool slippers.
As I have mentioned, wool linings in slippers keep your feet at the perfect temperature, and they wick away moisture to prevent athlete's foot and fungal growth.
The slippers are genuine leather and wool with a cozy design for colder weather.
There is a cushioned footbed and durable rubber outsole.
---
Index Table: Top Rated Slippers for Athlete's Foot
---
---