Wearing slippers at home is one of the most comfortable parts of your day to look forward to when your feet ache and you are tired.
But wouldn't you agree that most slippers' designs are very much on the wide side, and this fit can be quite uncomfortable for a person with a more Narrow Foot?
Well, not to worry, I have found some great slipper models and brands with a narrow fit or that are available in Narrow fit options in my list of the Best Slippers for Narrow feet.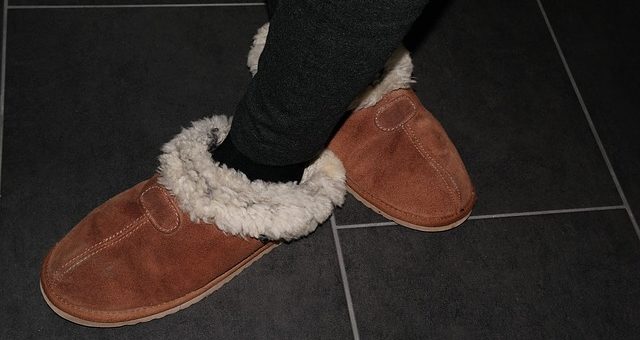 ---
---
Benefits of Wearing a Comfortable Narrow Fit Slipper at Home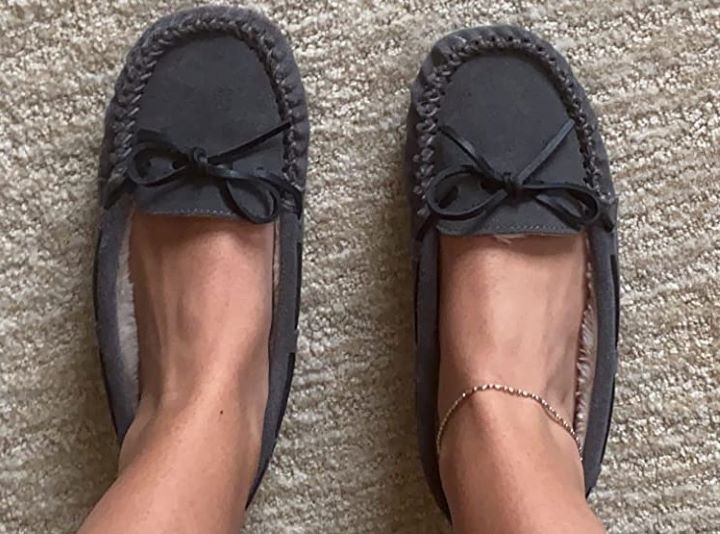 So you thought that a comfortable fitting slipper for casual and home wear has only one benefit, and that's comfort, thing again;
Stops Flu and Sniffles – Did you know that the blood vessels in your nose constrict when your feet are cold, and there is reduced blood flow in the nose and through, leading to fewer white blood cells to ward off viruses? This, in turn, can lead to sniffles and colds. Thus, keeping your feet warm also keeps disease at bay.
Swollen Feet – If you suffer from a foot condition, poor blood circulation, or swollen feet, a supportive slipper can help prevent swelling and discomfort. A contoured, pressure-relieving footbed in your slippers improves blood circulation and eases pain and swelling.
Foot Pain and Strain – A good pair of slippers will support your feet to prevent strain and impact and reduce pain.
Bacterial and Fungal Infections – It is better to wear slippers and keep your feet free from any likely bacteria or funguses than to go barefoot and risk it.
Comfort – Most crucial is the superb comfort, warmth, and coziness that a good pair of slippers can provide.
---
What to Look for in a Slipper for Narrow Feet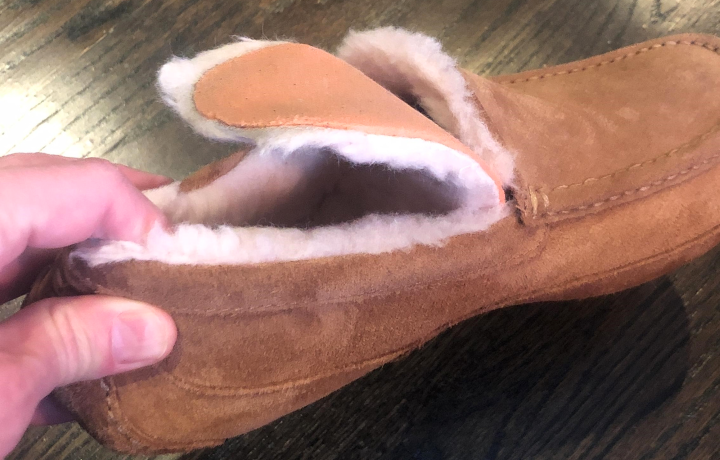 First, you need to look for a slipper with some form of cushioning and a supportive footbed that will give you arch support and excellent shock absorbency.
The sole should be flexible with a durable rubber outsole that offers some slip resistance.
The upper needs to be soft and comfortable fitting. For a Narrow foot, a more narrow or medium design slipper is ideal, or you can look for Narrow and Medium fit options.
---
Features of a Good Slipper for Narrow Feet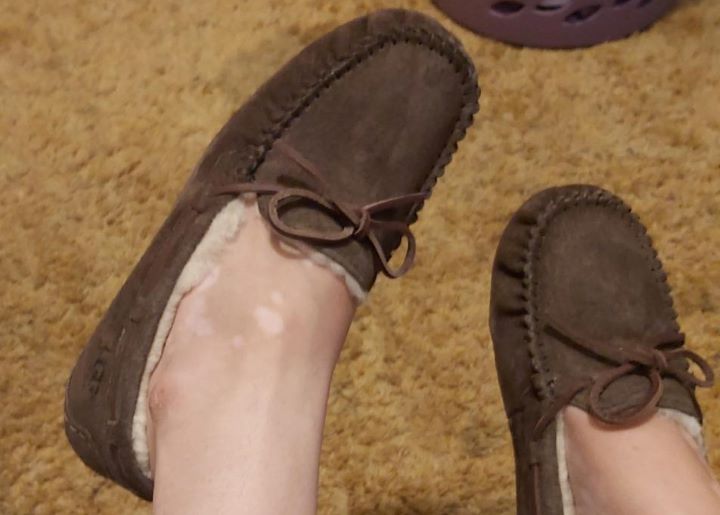 Fit – The slippers should have a more Narrow design or be available in Narrow fit options.
Uppers – Soft and comfortable uppers can be constructed from Suede leather, Microfiber, fleece, or other textile materials and wool.
Lining – Many slipper designs have a faux fur or fleece lining for warmth and comfort.
Sole – Durable rubber or EVA for the sole is suitable, with a pattern design for slip resistance.
Support – A cushioned footbed with memory foam or EVA cushioning is ideal for support and comfort.
---
Reviews: The Best Slippers for Narrow Feet
These are the best available and most comfortable Slippers that accommodate a more Narrow Foot Type;
We hope you love the products we recommend!
We may collect a share of sales or other compensation from the links on this page.
---
1
Minnetonka is a top shoe brand that makes some of the most outstanding slippers available in Narrow-width options.
Minnetonka is a top brand that mostly designs leather shoes and sandals with a Moccasin style.
These slippers have genuine suede upper and a fur lining for warmth.
The fit is quite narrow and comfortable.
A lightly padded footbed and a durable rubber outsole for better grip.
You can choose between a few neutral color selections for men and women.
---
2
Narrow Feet Warm Slippers
The Ascot and Dakota from UGG are Narrow-fitting, fur-lined, warm winter slippers.
The ascot and Dakota have a narrower fit and are fur-lined for warmth and comfort.
The Ascot has a Suede leather upper, and the Dakota boat has Sheepskin leather uppers.
Both slippers have a comfortable and cushioned footbed.
A thick rubber outsole provides excellent grip and underfoot protection.
UGG is a trendy brand you can trust, and I recommend a tight-fitting size at first, as their shoes tend to stretch and mold your feet over time.
---
3
Slide On Slippers for Narrow Feet
The AT Wool Slippers from Halflinger offer options in width for a Narrow foot and availability in many color selections.
Here, we have an easy slip-on and off-design slipper for warmer weather and summertime.
You can select from many colors; the fit is a medium to narrow option.
The slipper is lightweight and comfortable with wool, felt sole, and lining to regulate temperatures.
There is Latex Molded arch support and cushioning.
The outsole is non-skid and waterproof rubber.
---
4
The Gemma is a slide-on slipper for the ladies, and the Tom is a closed-style slipper for gents; both offer a narrower fit.
The Tom has leather uppers and a removable Faux shearling-covered EVA footbed.
The Tom also boasts a durable rubber outsole and Biomechanical support footbed.
The Gemma has soft fabric polyester uppers and a terry cloth lining.
The Gemma also has a hook and loop adjustable closure and a podiatrist-designed Biomechanical supportive footbed,
The Flexible EVA midsole and durable rubber outsole on the Gemma absorb shock and provide good traction.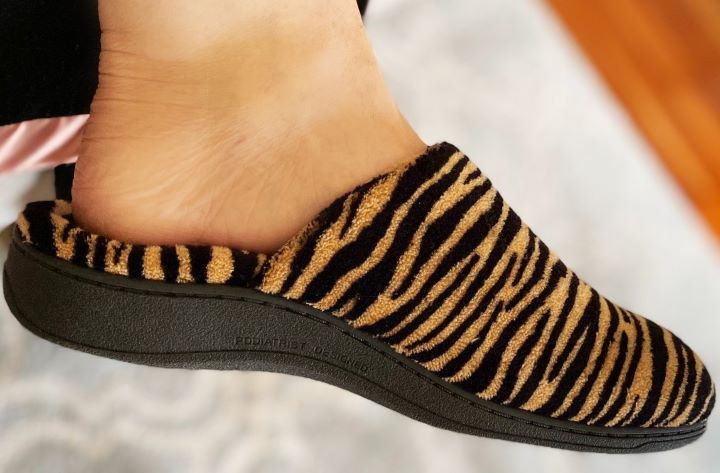 ---
5
From Dearfoam, we have the Rebecca and the Wool comfortable, cozy slippers available in different size options with a narrow fit.
Two comfortable and snug warm slipper options from Dearfoam in Narrow width fitting options and a more sleek design.
The upper is wool and textile with a plush lining for warmth and comfort.
A supportive, cushioned footbed and a TPR outsole are ideal for indoor and outdoor use.
You can also choose your favorite color from many options.
---
6
Indoor Outdoor Narrow Fit Slippers
The Minnetonka Tilden and Tempe are comfortable lined indoor and outdoor slippers with a narrow fit.
The Upper is soft and supple suede leather.
The slippers provide an overall narrow fit.
The inside is lined with fur for warmth.
There is a durable rubber outsole for outdoor and indoor use.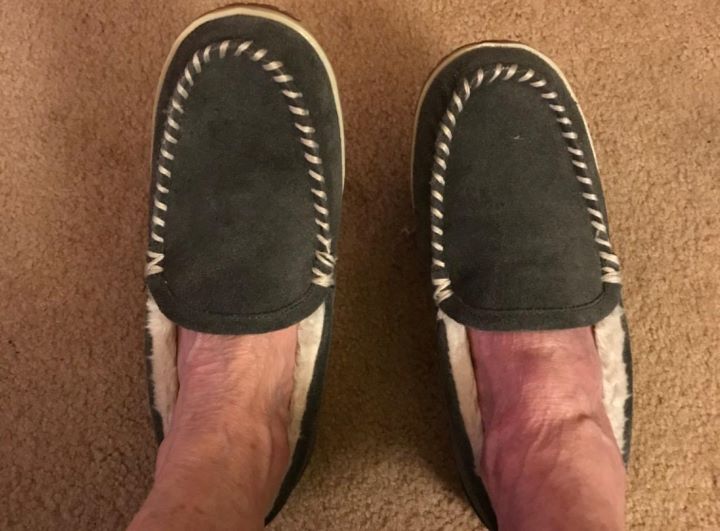 ---
7
Memory Foam Narrow Fit Slippers
The Millffy memory foam slipper has plush cushioning and a Narrower fit.
There is a plush, comfortable upper with a slide design and narrow fit.
Plush memory foam provides comfort and cushioning.
The rubber outsole is durable and offers a good grip.
There are also a few color options from which you can choose.
---
8
The Hanes Cotton Knit and Waffle Knit Slippers are ideal for summertime wear.
The Hanes Cotton Knit and Waffle Knit slippers have cotton uppers with a terry cotton lining to absorb moisture.
These sandals have a comfortably cushioned footbed and flexible sole.
The soft outsole is ideal for indoor use.
You can likewise choose a favorite color from a few options available.
---
9
Breathable Narrow Fit Slippers
The Tee-Mo Slip-on slippers are disposable slippers with a set of 5 slippers with a narrow fit.
An ideal slipper for travel and single-use.
These slippers are light and flexible, as well as comfortable to wear.
The design is very light and breathable and entirely portable, and easy to store.
There are only single light grey color options available.
---
10
Convertible Narrow Slippers
The Crocs Classic Convertible slippers have a fold-down heel design and a narrow fit.
The Upper is a soft and durable felt material that is also quite breathable.
The interior is lined for warmth and comfort.
It is a cushioned and durable footbed from rubber and a rubber outsole.
These slippers are available in a few neutral color options.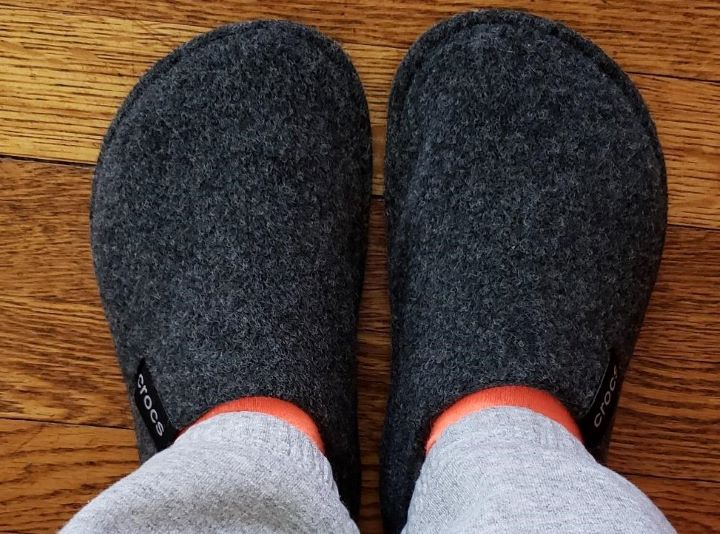 ---
Index Table: Top Rated Slippers for Narrow Feet
---
---