On those very cold days, you want to keep your feet warm and toasty. However, sometimes not even the warmest slippers can cut through the cold.
So why not opt for the best-heated slippers that instantly offer electric or microwave heating to warm up your feet.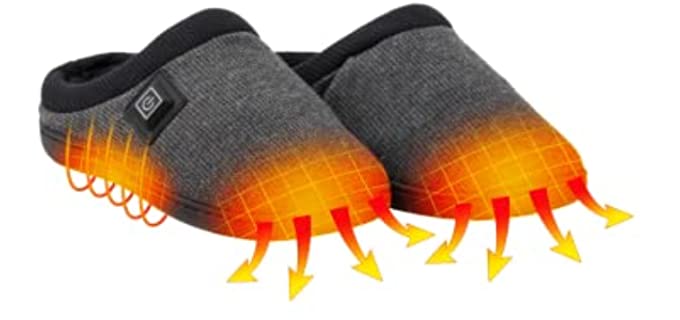 ---
What Are Heated Slippers
Heated slippers can be categorized into two types. Microwaveable heated slippers, which usually have a flaxseed fill, and you microwave the slippers so that the flax seeds will hold heat.
The other type is electrically heated slippers that work with rechargeable batteries or a USB charger that heat up fast, with adjustable heat settings.
In this specific article, though, we will be concentrating more on electrically heated slippers.
---
Why Should You Wear Heated Slippers at Home
Wearing slippers at home, in general, have more than just the purpose of keeping your feet warm;
Prevent Colds and Flu – Not wearing slippers allow heat to escape from your body through your feet. As your body loses heat, your blood circulation decreases which, in turn, affects your immune system, making you more susceptible to common illnesses, such as colds and flu.
Prevent Bacterial Infections – There may be bacteria and fungus growing, even on the floors of your home. Walking barefoot on your floors, especially public floors, holds a great risk for fungal and bacterial infections in your feet.
Proper Body Balance and Support – Slippers provide plush comfort, but they also support your feet. Slippers can help to align your feet better and provide more efficient balance and impact resistance.
Help to Heel Sore Swollen feet – Slippers especially heated slippers, trap heat to improve blood circulation in your feet. In turn, this helps with healing and reduces swelling in your feet.
Provides Warmth – A good pair of heated slippers will provide fast and constant heat for very cold feet, especially during those cold winters. You do not have to wear layers and layers of restricting socks, and you can simply rely on your heated slippers.
Comfort – Slippers are a very comfortable option to relax and soothe your feet in after a long day. They provide cushioning and an accommodating fit to give your feet much needed rest.
---
Features of a Good Heated Slipper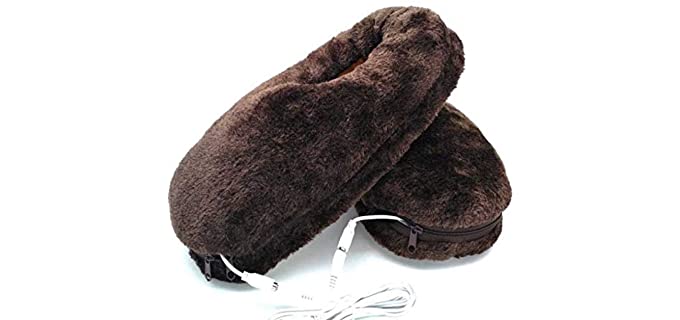 Design – Heated slippers come in many designs and options in thick and closed style slippers, or in slip on mule style slippers.
Materials – Heated slippers can consist of a variety of materials including wool, fleece, cotton and polyester. The microwaveable options have a flax seed fill.
Heating – The electric heated slippers are usually battery operated or use Carbon fiber technology. They will have rechargeable batteries, or a USB charger for charging.
---
Reviews: The Best Heated Slippers
These are some of the top rated electric and microwaveable heated slippers;
---
1
SLIP ON
The Amiable slip-on heated slippers are a unisex design that heats up electrically.
The heated slippers quickly heat up and can reach high temperatures to warm your feet in the coldest winters.
They are high quality and plush with cotton and insulation.
There is a cushioned sole with silica gel and a waterproof cloth.
The outsole is durable and slip-resistant,
There are three adjustable temperature settings.
The slippers have two 4000mAh lithium-ion polymer large-capacity batteries, which are safe and reliable, as well as easy to carry.
---
2
Here we have the ThermalStep bootie slipper that is highly insulated and heating.
They are a boot design and ideal for extremely cold climates.
The slippers have automatic temperature settings and will warm up your cold feet almost instantly.
They provide up to 10 hours of warmth and use a USB charger.
The boot slippers are weather and stain-resistant, with quilted umbrella fabric that likewise insulates well.
They have an anti-slip cold-blocking rubber outsole.
The boots charge fast with a Y-split charging cable.
---
3
The ThermalStep warming slippers are rechargeable heated slippers for men and for women.
They have heated and insulating technology to wrap your feet in the heat.
The slippers have a durable and slip-resistant cold-blocking rubber outsole.
There are automatic temperature settings that melt away the colds.
The charge fasts with USB chargers and are quite reliable.
---
4
From Kissybride, we have USB chargeable heated slippers for those really cold winter months.
They are high-quality plush and cozy slippers that can be used to warm your feet and hands.
The slippers gave a safe to use USB charging port.
They have a detachable design with a heating pad bottom, making them easy to wash.
---
5
The ObboMed Heated slippers use Infrared Carbon Fiber heating technology.
They are powered by 12V voltage, 2A with the latest carbon fiber heating technology for heating.
The slippers have a soft sole for indoor use and comfort,
They can heat up to 140°F/ 60°C, depending on ambient temperature and accumulated heating times.
Included is an AC 110V-230V to DC 12V, 2 A adapter for more steady and reliable heating.
---
6
The ThermalStep heated slippers are a comfortable and durable design.
They are waffle knit slippers with a Non-slip rubber outer sole for stability.
The slippers have heating and insulating properties to keep your feet warm.
They have a plush fleece lining and use automatic temperature settings calibrated by the warmest heat,
They charge quite fast with a Y-Split charging cable, and three hours of charge provides 6 hours of heat.
---
7
The Z-YQL are electric USB heated slippers.
They are composed of a thick and warm woolen yarn combined with a cotton fill.
The slippers have quick heating and can reach high warm temperatures.
They are lightweight and very comfortable to wear.
---
8
I have added a pair of microwaveable heated slippers from Leonns for those of you who prefer a non-rechargeable option.
They are a plush and warm design filled with flaxseeds.
The slippers are easily heated in the microwave before wear.
They will retain heat for a long time and offers excellent warmth and stress relief.
The Microwaveable slipper option does not require batteries or an electrical recharge solution. Likewise, they are a safer option and more convenient as you do not need to recharge them for a few hours.
---
Index Table: Top Rated Heated Slippers
---
---