When we think of slippers, we think of something plush, warm, and cozy that we relax in after a long day at work.
This is exactly what a slipper should be, and so much more.
One brand that I have noticed among many others when it comes to really comfortable slippers is Skechers slipper ranges.
Skechers is so popular for their unique and luxury comfort cushioning system in their shoes, but have you ever tried out their slippers with the same technologies?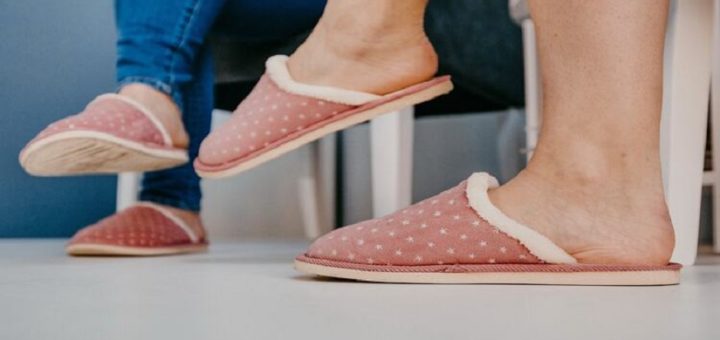 ---
Why Use Slippers in the First Place
Well, you may be thinking, why do you need slippers to begin with?
Slippers have so many exceptional benefits, here are only a few

Give Your Feet a Rest – After a long day at work or sports shoes, slippers can give your feet the rest and comfort they deserve. Slippers generally have a much more accommodating fit, and softer cushioning, along with a smoother texture that is gentle against your feet and provides much comfort and relief, in comparison to working shoes and sports shoes.
Protection – Slippers protect your feet against physical dangers such as hard objects, glass, thorns, sticks, stones, and other small objects on floors indoors and outdoor that can cause pain, or a puncture injury. Slippers protect you from harmful viruses and bacteria that may enter through the skin on your feet, causing illness and disease. Slippers also keep your feet warm, which in turn, cold feet have proven to indirectly cause colds and flu, by impacting your immune system.
Great for Recovery – When your feet are sore and aching after exercise or even after an injury or operation, slippers are a great alternative to wear. Their fit accommodates for swelling, and their soft comfort features provide a gentle cushioning platform for sore feet.
In the slipper range, we will be looking at from Skechers today, and we focus mainly on the slippers with a memory foam footbed or insole.
Memory foam is a plush and moldable foam that molds and contours to the shape of your feet with your body heat. They offer a cushioning system that will mold to your feet, providing the most natural alignment as well as optimal shock-absorbing cushioning.
---
What Skechers Slippers Offer
Well, Skechers slippers like their shoes offer unique support and cushioning systems that provide comfort and support for your feet, even just in a slipper;

Cushioning and Support – Skechers slippers offer a variety of cushioning systems such as memory foam, Goga Mat, and many more that are different densities of cushioning. Most of their slippers models offer memory foam cushioning, which is the most luxurious comfort and soft cushioning system that also provides excellent support. Other than that most slippers will have a more anatomical or natural shaped footbed that helps with proper alignment and support of your feet.
Fit – Skechers slippers are accommodating and roomy in fit, especially in the toe box area, so you can easily splay out your toes and still enjoy a proper fit that will not easily slip off your feet.
Good Slip Resistance – Most Skechers Slippers come with a high traction, durable rubber outsole that has a more lug treed for slip resistance. You will need to check whether the slippers are indoor or indoor and outdoor slippers, as indoor slippers are not as durable for outdoor wear.
---
Features of a Good Skechers Memory Foam Slippers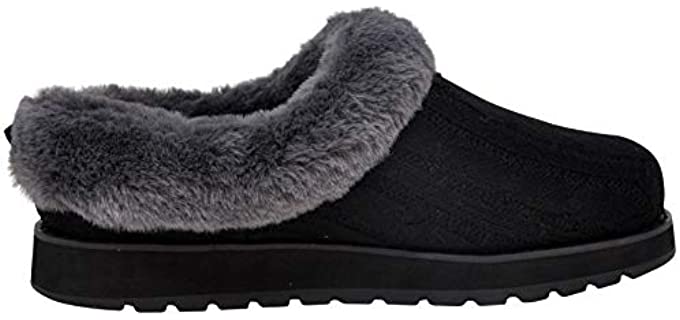 Uppers – Skechers slippers may have synthetic leather uppers, suede uppers, textile uppers, or knit uppers with a closed or slide-on style.
Cushioning – In this range, we focus mostly on Skechers slippers that have a Memory Foam footbed for cushioning. The footbed may be contoured for support, and a firmer density foam may be used in the midsole for shock absorbency, such as EVA.
Lining – Some Skechers Slipper models come with a plush faux fur or shearling lining for your comfort.
Outsole – The Outsole may be synthetic or a durable, high traction rubber.
Options – Most of the Slippers offered by Skechers are available in wider widths, as well as more colors and sizes.
---
Reviews: The Best Skechers Slippers with Memory Foam
These are our top favorite Skechers slippers with memory foam;
---
1
Here we have two ideal slipper models from Skechers with Memory foam.
They both features a memory foam cushioned footbed and a durable rubber outsole.
The Bobs Too Cozy is a plush-lined slipper that has a flexible sole and printed uppers.
The Expected L carmen is a loafer-style slipper for men with a plush lining and availability in solid colors.
---
2
Memory Foam Cushioned Slipper
Comfortable and cozy warm slippers from Skechers.
The Men's Renten Palco slippers are a slip-on design with a relaxed fit as well as a 360-degree memory foam.
The Renten Palco also features a slip-resistant rubber sole and a warm lining.
The Cozy Campfire is a closed design slipper that is lined with fluffy fur for the ladies.
The Cozy Campfire also features a memory foam cushioned footbed and a slip-resistant, durable rubber outsole.
---
3
Slip On Memory Foam Slippers
These are two easy slip-on slipper models from Skechers.
They have a relaxed fit and a 360-degree plush memory foam footbed.
The keepsakes Ice Angel has knit uppers and a faux fur lining with a synthetic outsole.
The Expected X is a slip-on Moc toe slipper with a faux fur lining and suede uppers.
---
4
Comfortable memory for slippers available in more colors from Skechers.
The Porter has leather uppers, an air-cooled memory foam footbed, and a durable rubber outsole for indoor and outdoor use.
The REM for the ladies has synthetic uppers, a plush lining, a 360-degree memory foam footbed, and a flexible outsole.
Both are available in more colors.
---
5
Here we have two more comfortable memory foam models in Skechers slippers.
The Expected X Larmen is available in a neutral Gray color, with a synthetic sole, winter lining, and 360-degree memory foam footbed.
The Keepsakes Delight has sweater knit uppers, a faux fur lining, a rubber sole, and a memory foam-cushioned footbed.
Both are available in more color options.
---
6
Here we also have two top favorites in Skechers memory foam slippers.
The Renten Lamato has a synthetic sole, soft uppers, and plush winter lining.
The Team Toasty features textile uppers, a faux fur lining, and closed fit.
Both slippers have a memory foam insole and durable outsole.
There are also more color options available.
---
Index Table: Top Rated Skechers Slippers with Memory Foam
---
---