Slippers are comfortable casual footwear that we wear after a long day when lounging at home.
Slippers come in various styles, colors, designs, and even materials.
You may not be very familiar with one type of slipper: cork slippers.
Cork slippers are slippers with a cork footbed or midsole in them, and in this article, we will look at some models available and what makes them so special.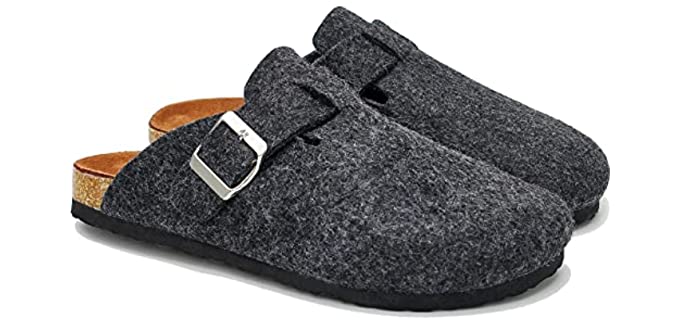 ---
What are Cork Slippers
As I have mentioned, cork slippers have a midsole or footbed constructed from durable cork material or a blend of cork and latex.
We all know the popular Birkenstock sandal with its anatomical cork footbed. Well, the same principle is used in most cork slippers.
The cork footbed, or cork and latex footbed, has a cushioning form that conforms to the shape of your feet, almost similar to memory foam, just firmer.
---
Why You Need Slippers
Slippers can be necessary for many reasons besides just keeping your feet warm.
Slippers protect You Against Cold and Flu – Using socks, or going barefoot on cold floors can cause your feet to become cold, and cold feet can cause the small veins in your feet and legs to constrict. Constricted veins cannot effectively transport white blood cells, which in turn help to fight infections that cause colds and flu.
Slippers Prevent Slipping – Quite conveniently "slippers" in turn help to prevent slipping. When you walk barefoot or in socks on hard floors, your risk of slipping and falling is greatly increased. Slippers offer good traction to prevent slipping
Slippers are Safe – Your floors, even in your own home, may have bacteria, fungus, and even physical dangers, such as sharp glass or stones lurking on them. Slippers protect you against physical hazards as well as fungal and bacterial infections.
Slippers are Comfortable – Slippers are a comfortable solution as casual home wear when you need to get out of your work shoes or trainers.
---
Features of a Good Cork Slipper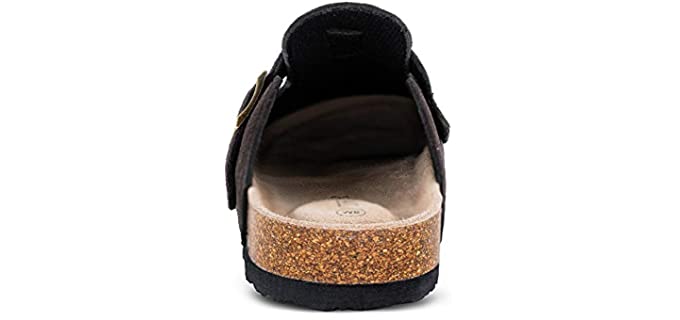 Uppers – The Uppers may be leather, wool, felt or synthetic, with a fur or shearling lining.
Comfort Features – For comfort there is a cork, or cork and latex footbed with an anatomical supportive design, and comfortable cushioning.
Outsole – The Outsole may be indoor suede or EVA, or outdoor rubber.
Options – There may be some color options available, as well as plenty of zie options.
---
Reviews: The Best Cork Slippers
In our list you will find some of the most comfortable cork sole slippers;
---
1
From Birkenstock, we have the best available cork slippers that you will find.
The regular Birkenstocks are well known for cushioning, foot conforming Cork, and latex footbed sandals.
These are similar; however, they have a plush, faux fur lining, so they are more of a warm slipper.
The slippers have leather uppers with a single strap and buckle closure that is adjustable.
There is a cork and latex cushioned footbed with a faux fur lining.
You can also choose from a few more available color options.
These are the narrow-fit slippers. However, there are wider widths available to you.
---
2
The Birkenstock Arizona is one of their most popular sandal models that is now also available in a slipper design.
They have two uppers straps in a soft leather adjustable buckle closure.
There is a soft cushioning cork and latex footbed with a supportive contoured design.
The slippers are lined with a plush faux fur in a complementing color to the uppers,
They have a deep heel cup and a roomy toe box design.
The leather uppers consist of soft suede.
There are also many more color options available to you.
---
3
Fitory
The Fitory Cork slippers have an ergonomically designed cork footbed, with a deep heel cup and molded shape for support and cushioning.
They gave a fluffy faux fleece lining inside and closed uppers in a mule style that easily slips on and off.
The slippers are warm and comfortable, with a durable rubber outsole for indoor and outdoor use.
They are also available in more colors.
Maiitrip
The Maiitrip slippers for the ladies feature a comfortable lined cork footbed that is cushioning and supportive.
They have adjustable uppers with a metal buckle and flexible strap.
The clogs design is comfortable and easy on and off.
They have a soft faux fur lining and soft uppers.
The slippers are also available in more color options.
---
4
The Haflinger ZigZag clogs make for some exceptional cork slippers.
They have handmade quality premium wool uppers and warm insulation.
The slippers feature a molded and arch-supportive cork and latex footbed that cushions and supports your feet.
The slippers have a slip-resistant waterproof outsole for indoor and outdoor use.
They are also available in a few more neutral colors.
As you can see, they have a comfortable and roomy fit and clog style.
---
5
The TF Star Boston slippers also have a comfortable slip-on and off-clog design.
They are suede leather slippers with a suede midsole and covered insole.
There is a durable and slip-resistant EVA outsole covered with elastic rubber.
The footbed provides excellent support and comfort, with a neutral deep heel cup for stability and comfortable natural padding.
The slippers have a cork footbed and sole, with a soft lining.
There is an adjustable buckle closure on the uppers.
You can also choose from a few available neutral color options.
---
6
Walk Hero
The Walk hero slippers are comfortable canvas house slippers for men.
They offer excellent arch support and cushioning, with a soft velvet lining and clog style.
The slippers have a cork design sole and a unique orthotic insole with a deep heel cup for stability and arch support.
The Outsole is a durable and non-slip rubber.
The slippers have natural cotton canvas uppers that are breathable and lightweight.
White Mountain Bari
I have chosen the White Mountain Bari Clog style slippers for the ladies.
The slippers have 100% pure leather uppers are Polyurethane, slip-resistant soles.
There is a contoured cork foot bead, and the slippers have a faux shearling lining for warmth and comfort.
The uppers have a buckle detail and a roomy, comfortable fit.
There are also more colors for your perusal.
---
7
The Haflinger clog slippers have a comfortable and roomy fit.
They are natural wool felt slippers consisting of 100% pure wool.
The slippers have premium materials and are made n Germany.
They have a comfortable wool-lined insole that is breathable and smooth.
The cork and latex footbed is wool lined and offers great support and cushioning.
The outsole is a very durable yet lightweight rubber.
There are also a few more colors available in this range.
---
8
The Itetuu slippers are clogs-style slippers with a cork footbed.
They are multi-use cork clogs for use as slippers or casual shoes.
They have and supportive arch footbed that offers extra cushioning with cork.
There is a deep heel cup for stability to help with foot pain and other ailments.
The slippers have a non-slip, durable outsole.
The uppers are adjustable in fit, with metal buckles.
The uppers consist of a soft felt material that is warm and comfortable.
You can also choose from a few more available colors.
---
Index Table: Top Rated Cork Slippers
---
---