When you need to keep your feet warm in those cold, unyielding winter months, there is nothing more comfortable or cozy than a pair of the warmest slippers for cold feet.
In this article today, we will concentrate on slippers designed with features to make them extremely warm and comfortable for those of us who suffer from very cold feet.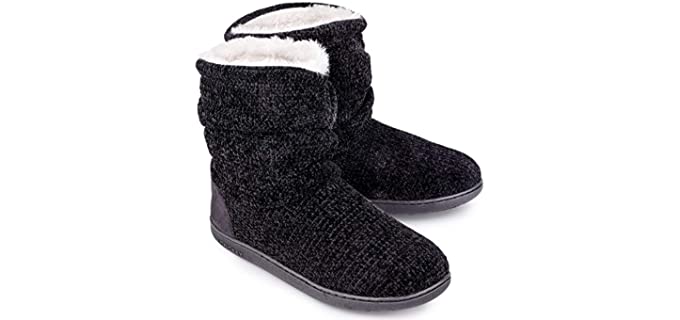 ---
Why are My Feet so Cold?
Your cold feet maybe your body's normal response to the weather. However, in more extreme cases, there may be an underlying reason for your cold feet;

Peripheral Neuropathy – A condition that can cause numbness and pain in your hands and feet, the condition affects your nervous system. This may also lead to cold feet.
Hypothyroidism – When you have an Underactive thyroid, your entire body may feel cold all the time, this also includes your feet.
Raynaud's Disease – Raynaud's Disease is a condition that causes your body to overact to cold weather, thus especially your hands and feet can become cold and numb.
Anaemia – Cold feet can also signify that you are anemic,c, meaning your body does to make enough red blood cells.
High Cholesterol – People with high cholesterol are at risk of circulatory issues,s which in turn can lead to cold feet and hands.
Stress – When you are stressed, your body pushes blood towards the core of your body to keep your organs warm and away from your hands and feet. Thus, your feet may become cold.
---
Warmest Slippers for Cold Feet
Slippers are generally casual and comfortable footwear that we wear at home after a long day.
Slippers are usually also much warmer than regular shoes.
Slippers such as sheep leather wool-lined slippers can be the warmest and most comfortable slippers for cold feet.
Many plush-lined and insulated slippers will keep your cold feet warm and comfortable during leisure time at home.
---
Features of a Good Warm Slipper for Cold Feet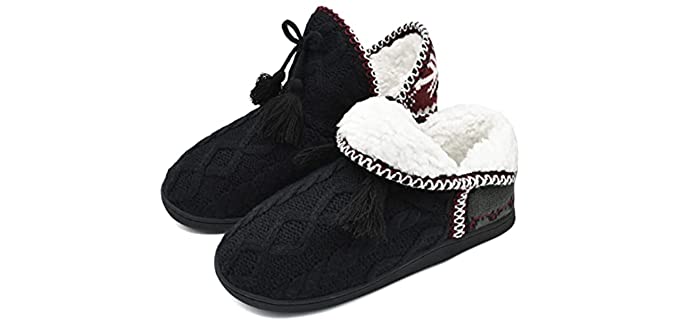 Uppers – Look for slippers with leather, knit or insulating uppers. A smooth fleece, wool, or warm lining inside the slippers is ideal for keeping your feet warm.
Comfort Features – Make sure that the slippers have some foam or memory foam cushioning to make them more comfortable under your feet. Some slippers even offer arch support.
Design – Regular closed design slippers can be quite warm and comfortable; however, Bootie style slippers warm your legs and ankles in turn.
Outsole – You get slippers with and indoor or indoor and outdoor sole. Rubber soles are mostly used for indoor and outdoor slippers, while suede or leather soles are for indoor slippers.
Options – As with the slippers we have chosen there will be some color options available, as well as many choices in sizes.
---
Reviews: The Best Warm Slippers for Cold Feet
In our list are some of the warmest and most comfortable slippers ideal for your cold feet in winter;
---
1
Warmest Slippers for Cold Feet
One of the warmest and most comfortable slipper models that you will find is the popular UGG boot slippers.
They can be worn as casual boots or as slippers and are so versatile, with so many colors available.
The UGG boot slippers consist of very durable genuine sheepskin leather with a wool lining.
The wool regulates temperatures, insulates, and also wicks away moisture, so they are perfect.
The outsole is a durable rubber that you can use indoors and outdoors.
Furthermore, keep in mind they have a snug fit at first, but the leather adapts and molds to the shape of your feet with time.
---
2
From Old Friend, we have the Juliet and Men's Moccasin style slippers.
They are regular shorts closed style slippers that consist of genuine leather, with a moccasin-style toe.
The slippers have a wool lining that regulates temperatures and insulates your feet against the cold.
The leather is soft and supple molding to the shape of your feet.
The outsole is a durable and high traction rubber.
The slippers can be used indoors and outdoors.
There is also a cushioned sheepskin insole that is removable.
They are available in a few more neutral color options.
---
3
Knit Warm Slippers for Cold Feet
Color:
From Coface, we have these warm bootie indoor slippers models for men and women.
They are cotton knitted slippers that have a warm and cozy fur lining and an ankle-length.
The slippers have a moldable memory foam cushioned footbed with a contoured design for cushioning and support.
They have an outsole designed for indoor use only, though.
There are also a few more colors available from which you can choose as you wish.
---
4
Warmest Slippers for Cold Feet
Not quite what you would expect for a warm slipper, but what about the fur-lined crocs.
Some of us love the roomy fit and classic design of a pair of classic crocs clogs, so why not use them as slippers.
Here I have the classic Croc clog with a fur lining for warmth as a winter slipper.
They are the regular crosslite foam crocs with an EVA soft sole and a faux fur lining for warmth.
The footbed is contoured and cushioned for support and comfort.
There are also a few more color options available to you.
---
5
Cold Feet Warmest Slippers
From Dearfoams, I have chosen their warm nylon bootie slippers for cold feet.
They gave a bootie design with nylon and water repellent uppers that are also machine washable.
The slippers have a cozy design and warm lining to keep you warm.
They have DF Adapt no sweat technology to wick away moisture and keep your feet dry and comfortable.
The slippers have a plush cushioned insole and gel-infused memory foam for your comfort.
The sole is synthetic and very durable.
---
6
Warm Moccasin Slippers for Cold Feet
Here I have chosen two moccasin-style slippers also from UGG, the Ascot and the Dakota.
The slippers have sheepskin leather uppers and a wool lining.
They will adapt to the shape of your feet and stretch with time.
The wool lining regulates temperatures and wicks away moisture.
The style is comfortable and easy to slip on and off.
The slippers have a durable indoor and outdoor rubber outsole.
They are also available in a few more neutral color options.
---
7
Warm Slippers for Cold Feet
The Slippers Boots from Dearfoams are so warm and cozy for your cold feet.
They are an ankle boot design with dyed sheep shearling and a soft suede sole.
The slippers have 100% Australian Sheepskin construction and temperature regulating wool lining.
They have a breathable lining so your feet will not become overly sweaty.
The slipper's boots are water and stain-resistant.
They also come in a few neutral color options.
---
Index Table: Top Rated Warmest Slippers for Cold Feet
---
---