The Bootie-style slippers are the most comfortable and versatile slippers, especially for those cold winter months.
Bootie slippers have a longer length, similar to boots, with comfort features similar to that of a slipper.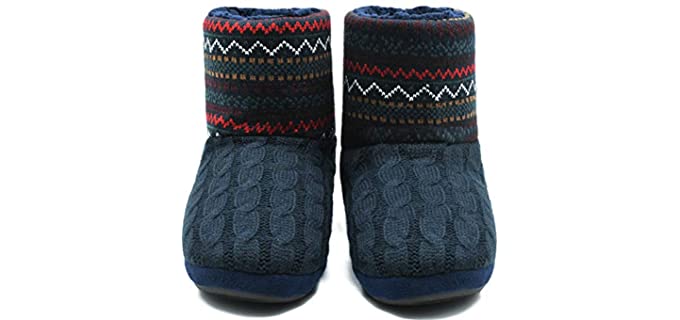 ---
What Are Bootie Slippers
The Bootie slippers are exactly as it says, a boot style slipper.
They are normally ankle length or slightly longer and consist of soft and cozy materials similar to slippers.
Bootie slippers can be leather, synthetic, knit, or wool and come in many designs.
The Bootie slippers are much more suitable for winter and colder weather because they provide much better coverage.
---
Why You Need to Wear Slippers
Wearing slippers is not just about warmth. There are, ideally, many good reasons why you should wear slippers rather than shoes or go bare feet.
They Prevent Colds and Flu – Cold feet can lead to constricted arteries, which reduces the spread of white blood cells to help fight infections. Thus cold feet do cause Colds and flu, hence the name.
They Keep Your Feet Warm – Warm booties slippers are ideal for cold weather to keep your feet warm and cozy.
They Reduce Your Risk of Infection – Slippers protect your feet from bacteria and fungus growing on floors, which could cause a bacterial or fungal infection.
They are More Comfortable – Slippers are much more comfortable to wear at home than your work or athletic shoes.
They Prevent Slips and Falls – Wearing comfortable and proper slippers can help to prevent slipping on wet or slippery indoor floors.
---
Features of a Good Bootie Slipper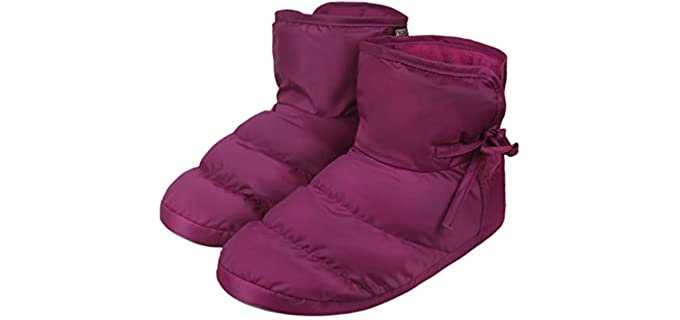 Uppers – The Slippers uppers can be genuine or faux leather, suede, polyester, fleece, or a wool or acrylic knit.
Comfort Features – For comfort there may be a fleece or shearling lining, a cushioned footbed or insole and a comfortable fit.
Outsole – The outsole can be rubber or suede, depending if its an indoor or outdoor slipper.
Options – From most of the slipper models we have chosen you can choose from a few more colors, and plenty of sizes.
---
Reviews: The Best Bootie Slippers
In our list, we have some of the best available Boot style slippers to keep you warm and cozy;
---
1
The UGG classic ankle boot is one of the most popular choices when it comes to two bootie-style slippers.
Even though it is not a slipper, it has a comfortable and versatile design that many uses as a slipper.
The uppers are genuine sheepskin leather that is lined with warm wool.
The outsole is a durable and slip-resistant rubber.
Inside is a comfortable padded footbed.
The UGG slipper boots adapt to the shape of your feet and may have a snug fit initially.
They are also available in more colors.
---
2
Knit Boot Bootie Slippers
The LongBay bootie slippers are warm Chenille knit slippers with plush memory foam cushioning.
The slippers have a longer boot length and a durable indoor and outdoor rubber outsole.
They have Chenille and velvet uppers with a fuzzy and plush fleece interior lining.
There is an 80D memory foam insole fur cushioning, comfort, and ergonomic design.
The outsole is also flexible and very slip-resistant.
The slippers are available in a few more colors.
[/super_product]
---
3
From Fireside, we have ultra-warm winter bootie slippers for you.
They are Dyed sheepskin leather uppers with a plush shearling lining.
The slippers have an ankle-length, bootie design, and comfortable style.
They consist of 100% Australian sheep leather and are of premium quality.
The slippers are breathable and will naturally adjust to your body temperature.
They are water and stain resistant with a pre-treatment.
The soft outsole makes them the ideal indoor slippers,
---
4
From Dearfoams, we have the ankle-length bootie style warm winter slippers.
The slippers have soft nylon uppers and a warm and cozy interior lining that is breathable and temperature regulating.
The slippers have DF Adapt no-sweat technology to keep your feet dry.
They are washable slippers that also have a synthetic sole.
Inside is a Gel-infused memory foam insole for plush and comfortable cushioning.
---
5
Knit Warm Bootie Slippers
The Coface Booties slippers are soft wool and cotton knit indoor slippers with memory foam cushioning.
They are a wool and cotton blend knitted slipper with a closed suede back and durable rubber outsole.
The slippers have a memory foam insole that is resilient and molds to the shape of your feet.
They are available in more sizes and have some color options.
---
6
The Glerups are unisex bootie slippers that are durable and comfortable.
They are wool slippers with textile-lined uppers and a lined insole.
The outsole is durable and slip-resistant rubber for indoor and outdoor use.
The Insole has to cushion for comfort and support.
The slippers are available in many colors from which you can choose.
---
7
The IPenny winter slippers are super warm and well insulated against the cold, with their ankle-length bootie style.
They are lightweight and waterproof slippers with a thick insulating lining.
The slippers are strong nylon with a down fill and fleece interior lining,
They have a durable and non-slip rubber outsole.
There are also more colors available for your choice.
---
8
From Dearfoams, we have two bootie-style slipper models.
The James for men is 100% polyester bootee slippers with woven twill uppers and a cozy faux fur sherpa lining.
The James slippers have DF Adapt technology to wick away moisture and a cushioned memory foam insole.
The Beth furry slippers have fabric and textile uppers with a plush faux fur lining.
The Beth slippers have DF Adapt no sweat technology, and a multi-density cushioned memory foam insole.
Both slippers are a bootie length and have a durable indoor and outdoor use rubber outsole.
---
Index Table: Top Rated Bootie Slippers
---
---