If you are looking for the most comfortable slippers for summer, and warmer weather, then an air of open-toe slippers are just what you need.
In this article, we will look at some of the top favorite open-toe design slippers with many comforts and support features to give you the most luxurious experience in your favorite slipper design.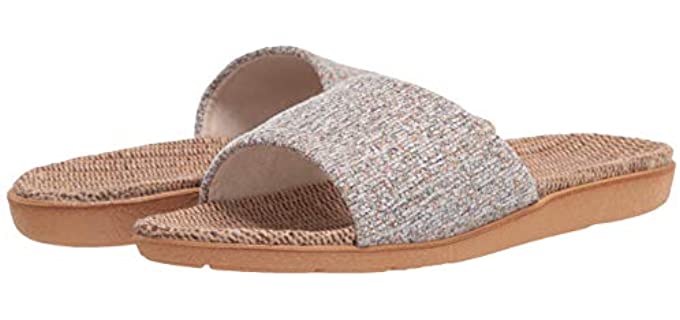 ---
Why Should You Wear Slippers in Summer
Many get home after a long day at work, and slipping into their favorite slippers is the coziest part of their day.
Whether winter or summer, slippers are a comfortable attire for leisurewear around the home, but slippers are so much more than just that.
Warmth – Even open-toe slippers provide warmth for your feet, rather than walking barefoot on cold tiled or wooden floors.
Slippers Prevent Sweaty Feet – Open Toe slippers, especially the bamboo, cotton, and Terry models, are designed to absorb and wick away sweat. They are ideal for when you get out of the bath or shower and help dry off the last bit of wetness from your feet.
Prevent Illness – Did you know that cold feet lead to constricted blood vessels, which can affect your immune system that fights off disease? Thus cold feet can truly cause illnesses such as colds and flu.
Keep Your Feet Clean – Even in warmer weather, open-toe slippers will help to keep your feet and floors clean and more hygenic. They can prevent you from picking up a fungal or bacterial infection from floors.
Grip – Slippers can provide you with a better grip on slippery or wet floors, which you may suffer a slip and fall if you go barefoot, or in a pair of flimsy flip-flops.
Support and Comfort – The right slippers can provide comfortable underfoot cushioning that absorbs shock from hard floor surfaces in your home. They will also provide good support, such as arch support to keep your feet well aligned.
---
Open-Toe Slipper Benefits
Most open-toe slippers will be a slide-on or slip-on design that is quick and easy to put on and take off.
The open-toe design allows for much better ventilation and is an excellent option for summer.
Many summer slipper models come in materials that are more absorbent for sweat and to dry your feet and come in natural materials.
Open-toe slippers still provide good underfoot comfort and protection and will not overheat your feet in summer.
---
Features of a Good Open Toe Slipper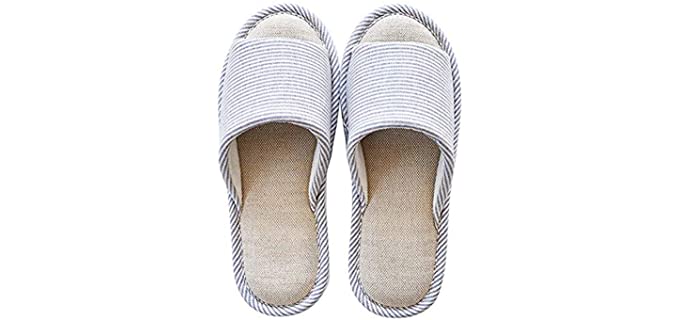 Uppers – An Open Toe style slipper will usually also have an open back, as these are easy slip-on summer style slippers. There may be a single upper strap or a cross strap design in the open-toe slippers styles. The uppers may be anything from synthetic polyester, or fleece materials, to natural cotton, bamboo, or soft suede leather. There may be a Shealing lining or a faux fur lining for comfort.
Comfort – Comfort features may include a cushioned insole or footbed that may be EVA foam, foam, or memory foam cushioned. Some slippers may have a molded or contoured footbed that provides good arch support for your feet.
Outsole – For the outsole, you get two options, including indoor and outdoor and indoor outsoles. The indoor-only outsole is usually leather, a soft suede, or EVA. At the same time, outdoor/indoor slippers have a more durable rubber or synthetic outsole that provides slip resistance
Options. Open-Toe Slippers will generally be available in a few color options from which you can choose, as well as basic sizes.
---
Reviews: The Best Open Toe Slippers
Here are a few very comfortable, quality open-toe slippers that you can enjoy for those summer months;
---
1
The Vionic Indulge relax Slipper has a comfortable and roomy design, with two cross strap upper straps and a peep-style open toe.
It has soft fuzzy polyester uppers and a terry-covered footbed that absorbs sweat to keep your feet dry.
The slippers have a supportive footbed with good arch support and cushioning, a deep heel cup for stability and a more flexible sole design.
It features the Three-Zone Comfort design popular with Vionic, which supports, cushions, and hugs your foot's natural curves.
The fit is roomy and comfortable, and plenty of sizes are available.
The slippers are available in more colors and some animal print options.
They have a rubber indoor and outdoor outsole.
---
2
The Dearfoams Beatrice on-toe slippers have an easy slide-on style, with a single upper strap that is wide and comfortable.
They consist of absorbent Terry fabric that is ideal for keeping your feet dry and helping dry them after a shower at home or at the gym.
The slippers have soft cloud-like cushioning, with a multi-density memory foam insole and midsole.
The Outsole is durable rubber designed for indoor and outdoor use.
The slippers are fully machine washable and quick drying for your convenience.
---
3
From Birkenstock, I have chosen their slipper sandals.
They have the classic Birkenstock sandal design with two soft suede leather uppers straps and adjustable closure.
The difference is in the soft shearling lining that makes them the ideal indoor and outdoor slippers and casual wear shoes with a bit of warmth.
The Uppers and entire Footbed are lined with a soft Shearling for warmth and comfort.
The footbed has a contoured design for full support, with cork and latex for moldable cushioning.
The Outsole is durable rubber and has a solid flat design for optimal traction on indoor and outdoor surfaces.
They are also available in a few more color options from which you can choose. However, this is the narrow fit model.
---
4
From KPN, we have what w call house slippers that are more of an indoor open-toe summer slipper.
They are quite affordable slippers with soft cotton uppers that are absorbent and cool and a natural bamboo insole.
The slippers have a wide and roomy fit and are easy to slip on and off, with a single uppers strap and open-toe design.
The slippers are completely natural and vegan in material, so they are an excellent option for a breathable and natural slipper.
Bamboo is ideal for the cushioned insole as it also resists odor and bacteria and is naturally absorbent and moisture-wicking.
The outsole, however, is designed for indoor use only.
The slippers are available in more sizes and a few more neutral color options.
---
5
Here we have the perfect non-slip indoor slippers with a roomy fit and open-toe design.
The Tatami slippers are Japanese house slippers, ideally suited for home leisure wear or regular slippers.
They have a single uppers strap that has a wide band and consists of soft and breathable linen fabric,
The footbed is lined with flax linen and has a contoured, supportive, cushioned design to fight foot fatigue.
The slippers are naturally breathable, absorbent, and odor-resistant.
They consist of natural materials that are good for your feet.
They are the perfect slippers for summer wear.
There are likewise a few more neutral colors available from which you can choose as needed.
---
6
From Magilona, we have the Unisex design open-toe slippers for men and women that are comfortable and roomy.
They have a single wide upper band consisting of breathable, absorbent cotton.
The slippers are natural cotton and flax that is highly breathable and absorbent to keep your feet dry and cool during summer.
There is a foam-cushioned footbed that supports your feet and absorbs shock.
The outsole, however, is designed for indoor use only.
The slippers have a non-slip outsole that is ideal on various floor surfaces.
They are also available in a few neutral color options.
---
Index Table: Top Rated Open Toe Slippers
---
---