You do not commonly find cushioning and support features, such as arch support, in most slippers.
However, in this article, we specifically want to look at slippers with arch support and cushioning that provide a more comfortable and supportive option for your leisurewear.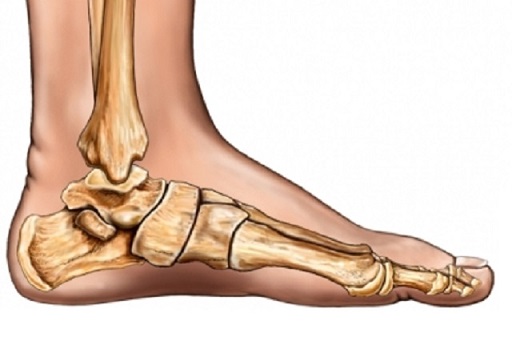 ---
---
Why Should You Wear Slippers
I am sure I do not need to convince you to wear a pair of cozy and warm slippers after a long day at work or a training session.
However, even so, here are some facts and benefits of wearing slippers that you may not have thought of;
Slippers Make You More Productive – When you are more relaxed, you will be more productive at home or in your leisure time. You might get a few things one that you have long forgotten. Then again, with so many people working from home, today's slippers are an excellent footwear choice.
They Keep Your House Clean – If you wear slippers on the inside of your house rather than your work shoes and athletic shoes, you will keep your house much cleaner and prevent the spread of germs inside your home much better.
Slippers Prevent Infections – Slippers protect your feet from fungus and bacterial infections lurking on your home floor or other floor surfaces. They can create a barrier between your feet and germs or bacteria that may cause foot infections.
They Reduce Your Risk of Illness – Slippers protect you against colds and flu, especially in cold weather. The cold from the floor against your bare feet causes your body to lose heat rapidly, which impedes your immune system and can increase the risk of getting colds and flu.
They Protect Your Socks – It is better to wear slippers with your sock in winter than just socks alone. Your socks will be well-protected from wear and tear and will get so dirty.
They Prevent Slips – Running and walking barefoot on wet or even slippery hard falls are calling for slips and falls. Thus, a slipper with a good slip-resistant outsole can ideally protect you from slips and falls.
---
Why You Need Arch Support in Your Slippers
So why should you get slippers with arch support,
Ideally, I recommend slippers with arch support for people with flat feet or abnormally high arches, just as I recommend for any other shoe type.
Arch support can help where you lack thereof because of the shape of your feet, your arches, or your pronation type, whether Overpronation or supination.
Generally speaking, arch support is also good for the following reason;

Reduces Pressure – Arch support helps to diffuse pressure on your feet that the heels or balls of the feet would usually take. It places some pressure on the arch area and spreads it evenly across your feet.
Manages Pain – Good arch supports help keep your feet in better health and reduce impact. Thus you will feel less pain in your feet, ankles, joints, and knees because your feet are well protected against impact.
Prevents Injuries – Arch support can protect you against long-term injuries and issues related to your feet. They also take the pressure off when you have pain and inflammation in the heels or balls of your feet.3
Balance and Stability – Good arch support provides balance and stability. This is ideal, especially when you overpronate when walking or running; you can walk and run more comfortably with proper arch support and increased balance.
Prevents Overpronation – As mentioned, good arch support provides the stability ideal for persons who tend to overpronate quite a bit.
---
Features of Good Slippers with Arch Support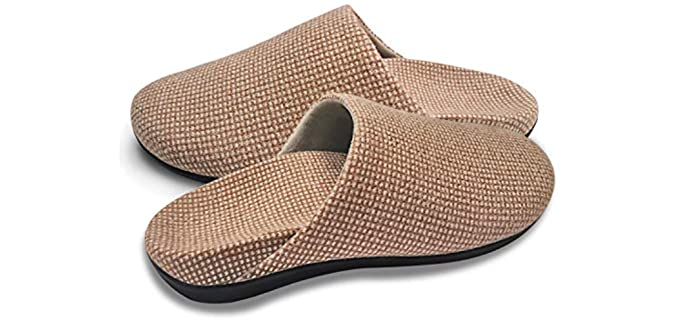 Uppers – Slippers can have various materials used in the uppers, from soft and supple leather, nubuck or suede leather, to textile and synthetic leather, fleece and polyesters, or even cotton. Most slippers will have a warm fleece or shearling lining that provides insulation. However, summer models may have a more breathable mesh or fabric lining. Slippers come in a variety of closed and open designs.
Cushioning and Arch Support – The slippers we have chosen specifically feature arch support, or an anatomical footbed that supports the arch of your feet. They also have EVA, Memory foam, and other foam cushioning, or Ortholite cushioning in the footbed for comfort and shock absorbency.
Outsole – Outdoor slippers will feature a rubber outsole that offers better grip and traction for indoor and outdoor surfaces. Indoor Outsole is leather, suede, or EVA and softer for indoor use.
Options – Slippers with arch support may come in options regarding colors as well as wider widths and extended sizes.
---
Reviews: The Best Slippers with Arch Support
These are our top choices in slippers with arch support;
---
1
Slippers with Arch Support
The Isotoner Micro Terry Slippers are all-season slippers with proper arch support.
They have premium soft micro terry uppers and multi-layer EVA support for cushioning with proper arch support.
Memory foam cushioning in the insole molds to the shape of your feet.
They are fully machine washable and have a durable rubber outsole for indoor and outdoor use.
There are also some more colors available.
---
2
Arch Support Mule Slippers
The V-Step Slippers also feature an arch-supportive footbed.
The slippers have a rubber and EVA outsole for shock absorbency and indoor or outdoor use.
They have a warm and cozy design with orthotic support features and higher, more rigid arch support, cozy.
Ideal for flat feet, plantar fasciitis, and other foot issues.
The uppers are a soft velveteen texture that is lightweight and breathable.
---
3
Slippers with Arch Support
The Haflinger AT slipper comes with fully molded arch support for your feet.
It has all-natural 1005 pure boiled wool uppers that are soft and comfortable,
The outsole is a non-slip outdoor and indoor rubber.
Inside is a comfortably cushioned footbed with good arch support.
There are likewise more colors available.
---
4
Slippers With Arch Support
These are two warm and lined slipper models from Vionic with arch support.
The haven Shirley has a faux fur lining, while the Irving Adler has a shearling lining for comfort.
Both have soft suede leather uppers and a cushioned and arch-supportive footbed.
They both have a durable rubber outsole for outdoor and indoor use.
There are also more color options available.
---
5
Slippers with Arch Support
The Propet Cush n Foot has an Orthopedic support design and comfortable fit.
This slipper model is available in wider widths, sizes, and color options.
It has an arch support and a well-cushioned footbed.
The uppers are lightweight and soft with an adjustable strap.
There is a durable and thick rubber outsole.
---
6
The ERGOfoot slippers are a mule slip-on design ideal for all seasons.
They have soft knit uppers that are comfortable and warm.
There are more colors available as well as plenty of sizes.
The ERGOfoot slippers offer good arch support and cushioning for shock absorbency.
They have a slip-resistant, durable rubber outsole.
---
Index Table: Top Rated Slippers with Arch Support
---
---