Your feet take plenty of strain on a daily basis without you even knowing it.
In turn, your feet may actually develop conditions such as color, callouses, and other deformities or issues.
In this article, we look more carefully into the condition called corns which develops from continuous strain and pressure on a particular area of the foot.
We will discuss the best slippers for corns to reduce strain and provide some relief.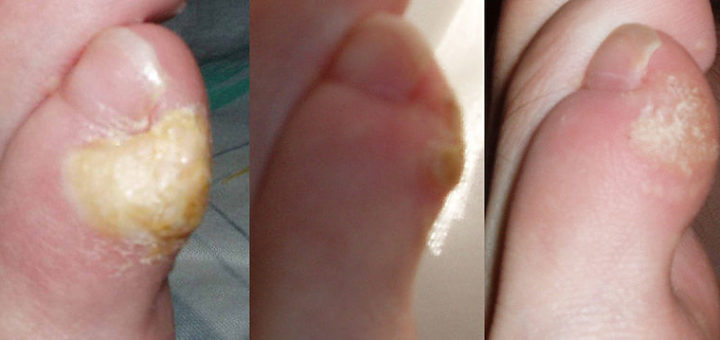 ---
Corns VS Calluses
But firstly, let us try and understand better what corns essentially are and how they compare to callouses;
Callouses, as well as corns, are thick skin on areas of the foot that are caused by constant friction and pressure. This can lead to pain and discomfort when you walk or wear shoes.
Calluses can form on your hands and feet and usually do not require much treatment as they are basically just layers of hardened skin. At the same time, Corns have a soft or hard inner core. Corns usually form between the toes or on the tops of the toes and sides of the feet.
Causes – calluses and Corns, as we have mentioned, are caused by continuous friction or pressure on a certain area of the skin. The pressure causes the skin to die and to form a hard protective surface, and A Corn is formed similarly with the only difference that when sweat is trapped where the Corn is developing, it actually gets a softcore. Calluses and corn are most likely caused by pressure from improper fitting footwear.
Symptoms – You can actually tell an ear of corns from a callous by the way it looks. A Callus is a hard and dry, thick, greyish, or yellow piece of skin that is not so sensitive to touch. At the same time, a Corn looks more like an open sore with a ring in the middle.
Prevention – You can prevent corns and calluses by basically eliminating what is causing the frictional and pressure on the area of the foot. This means that you need to address your footwear and sometimes an activity that places pressure or causes friction on your feet. By wearing supportive and proper footwear that does not cause friction or pressure, you can easily prevent Corns and Calluses.
---
Choosing Slippers for Corns
Just as you would choose proper athletic or work shoes, you also need to choose the right slippers to prevent Corns.
From experience, I can say that most slippers offer very little comfort and support features and sometimes an uncomfortable fit that can cause friction and pressure, leading to corns and calluses.
You will need to make sure there are no hard ridges, lumps, or areas of the slippers that can cause friction or pressure on your feet and toes.
Also, a good fit is recommended. Slippers straps should not press hard over your toes and feet, and the toe box area needs to offer a roomy and comfortable fit.
Then again, good cushioning in the footbed will also prevent corns and other foot conditions.
---
Features of a Good Slipper for Foot Corns
So after looking into the causes and risk factors when it comes to corns, a well as calluses, here are a few features to consider when choosing slippers;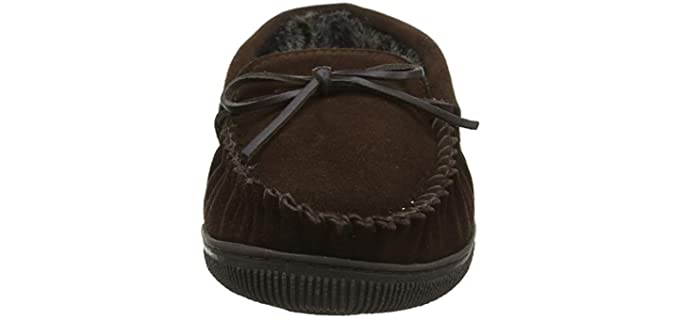 Uppers – Ensure that the uppers are comfortable and soft against your skin and that there is no risk of chafing or friction. A smooth lining and roomy toe are is an ideal in a slippers for corns. Materials such as textiles, genuine or faux leather should be very comfortable. Adjustable straps will allow you to easily adjust the fit to your liking.
Cushioning and Support – A comfortable cushioned or padded footbed such as Ortholite, Memory Foam, and other foams will provide a soft landing for your feet. And EVA or shock-absorbing midsole will likewise prevent hard impact on your feet. Good arch support or a more contoured footbed will ensure proper support for your feet.
Outsole – Slippers have outdoor and indoor outsoles, or just and indoor outsole. The outdoor insole is usually a durable rubber with a slip-resistant tread, whereas the indoor-only outsole is softer such as EVA r leather materials.
Fit – The Fit is very important as you want less friction and pressure on your feet. So you will need to look for slippers with a roomy toe box, and you can even opt for wider-width slippers options.
---
Reviews: The Best Slippers for Foot Corns
Listed we have some of the best available slippers that will provide comfort and relief for foot corns;
---
1
The Orthofeet Charlotte and Asheville are the best available slippers that will help with Corns on your feet.
The structure of the slippers is more Orthopedic with a wide fit and roomy toe box that will not cause any pressure.
They have soft layered cushioning and proper arch support to reduce strain on your feet.
The slippers have smooth interior linings that will reduce friction and pressure.
They also come in wider width options.
---
2
Slipper for Corns and Callouses
The Propet Cush n Foot range offers a shoe and slippers that will not irritate and also prevent corns in the first place.
The slipper has a comfortable lined interior that will not cause pressure or friction.
The slippers have a Velcro closure upper so that you can easily adjust the fit to your liking.
There is soft cushioning and a durable rubber outsole.
They are also available in more colors and wider width options.
---
3
From Vionic, we likewise have two slippers models that are ideal for corns.
They offer a comfortable and roomy fit with a wide toe box for less pressure and friction.
The slippers are lined for comfort and offer excellent cushioning and support with an EVA footbed.
The Uppers are a soft and comfortable suede leather with a shearling furry lining for warmth,
The sole is slightly flexible, and the outsole is a very durable rubber.
---
4
From Clarks, we have chosen their top favorite Moccasin Slippers that have a faux fur shearling lining that is gentle on your feet.
The soft materials and design will not cause friction or pressure on painful corns.
The slippers have a soft leather sole and a padded footbed for comfort.
They are also available in a few more neutral color options.
---
5
These easy slide-on memory foam slippers from RockDove are perfect for corns.
They have a closed toe and consist of soft and breathable cotton and spandex for stretch.
The slipper has a roomy toe and is cushioned with memory foam for comfort and support.
They are available in a few of the two-tone color options for men and for women.
---
Index Table: Top Rated Slippers for Foot Corns
---
---