Slippers generally do not offer the best support features and are rather soft, comfortable shoes that you wear at home, after a shower, or before bed.
They are generally designed to offer light support and comfort for being seated for a short while.
However, many of us enjoy practically "living" in our slippers when home or working from home.
Just as you would need good support and comfort features from any other athletic shoe, likewise, you need good support from slippers, especially in your supinate.
We want to help you find the best slippers for Supination.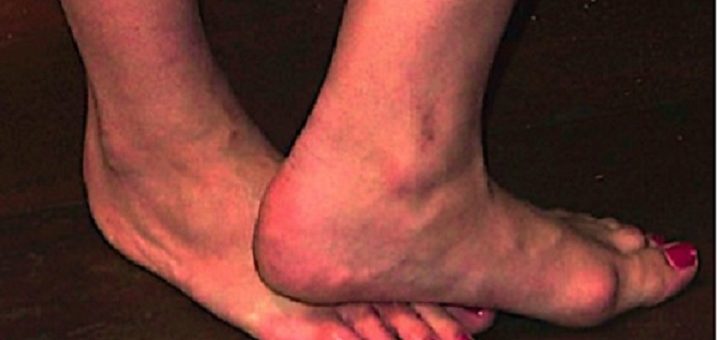 ---
---
Supination Overview
Firstly lest delve a bit deeper into Supination, how it affects your feet, and why you also need good slippers for this issue.
Supination of your feet occurs when your weight rolls onto your feet' outer edges as you walk or run, and your feet roll outside excessively.
In regular strides, your fete will roll inward slightly, called pronation, and the weight will be on the balls of your feet. You will push off for the next step with your big toe. When you supinate, most of your weight falls on the outside of your feet, and you will push off from your outer toes instead of the big toe.
Here the mechanics of your fete will be off quite a bit, and it can, in turn, throw off the alignment of your natural body.
Excessive Supination may lead to issues such as back and hip pain, taking on your knees, ankle injuries and inflammation in the heel, or Plantar fasciitis.
Causes of Supination – Supination may be an inherited problem with the structure of your feet, meaning it is genetic. Or, it can be caused by weakness in the muscles of your feet, ankles, or legs. You may need more stretch in your feet, ankles, and legs because you wear improper-fitting and unsupportive shoes. After all, there may be misalignment in the body or a previous injury t the tendons or muscles. If you wear rigid shoes all the time, they can cause problems, and Supination can throw out your body's entire alignment. When your supinating foot adapts to the surfaces it walks on, muscles have to work differently to keep your balance and posture, and over time this leads to tension in various parts of your body and feet. Prolonged tension normally always ends up in some form of an overuse injury.
Treating Supination – Lightweight shoes with plenty of toe room and more plush cushioning are usually the best option for Supination, which goes for your slippers as well. When you choose a training or running shoe, choose one specifically designed for Supination or under pronation. You can also use orthotic insoles designed for Supination. Physical therapy may help you strengthen the muscles in your feet and legs and loosen tight tendons, which can help with Supination.
---
Benefits of Slippers for Supination
Just as the right running shoe or work shoe will benefit your feet by providing specific support for Supination and shock-absorbing cushioning, our daily wear comfort slippers can provide similar features.
The right slippers will have ample cushioning throughout the footbed of the slipper to absorb impacts and keep your feet comfortable. Likewise, they will also have a more contoured or arch-supportive shaped footbed for light support.
Furthermore, slippers generally keep your feet warm and protected against bacterial and fungal infections and protect you from getting a cold and the flu from having cold feet.
After a long day, your feet will remain cleaner, and you will rest in a comfortable and supportive slipper.
---
Features of a Good Slipper for Supination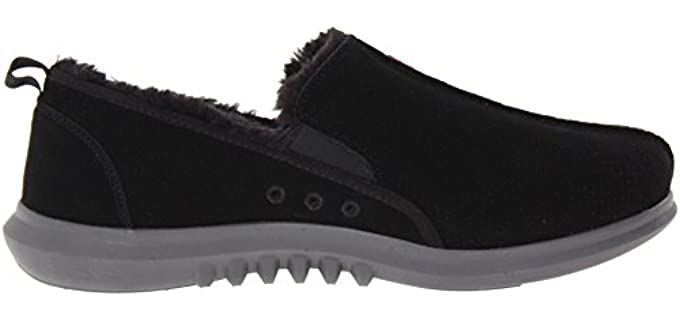 Uppers – Slippers come with various uppers material and design choices. You get summer and winter options. Bootie closed, open back, and sandal design slippers models. Then there are genuine leather, suede, wool slippers, synthetic polyester, microfiber, terry, natural cotton, or bamboo options.
Support and Comfort Features – For Supination, I would opt for a slipper that has good cushioning and some arch support for your arch type. Generally, most slippers will have an anatomical footbed and EVA, memory foam, or foam cushioning.
Outsole – Most slippers will have a rubber, synthetic, leather, or suede outsole. Outdoor slippers can be used indoors and outdoors with a more durable rubber outsole, while indoor-only slippers can be made of a softer material.
Options – In our range of slippers for Supination, you will find some color options, size options, and in some models, width options, in turn.
---
Reviews: The Best Slippers for Supination
Thus we have come to our list of the best available slippers that are particularly beneficial if you tend to Supinate;
---
1
The Isotoner slippers are micro terry summer slippers that offer good arch support for Supination.
They have soft micro terry uppers.
There is a multi-layered EVA midsole and plush memory foam insole for comfort and support,
The slippers come in more colors, and they are machine washable.
---
2
The Cush n Foot Slippers likewise offer good support for Supination.
They are available in more colors and widths options.
The uppers strap is adjustable, with a Velcro closure.
They are closed-style slippers with flexible uppers.
There is a layered and anatomical-shaped cushioned footbed for comfort and support. The outsole is a durable rubber for indoor and outdoor use.
---
3
Hush Puppies is a great Orthopedic brand that offers some of the best slippers for Supination.
These models have a comfortable and roomy fit, with a plush lining and soft uppers,
They are cushioned and supportive with a suede sole.
They are more suited to indoor use, however.
---
4
The Spenco Supreme and Siesta slippers are also great choices for Supination.
They are slip-on slippers that are quite convenient.
They have proper arch support and cushioning with a deep heel cup design.
The slippers have an indoor and outdoor use rubber outsole.
They are also available in more color options.
---
5
The Slippers from Orthofeet provide Orthopedic comfort and relief for Supination.
They have a layered cushioned footbed for proper support in the alignment of your feet.
The uppers are soft and comfortable with an adjustable design.
The slippers are available in more colors, as well as wider widths.
---
6
The UGG Boot also makes for an exceptional supination slipper.
However, you should invest in an orthotic or insole for Supination since these slippers are more than friendly.
They have leather uppers and a wool lining.
Perfect for cold winter months.
The rubber outsole can be used indoors and outdoors.
There are also plenty of colors available.
---
Index Table: Top Rated Slippers for Supination
---
---