Summer slippers may not be the first thing that you think about when summer starts.
However, besides just comfy sandals and flip-flops, you will also need a pair of comfortable summer slippers.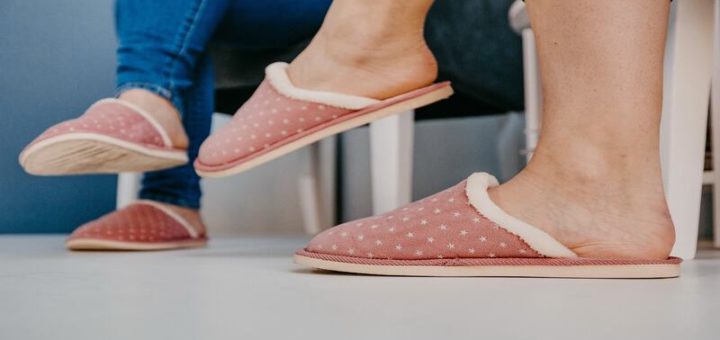 ---
Benefits of Slippers in Summer
Slippers hold many benefits even when worn in summer;
They Prevent Colds and Flu – Did you know that keeping your feet warm directly has an impact on your immune system. Cold feet can constrict arteries and lessen the availability of white blood cells, which affect immunity. Thus cold feet may lead to colds and flu.
Keep Your House Clean – Change from your outdoor shoes into comfy slippers and keep the floors of your house clean. Comfy slippers will, in turn, also keep your feet clean.
They protect You Against Infection – Fungus and Bacteria are present on floors, even in your own home. They can cause infection and disease. Wearing slippers protect your feet against these infections.
Protect Your Socks – If you like to wear socks around the house, some lightweight summer slippers will protect them from becoming dirty and worn out.
Slip Resistance – Slippers can help prevent slips and falls around the house, especially when the floors may be wet or slippery.
---
Choosing Summer Slippers
Comfort should be taken into account firstly when choosing summer slippers, and you want something that is comfortable and cushioning underneath your feet, with a roomy fit that will not constrict movement.
Then again, you do not want warm-lined slippers that will become hot and sweaty. Opt for lighter fabrics such as suede leather, terry, cotton, and textiles. Also, look for slippers with a more open design, such as mules and open-toe styles.
---
Features of a Good Summer Slipper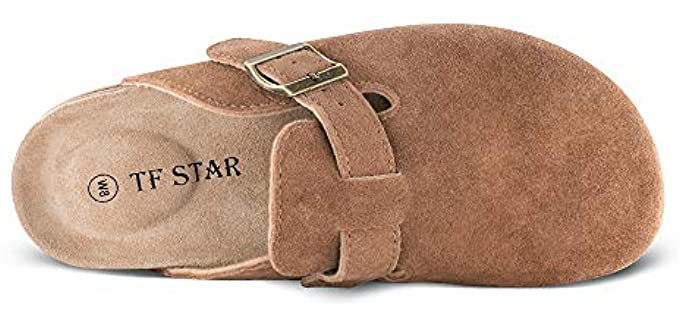 Uppers – Summer slippers need to have lightweight and breathable uppers such as fabric, fleece, cotton or terry. Light suede leathers are also comfortable and ideal. Some slippers come with a moisture wicking temperature regulating lining for cooling.
Comfort Features – Slippers for summer need to have a comfortable foam or memory foam cushioned footbed that offers good support. You also get the cork and latex footbed slippers and Crosslite that are more summer friendly.
Outsole – Slippers may have a soft leather or suede indoor outsole, or a more durable high traction rubber outdoor insole.
Options – Most of the slipper models we have chosen are available in more color selections.
---
Reviews: The Best Summer Slippers
In our list is some of the best available slippers that are cool and comfortable for summer;
---
1
The Dearfoams Cooper and Terry Quilted models are the perfect summer slippers.
The Dearfoams Terry has a durable rubber sole and microfiber terry uppers with a lining to wick away moisture and stitching on the toe.
The outsole on the Terry is anti-skid, and it has a multi-density cushioned wedge sole and heel for comfort and shock absorbency.
The Cooper for men has adjustable terry quilted uppers with a Velcro closure.
There is a comfortably cushioned memory foam footbed and a durable rubber outsole.
The Cooper also has temperature regulating DF Adapt technology to wick away moisture and keep your feet cool.
Both slippers are available in many sizes and color options.
---
2
The Landeer Mule style slippers are comfortable house slippers that are perfect for summer.
They have a durable indoor and outdoor rubber sole.
Inside is a soft and moisture-wicking flannel lining, and the midsole has high-density memory foam pads for shock absorbency.
The slippers have specialized side seam edges, so they will not easily break.
There is a roomy and comfortable toe box and open back for breathability.
The slippers are available in a large variety f solid color options.
---
3
These are very lightweight and packable spa slippers firm Tiger007 that are perfect for summer.
They are comfortable and delicate with an open toe and back.
The slippers come in a set of 6 slippers, in neutral colors, with some options you can select from as needed.
They have an anti-slip and non-skid EVA sole and a comfortable footbed.
The slippers are a very lightweight and breathable fabric.
---
4
The Dearfoams Nathan are waffle Knit clog style slippers for summer.
The Dearfoams Nathan has a Thermoplastic rubber sole for indoor and outdoor use, and they have DF Adapt technology to keep your feet dry and cool.
There is a comfortable jersey lining and cushioned footbed in the Dearfoams Nathan slippers.
The Dearfoams Beatrice for ladies is Terry's side gore slide slippers for summer.
The Beatrice slippers have cloud-like cushioning and a durable rubber outsole. They are machine washable and very lightweight, and breathable.
---
5
From Crocs, I have included their fur-lined clogs as summer slippers in some fun tie-dye colors.
These are the regular Crosslite foam clogs with air vents and adjustable slingback strap.
There is a faux fur lining inside for warmth and comfort.
The slippers are available in many fun tie-dye color options and more sizes.
They also have a very roomy and comfortable fit.
---
6
Plantar Fasciitis Summer Slippers
The ERGOFoot slippers are comfortable and ideal for summer.
They have to cushion and an arch support footbed that is great for foot pain.
The slippers have soft synthetic uppers with a mule design for easy slip on and off.
They gave an anti-skid and slip-resistant durable rubber outsole for indoor and outdoor use.
---
7
The Haflinger Zig Zag Clogs are comfortable summer slippers for cooler times.
They are handmade and premium quality slippers made in Germany.
The slippers consist of genuine wool felt and give a molded latex footbed with arch support.
Their outsoles are ideal for indoor and outdoor use, offering good traction.
There are also a few more colors available from which you can choose.
---
8
The TF Star Boston clogs are comfortable leather slipper clogs for summer.
The slippers have suede leather uppers and an anti-slip elastic rubber outsole for traction indoors and outdoors.
They gave adjustable straps for a customizable fit and a comfortable cushioning contoured cork footbed.
The fit is roomy and breathable, and there are many sizes available.
You can likewise choose from a few available neutral color selections.
---
Index Table: Top Rated Summer Slippers
---
---