Having supportive shoes that fit well and are comfortable on your feet is vital. On the other hand, having supportive and comfortable slippers are just as important.
So, we'd like to introduce you to the best Orthopedic slippers for men and women that can provide daily comfort and relaxation for your feet.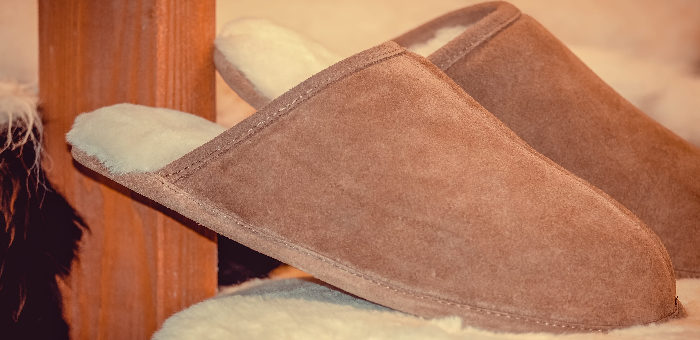 ---
---
What are Orthopedic Slippers
A good pair of comfortable, well-fitting, supportive slippers will keep you mobile and pain-free, even when relaxing at home.
Orthopedic slippers are much similar to Orthopedic shoes, and they work on the same basis.
So let us start with Orthopedic shoes and why they are classifieds as this.
An Orthopedic shoe is designed to support and accommodate your feet, ankles, and legs' unique structure and mechanics. Their features are medically beneficial because they accommodate and help with many medical foot conditions and deformities, such as bunions, hammertoes, Neuropathy, and injured feet.
Most Orthopedic shoes have a properly designed solid midsole and outsole with more of a rocker function that is torsionally strong and designed to help you walk normally.
Most Orthopedic shoes also feature removal layers to accommodate orthotics, and they contain support and cushioning features.
Then there is the fit, which is usually much roomier in the toe area with a firmer heel counter, and most Orthopedic shoes and slippers are available in wider widths.
As you can see from all these features, they are also visible in Orthopedic slippers, just like in Orthopedic shoes.
Orthopedic slippers will come in different styles and have a less formal design, catering more to comfort and relaxation at home.
---
How Will Orthopedic Slipper Benefit You
So, in the end, how will an Orthopedic slipper essentially benefit you?
Like Orthopedic shoes, they have features to support your feet and provide comfort, even when you are at home and not in your regular shoes.
Here are a few benefits that Orthopedic slippers hold;
Much Better Support and Comfort – Orthopedic slippers do not just provide cushioning, such as with most slippers, but also scientific support that aligns your feet properly and supports your heels and arches, turn helps with better support and better foot mechanics.
Better Circulation – many conditions, such as Diabetes, Neuropathy, and even edema, can cause swelling and circulation issues in your feet and legs. Orthopedic shoes do not place pressure on your feet and give you plenty of room to accommodate swelling. Thus, the same can be said for Orthopedic slippers.
Reduces Pain – The Support and cushioning features, along with a more comfortable fit that accommodates your foot condition and shape, will most definitely help to reduce pain not only in your feet but also in your ankles and lower limbs, and joints. Slippers offer comfort and support; you may suffer less back, hip, and knee pain.
Time to Heal – many issues that people experience with their feet can be related to foot and leg injuries or conditions which can be aggravated if they are not given the time and option to heal properly. Incorrect footwear, especially slippers, can lead to improper support and a lack of comfort features to allow healing and proper alignment of your feet.
Improved Mobility – Orthopedic slippers can help with the discomfort and pain caused by deformities and issues in your feet, legs, and ankles that may cause you to struggle with mobility. You may often stay off your feet too much because they hurt and are uncomfortable; however, with the help of an Orthopedic shoe or slipper, you will be encouraged to be slightly more active.
---
Features of a Good Orthopedic Slipper for Men and Women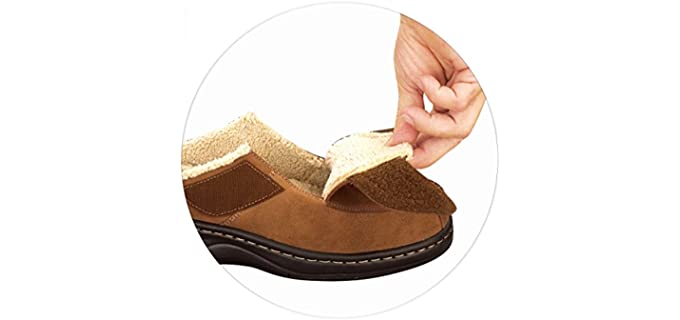 Uppers – Any Orthopedic slipper needs to have comfortable uppers. The uppers must offer a more roomy toe fit and be more flexible to accommodate foot conditions and deformities. The uppers may be soft leather, suede, fabric, or wool knit.
Comfort and Support Features – Comfort and support features may include cushioning such as memory foam, EV, and gel foam. Arch support and a more anatomical-shaped footbed can support and properly align your feet.
Slip Resistant Outsole – Look for slippers with durable rubber ad slip-resistant outsole. Slippers come in indoor and outdoor options. The indoor-only slippers usually have a softer outsole, while outdoor and indoor slippers have a durable rubber outsole.
Options – Most Orthopedic slippers will have some availability in color as well as wider width and extended size options.
---
Reviews: The Best Orthopedic Slippers for Men and Women
---
1
Orthopedic Open Back Slippers
Orthofeet slippers are Orthopedic slippers that are likewise ideal for people with diabetes.
They offer layered cushioning that is removable for the use of your orthotics.
The uppers are soft and flexible with a roomy toe box.
There are also wider-width options available.
The slippers offer good stability and arch support.
---
2
Here we have two similar style slippers that have an Orthopedic design.
The Dr. Comfort slipper has a relaxed design with gel-cushioned insoles and microfiber uppers.
The Vionic slippers have suede uppers and a supportive EVA footbed.
Both slippers feature a slip-resistant rubber outsole.
There are also more colors available in both slipper brands and models.
---
3
Orthopedic Closed Heel Slippers
The Spenco slippers are likewise ideal Orthopedic slippers for men and women.
They have soft and flexible uppers, with more colors available.
There is a supportive orthotic grade insole and compression-molded EVA midsole.
The outsole is ideal for indoor and outdoor use.
---
4
The Acorn Orthopedic slippers for women and men are perfect for everyday use.
They are soft suede and faux fur-lined slippers.
The sole is a durable rubber for outdoor and indoor use.
Inside is memory foam cushioning and a supportive footbed.
---
5
Arch Support Orthopedic Slippers
These two models from Vionic are the Perfect supportive Orthopedic slippers.
They are available in a few neutral colors.
The slippers have soft and comfortable uppers with a plush lining.
They have a supportive and well-cushioned footbed.
The slippers are available in wider width options.
---
6
The Haflinger Clog Slippers come in many options.
They have an Orthopedic design and are available in a unisex size for men and women.
The footbed us supportive with a Molded Cork midsole.
The uppers consist of 100% wool felt.
---
Index Table: Top Rated Orthopedic Slippers for
---
---