So many people today prefer leather slippers over regular textile or fabric knit slippers.
Leather is a versatile and comfortable material, and that is why it is such an exceptional option to use in making slippers.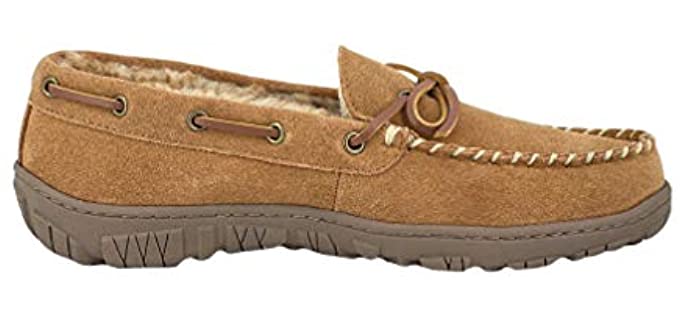 ---
Why Choose Leather Slippers
There are so many reasons why leather slippers are by far superior;
Durable – Leather is extremely durable as a material and will last very long in comparison to other materials.
More Comfortable – In time, leather will conform to the shape of your feet for the most comfortable fit. Most leather slippers are very soft and supple and may come with a soft and warm wool lining.
So Many Styles – leather slippers come in a variety of designs, such as mules, boots, moccasins, and many more. Leather can be colored, so you can also get the color of your choice.
Versatile – Leather slippers can be quite versatile. Some leather slipper models can double up as casual shoes, so you can wear them for most occasions or just as slippers. Take, for instance, the popular Moccasin leather slippers or UGG boots.
---
Types of Leather Slippers
Here are a few different types of leather slippers that are quite popular;

Boot – The leather boot slipper such as the UGG boot is quite popular as a slipper and casual shoe. Leather boot slippers are usually ankle length.
Moccasin – Many leather slippers have a casual moccasin style toe and comfortable slip-on fit.
Mules – Leather mule slippers are easy to slip on and off with an open-back design.
---
Features of a Good Leather Slipper
Uppers – The uppers will consist of soft suede or smooth leather usually consisting of sheepskin, or cowhide. The interior may be lined with wool or fleece for warmth, and comfort.
Comfort Features – Cushioning such as foam, EVA or memory foam can be used for shock absorbency. Arch support, or a contoured footbed will help to support your feet.
Outsole – There are indoor only suede or leather outsoles, or rubber indoor and outdoor outsoles.
Options – The leather slippers w we have chosen do offer more color variations, as well as plenty of size options.
---
Reviews: The Best Leather Slippers
In our list, you will easily find your favorite pair of leather slippers that consists of a soft and supple genuine leather in your style;
---
1
The UGG boot is one of my personal favorite Casual leather boots or boot style slippers if you wish.
They are versatile and so warm and cozy.
The slippers are an ankle boot design with a thick rubber outsole for indoor and outdoor use.
The uppers are sheepskin leather, and there is a warm wool lining on the inside.
They consist of natural and genuine materials and will shape to the form of your feet.
The slipper boots are available in many color options for men and women.
---
2
The Bearpaw Moc toe slippers also consist of genuine leather.
They are comfortable and high-quality slippers with a moccasin-style toe and warm lining.
The slippers are full sheepskin leather that is very soft and supple, with a warm lining.
The sheepskin padded footbed provides comfort and cushioning.
There are various colors available from which you can choose and plenty of sizes.
---
3
From the Old Friend, we have two different models in leather slippers for men and women.
The leather slippers consist of genuine dyed sheepskin leather from Australia with a fabric lining.
They have a durable rubber outsole for both indoor and outdoor use.
The leather slippers have a removable comfort sheepskin insole.
There are also more neutral color options available.
---
4
Minnetonka is another superb quality brand that offers some of the best leather shoes and slippers.
Here we have two hard sole Moccasin style slippers for indoor and outdoor use.
The slippers have a moccasin toe design and a closed back.
They are genuine leather, with a moisture-wicking comfort lining and thick rubber outsole.
The slippers are available in more colors and plenty of size options.
---
5
Warm Moccasin Slippers in Leather
Another addition from UGG is their Ascot and Dakota closed-back slippers.
The slippers consist of genuine sheepskin leather of the finest quality.
They have a comfortable genuine wool lining that is temperature regulating.
The slippers are a warm closed-back design and have water-resistant suede leather uppers.
The thick rubber outsole is durable and provides good traction.
You can also choose from many more available colors in this range.
---
6
The Minnetonka suede leather slippers are super soft and comfortable.
They are contemporary-style slippers that have a moccasin toe and slip-on design for your convenience.
The slippers are genuine leather ins a soft suede finish with a moisture-wicking lining.
They have a durable indoor and outdoor sole that makes them more versatile.
You can likewise choose from a few more neutral color options.
---
7
The Fireside from Dearfoams is a warm and cozy ankle boo leather slippers.
The leather slippers are ideal for cold weather conditions when you really need to keep warm.
They have sheepskin leather uppers with shearling fur as a lining to keep you warm.
The slippers have a temperature regulating design and lining that also wicks away moisture.
They are water and stain resistant with a treated layer.
The slippers are a comfortable design and are available in more neutral colors.
---
8
Then we have another addition from UGG, their Tasman slippers.
The slipper model has suede leather uppers that are much softer and more comfortable.
They have a sheepskin breathable lining and a Treadlite, lightweight, indoor and outdoor outsole.
These are slippers for warmer weather conditions, with lighter constriction.
The Insole is temperature regulating pure wool.
They are also available in a few more color selections.
---
Index Table: Top Rated Leather Slippers
---
---