Slippers are an absolute necessity in every household.
However, have you noticed that most slippers are flimsy and uncomfortable, lacking much needed support and cushioning features?
In this article, I want to introduce you to a brand that offers the most luxurious slippers, Propet Slippers, that are well-cushioned and offer superb support for all-day wear.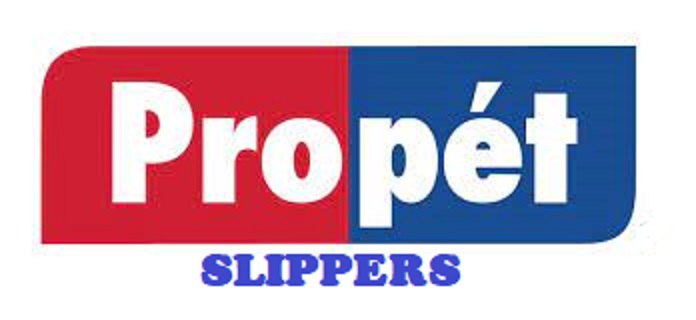 ---
---
Why You Need good Slippers
Well, just as you need good pajamas or loungewear to relax after a long day, you need proper slippers.
Your feet make the foundation of your body and carry their entire weight and impacts all day, so why not treat them with a good pair of slippers from Propet?
Slippers offer so much more than just comfort:

Warmth – Slippers can provide warmth and insulation in cold or cool weather to keep your feet warm and comfortable, which in turn helps to keep your body warm. Feet on cold floors can lead to illness and cold, which you can prevent with good slippers.
Prevent Illness – As mentioned, slippers actually help prevent illness. When your feet are cold, they cause your blood vessels to constrict, which causes minimal white blood cells that fight diseases to circulate where they are needed, which can lead to colds and flu. On the other hand, bacteria, germs, and viruses lurking on dirty floors can come into contact with your skin via your feet and cause infections.
Protect Your Feet – Whether walking indoors or going outdoors for a short while, your feet are always at risk of getting cut or punctured by a sharp and hard object. Anything from broken glass, a thorn., a toothpick, or sharp rocks can cause pain and injury when you walk barefoot inside and outside your home. Good slippers provide a protective barrier between your feet and the floor.
Provide Comfort and Relief – After a long day in your work or sports shoes, your feet may be tired, burning, cold, or just aching. Comfortable slippers provide a soft platform for your feet to rest on and a roomy, comfortable fit in which you can play out your toes. Most slippers are also lined to provide warmth.
Great Post Surgery or Post Injury Option – After Surgery or an injury to your feet or lower limbs, your slippers may be the most comfortable and accommodating shoe for swollen and painful feet and legs.
---
How to Choose Comfortable Slippers
It is easy to get the perfect slippers if you follow these few simple rules;

Get the Right Fit – Make sure your slippers fit properly. We often feel the urge to get loose larger fitting slippers, which is such a wrong choice. A loose, too-big slipper can easily cause a slipping hazard as the large size is clumsy and will eventually trip you. The loose fit may slip off or cause friction against your feet, which may lead to blisters and sores on your feet. On the contrary, a very tight and small slipper will cause unnecessary pressure and cause pain and discomfort. So, could you get your proper size slipper that fits well?
Look for Cushioning and Support – Make sure the Slippers have a cushioned footbed and a cushioned or foam midsole for shock absorbency and underfoot comfort. Good arch support or a more anatomical-shaped footbed also provides excellent support in the long run.
Select them According to Season – You get warm-lined slippers for cold weather and lighter, unlined slippers for warm weather. Please ensure you get the right slippers for the right seasons to avoid overheating or, on the other hand, your feet from getting cold.
---
Features of a Good Propet Slipper
Propet slippers are ideally more orthopedic when it comes to their design and their support and comfort features.
Most Propet slippers are Diabetic coded slippers for feet affected by Diabetes and neuropathy. The Cush n Foot and Cronus range offers a fully adjustable fit with a large Velcro strap, ideal for feet that tend to swell or foot conditions and injuries.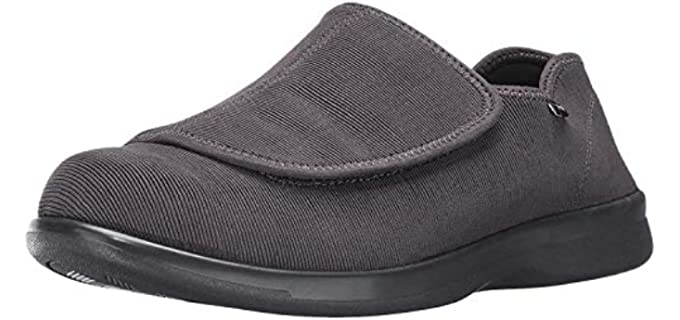 Uppers – The Uppers of the Cush n Foot range are either a soft and flexible textile material or a corduroy material, available in solid and printed color options. Other models may have textile or suede uppers with a faux fur lining.
Cushioning – Most of the slippers have an anatomical design cushioned footbed. Some have a removable footbed that allows you the use oto usef your orthotics.
Outsole – The Outsoles on Propet Slippers are thick, protective rubber or synthetic sole that offers stability and shock absorbency.
Fit – Propet slippers offer a roomy toe box fit and are available In wide and extra wide width fit options.
Colors – As you will see, most of the featured slipper models from Propet have some color options, usually fairly neutral, except for the printed Cush n Foot ranges.
---
Reviews: The Best Propet Slippers
These are our top choices in slippers from the brand Propet;
---
1
Slippers with Arch Support
One of the favorite slippers ranges from Propet is their Cush n Foot range.
This is the regular model that is available in solid colors and wider than the regular model.
The slippers have adjustable single-strap uppers.
They are textiltextilese with a rubber sole and have Orthopedic support cushioned footbeds.
---
2
The Propet Coleman and Colbie are this brand's plush, warm slipper models.
The Coleman is 100% suede with an indoor and outdoor sole and a removable cushioned footbed.
He Colbie has sued uppers and a fur lining.
The Colbie also features arch support and a high-density open Cell Pu insole for comfort and cooling.
There is a PU outsole and more colors available.
---
3
The Cronus slipper is ideal for medical conditions such as diabetes, neuropathy edema, and foot conditions with swelling.
The Cronus has an adjustable Velcro back strap and front strap for easy entry and an adjustable fit.
The uppers are soft and flexible neoprene, and there is a durable rubber outsole.
Inside is comfortable cushioning.
These slippers are likewise Medicare/HCPCS code A5500 diabetic shoes.
---
4
Here we have another model from the Cush n Foot range.
The Cush and Foot range is also a Medicare/HCPCS code A5500 diabetic shoe.
It is comfortable cushioning and adjustable uppers.
Here we have the corduroy for the men and the floral printed options for the ladies.
They are available in more colors and widths.
---
5
A comfortable slip-on for the ladies, and the Cush n Foot corduroy in solid colors for men.
The slippers are cozy and cushioned for optimal support and comfort.
They have a durable outsole for indoor and outdoor use.
Both are available in more color options.
---
Index Table: Top Rated Propet Slippers
---
---