Because Morton's Neuroma is a condition that specifically affects the ball of the foot area, you need footwear that accommodates unique features for these foot conditions.
Cushioning in the ball of foot area, a wider toe box, and proper arch support are ideas; in footwear choices for this condition.
You should also consider the best slippers for Morton's Neuroma, with similar features, especially as these are the shoes that you reach for when you want to give your feet a break and relax.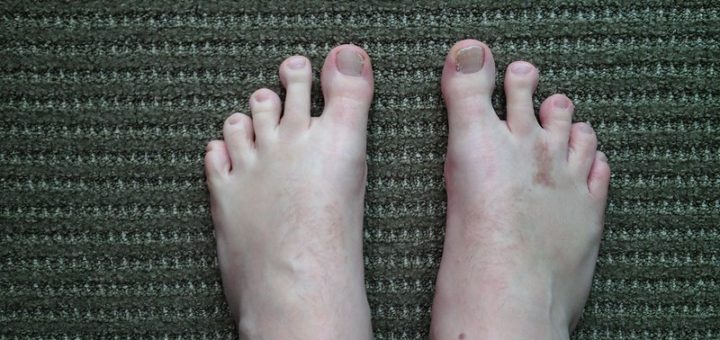 ---
Morton's Neuroma and How it Affects Your Feet
Morton's Neuroma is a very painful condition that affects the ball of your foot, and this is the area between your toes and the arch of your feet.
The most common symptom of Morton's Neuroma is the feeling as if you are standing on a pebble or folded socks.
What happens is that the tissue and nerves around the ball of the foot area, leading to your toes becoming thickened. In turn, this causes sharp burning pain in the ball of your foot and also numbness, which may then likewise affect your toes.
One of the greatest cause linked to Morton's Neuroma is wearing high-heeled shoes that push the foot forward in an unnatural position and causes an excessive disproportionate to the balls of the feet.

Symptoms – The main symptom related to Morton's Neuroma is the feeling that there is a pebble or bunched-up sock inside your shoe. Other than that, you may feel a burning pain in the ball of your foot to your toes, tingling, or even numbness.
Treatment and Prevention – You can do nothing about the anatomical characteristics of your feet, whether you have low or high arches. However, wearing properly supportive footwear for your foot shape and arch type will greatly help prevent and manage Morton's Neuroma.
Risk factors – As mentioned wearing, high-heeld shoes is the main risk factor involved in the development of Morton's Neuroma. Some high-impact sports that cause repetitive trauma on the balls of the feet and foot deformities such as bunions and hammertoes can lead to the conditions. Similarly, people with higher or lower than normal arch types are more likely to develop Morton's Neuroma.
---
Shoes and Slippers that are Ideal for Morton's Neuroma
What NOT to Wear – Any type of shoe or slipper with a high heel should be avoided to prevent and treat Morton's Neuroma. Your shoes even should not have a narrow pointy toe and tight fit. Shoes that are worn out should similarly be avoided at all costs.
What To Wear Rather

Get shoes and slippers that are roomier in fit, especially in the toe box area.
Ensure that your shoes or slippers offer arch support specific to your arch type.
Your slippers also need to be the right size and not too large or too small.
Look for a wide toe box and wider width shoes options.
The sole of the shoes needs to have either a very low heel-to-toe drop or heel or have a solid uniform design.
Adjustable fitting shoes are great if your feet tend to swell.
Invest in proper new shoes and slippers when your old ones are worn out.
---
Features of a Good Slipper for Morton's Neuroma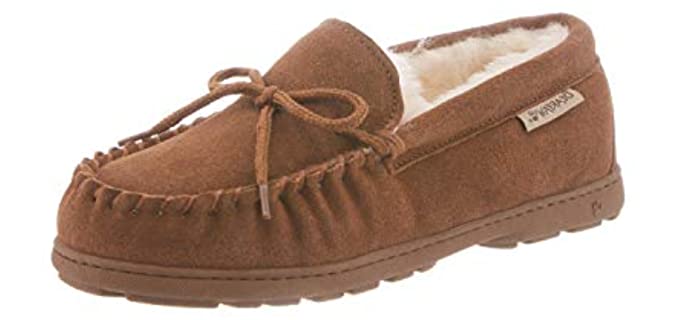 Outsole – The Outsole of a good slipper for Morton's Neuroma needs to offer good stability and slip resistance. Therefore, I also recommend slippers with outdoor and indoor harder outsoles such as rubber in this case.
Comfortable Uppers – Look for slippers that have softer and more flexible uppers. Some may come with a warm lining for colder weather conditions.
Roomy Toe Box – As the pain and swelling will be concentrated in the ball of your foot, it is advised to opt for slippers that have a wider and more roomy toe box.
Arch Support – Most individuals with a higher arch are more prone to Morton's Neuroma, in which case having good arch support is extremely helpful. Likewise, good alignment of your feet and proper support will help with Morton's Neuroma.
Cushioning – Cushioniing, particularly in the ball of the foot area, or a fully cushioned insole and midsole, is necessary for a slipper for Morton's Neuroma.
---
Reviews: The Best Slippers for Morton's Neuroma
---
1
Slippers for Morton's Neuroma
The Powerstep slippers models I have chosen offer a closed-back style for men and an open-back style for women.
They have an anatomically designed footbed for arch support and proper alignment.
The slippers are well cushioned and have a comfortable shearling lining.
They are also available in a few more colors.
---
2
Orthopedic Morton's Neuroma Slippers
The Orthofeet Slippers offer excellent support and cushioning for Morton's Neuroma.
They have layers of cushioning that have different densities for support and impact protection.
The toe box is roomy, and there are wider widths available.
The outsole is a durable and slip-resistant rubber.
---
3
Morton's Neuroma Cushioned Slippers
These two slippers models from Vionic have proven to be quite effective for pain relief in individuals who suffer from Morton's Neuroma.
They are a flexible design for everyday use and come in more colors.
The slippers are cushioned with an EVA footbed and good support.
They also have a durable rubber outsole.
---
4
Boot Slippers for Morton's Neuroma
The UGG boot makes for an ideal slipper.
Though they offer much in terms of comfort and support, they do have such a roomy fit that you can use an insole or orthotic of your choice.
The uppers adapt to the shape of your feet and have a soft wool lining.
The sole is durable and slip-resistant.
---
5
From Bearpaw, we have a plush and comfortable moccasin slipper for Morton's Neuroma.
They are available in many color selections, with soft sheepskin uppers and a wool lining.
These are more indoor slippers that have a soft outsole and cushioned insole.
The slippers are high quality and very comfortable.
---
6
Slippers for Morton's Neuroma
The Keen Howser is a Clog Style slipper for indoor and outdoor use.
They come in a few colors and prints from which you can choose.
They have a supportive CRUSh Pu and memory foam footbed.
The Fit Insole is comfortable, and the fit is very flexible.
---
Index Table: Top Rated Slippers for Morton's Neuroma
---
---