Japanese House slippers have come a long way, and they have become quite a common practice in westernized countries today.
House slippers are used to wear indoors, remove your regular shoes, and keep floors and indoor areas clean.

---
What Are Japanese House Slippers
Also known as Uwabaki, the Japanese House slipper is worn indoors at home by the Japanese and to schools, certain companies, and even public areas.
Japanese culture mandates that people remove their shoes when they enter an indoor space, such as a house or company, to protect and keep clean rugs, floors, and polished wood floors.
The Japanese house slipper is a lightweight, flexible slipper that easily slips on and off your bare feet or over your socks.
They are usually never worn outside to keep their soles clean and your indoor areas clean.
The Japanese House slippers are removed when going outdoors, and regular shoes are put back on again.
Today, nearly all Japanese people have Western Style homes with wooden floors and rigs or carpeted flooring. To keep their feet warm and prevent their socks from getting dirty or their shoes from getting their homes dirty, they like to take off their shoes and wear house slippers.
Though they generally do not wear slippers in rooms with Tatami mats.
---
Why Wear Slippers in Your Home
Why Wear Japanese House Slippers in Your Home;
Keep Your feet and Socks Clean – Japanese House slippers can be worn with or without socks in your home to keep your feet and socks clean.
Keep Your Feet Warm – Slippers will keep your feet warm and protected from cold. Did you know that cold feet cause illnesses such as Colds and Flu?
Protection – Slippers protect your feet against harmful bacterial and fungal infections and physical dangers such as sharp objects.
Keep Your Home Clean – Removing your shoes before entering your home and wearing slippers will help keep your floors and carpets clean and protect them against any damage.
---
Features of a Good Japanese House Slipper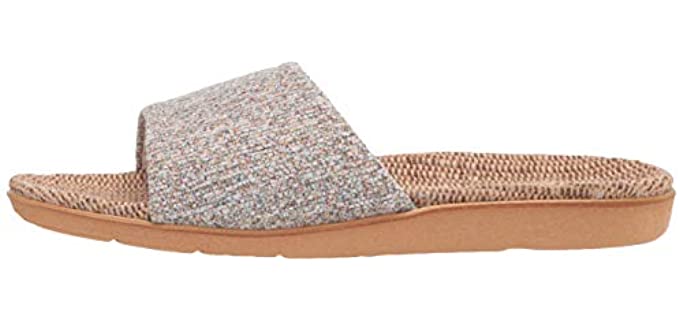 Uppers – Japanese House slippers usually consist of natural materials such as cotton or bamboo.
Construction – Most Japanese House slippers have a single strap, slide on open toe design, but you also get closed toe mule style slippers.
Comfort – Most Japanese House slippers have a very flexible sole and some may have padding or cushioning for comfort.
Outsole – Japanese House slippers generally come with a indoor only outsole., though you do get those with rubber outdoor outsoles.
Options – From the models we have chosen there are size options, and with some, there are color options available.
---
Reviews: The Best Japanese House Slippers
In our list we have some of the top rated available Japanese House Slippers for You;
---
1
The KNP slippers are a lovely house slipper design with a Japanese style.
They come in a few different color variations, some with embroidery.
They have an open toe and a single strap with an open design, almost a slide design.
The slippers are perfect for warmer weather and summer and offer a comfortable slipper for wearing indoors.
The Slippers have a natural bamboo insole and cotton uppers with a roomy fit.
They are all-natural and hypoallergenic.
---
2
The Xingyue Flax Tatami slippers are the perfect Japanese House slippers.
The slippers have an EVA cushioned midsole and durable outsole.
They consist of a sweat-absorbing linen material that is breathable.
The Flax materials are breathable, resistant to friction, and have a natural smell.
The slippers come in many bright colors and sizes.
They are ideal for multiple uses as house slippers, for spas, holidays, to the beach, and even as sandals.
The slippers have a durable and slip-resistant outsole.
---
3
Another addition from KPN is their Japanese House slippers with cat embroidery on them.
They are available in more neutral colors options with some lovely embroidery on them.
The slippers have a single uppers strap and solid sole.
They are ideal for warmer weather and for use as indoor slippers.
The slippers consist f natural bamboo in a cushioned and supportive footbed, with cotton uppers a breathable and moisture-wicking strap.
The open design allows your feet to breathe and relax.
The fit is wide and roomy for your comfort.
---
4
The Hotel spa slippers have a Japanese Hose Slipper design that has a closed toe and slip-on style.
They are comfortable slippers for guests and home use.
Because they come in a set of 20 slippers, you can use them at a spa or at your home for guests to wear when inside.
The slippers have an EVA non-slip spongy sole.
The uppers are a softa and breathable natural cotton and polyester for your comfort.
---
5
The Fenical Bamboo slippers are straw design Japanese House slippers.
They are all-natural and have an oriental design.
The slippers are waterproof and contain deodorization bamboo and cotton upper linings.
The slippers consist of natural straw and have a flat sole.
The anti-slip sole provides stability and good traction.
---
6
The Fanture Slippers are unisex House slippers for men and women.
They are Japanese-style house slippers with a closed style and more supportive, cushioned footbed.
The slippers have cotton blende uppers that are knit for breathability and comfort, with a closed toe.
They have a comfortable, soft, pillowy cushioned insole containing high-density memory foam.
The slippers are easy to care for and can be machine washed.
They are multi-functional and versatile for indoor use.
There are also many colors available in this range.
---
7
The Magilona slippers are also a unisex design Japanese slippers,
They consist of pure cotton that is breathable and lightweight with a flax sole.
The slippers are moisture absorbing and odor resistant.
They have an open-toe design, single strap, and solid outsole.
The footbed offers good support and cushioning,
The outsole has a non-slip flax design.
There are also more neutral color options available.
---
8
Here we have some lovely massaging Japanese House slippers,
The slippers can be used as indoor, outdoor house slippers or as sandals.
They consist of a water-friendly and easy-to-clean EVA foam with a high-elastic design.
The footbed is contoured for support and has massage bubbles as texture underneath your feet.
They are waterproof and can be used as shower shoes in turn.
The slippers come in many fun color ranges and plenty of sizes.
They offer a comfortable, wide, and roomy fit.
---
Index Table: Top Rated Japanese House Slippers
---
---