When Neuropathy starts affecting your feet, it may become more necessary to invest in more comfortable and protective shoes with a fit that will not cause any irritation or friction to your feet.
Underfoot protection becomes vital as you may not feel when you step on a hard protruding object when numbness sets in.
Just as it is important to have the right shoes for daily wear, you also need the best slippers for Neuropathy.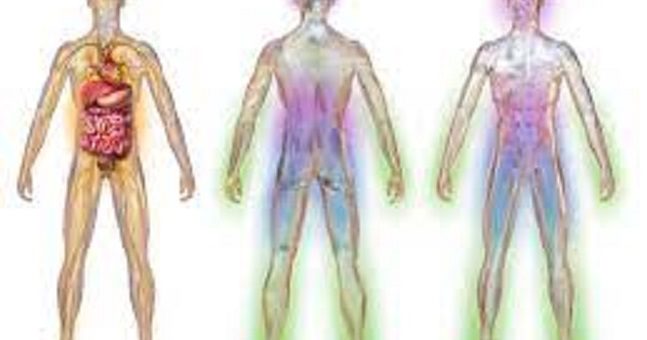 ---
Neuropathy and How it Affects Your Feet
Neuropathy is a condition that develops when there is damage in the nerves that carry signals from your brain to your extremities. Thus it mostly affects your feet, hands, arms, and legs.
Injuries may cause damage to a single nerve that can lead to a form of Neuropathy, though Diabetes is one of the main causes of Neuropathy in most individuals.
When you have Neuropathy, you will experience muscle weakness, tingling, pins and needles, numbness, instability, and sensitivity to heat, cold, and pain. You may experience some or all of these symptoms, mainly in your extremities.
Neuropathy can be quite complex to treat, and the source of the condition needs to be addressed to prevent and treat Neuropathy.
Because Neuropathy may cause numbness, tingling, and other symptoms in your feet, it is vital to keep them comfortable and well protected; thus, you need the right shoes and slippers in turn.
---
How do You Manage Neuropathy
Some risk factors can lead to or aggravate Neuropathy as well as some treatment and management options to make it more bearable;
Risk Factors – The greatest risk factor as discussed related to Neuropathy is Diabetes. Other risks may include alcohol abuse, Vitamin B deficiencies, Infections, Autoimmune diseases, Toxin Exposure, kidney, Liver, and Thyroid dysfunction, as well as a family history of Neuropathy. Similarly, repetitive motion related to work and sports activities can lead to nerve damage, causing Neuropathy.
Complications – Numbness caused by Neuropathy is the most dangerous as you will be able to feel a puncture wound, heat cold, or any other form of pain from an injury. Neuropathy caused by Diabetes can cause infections when feet are injured, and open wounds heal very slow when you are a Diabetic. Because of loss of sensation and weakness in your feet and legs, you are likewise more prone to a lack of balance, which can cause falls.
Preventing Neuropathy in the first Place – If you do not already have Neuropathy, you can easily prevent the condition if it is not too severe. Because the main cause is Diabetes, you need to watch what you eat, reduce your sugar intake and eat more healthy whole foods. Exercise is quite an important weekly. On the other hand, keep exercises and activities with very repetitive routines cramped positions, which can place pressure on the nerves to a minimum. Also, smoking and excessive use of alcohol are no friends in the fight to prevent and treat Neuropathy.
---
Features of a Good Slipper for Neuropathy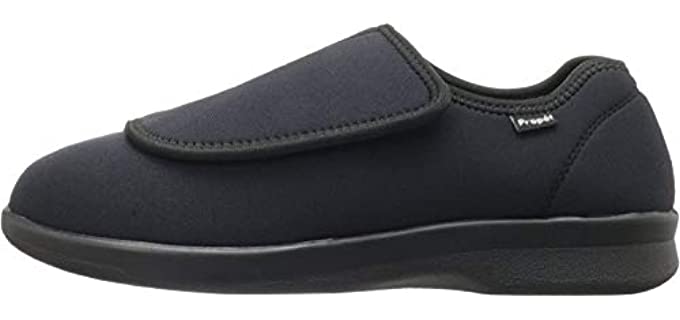 Uppers – Look for slippers with a roomy and comfortable fit and toe box as you do not want any pressure on your feet. Make sure the interior of the slippers has a smooth and seamless lining to prevent friction and pressure points.
Support and Cushioning – Proper support such as an anatomical footbed or arch support, along with cushioning for comfort and shock absorbency, is ideal for your feet when you have neuropathy.
Midsole – Look for slippers with firm and well-cushioned midsoles such as EVA, which provides stability and shock absorbency for your feet.
Outsole – When you have Neuropathy, especially when your feet become numb, you will need very good underfoot protection. A firmer sole such as a rubber outsole on your slippers is ideal for stability and to protect your feet against punctures. I would not suggest indoor-only soft-soled slippers for anyone who suffers from Peripheral Neuropathy.
---
Reviews: The Best Slippers for Neuropathy
We hope you love the slippers we recommend!
So that you know: We may collect a share of sales or other compensation from the links on this page.
---
1
The Bearpaw slippers are plush and comfortable moccasin-style slippers for Neuropathy.
They are indoor slippers that are warm and gentle on your feet,
They have a supportive and cushioned footbed and sheepskin lining to regulate temperatures.
The slippers are available in various colors.
---
2
The Dr. Comfort and Vionic closed heel slippers offer good protection for Neuropathy.
They have a smooth and seamless interior lining and soft uppers with a roomy toe box.
There is good underfoot cushioning and a supportive anatomical footbed.
The thick rubber outsole will protect your feet against punctures.
---
3
Neuropathy Closed Heel Slippers
The Spenco Slippers are likewise a great choice for Neuropathy.
They have soft and flexible uppers with Ultra-Fresh Controls to wick away moisture and keep your feet comfortable.
They have a compression-molded EVA footbed and excellent Orthotic grade arch support.
The thick outsole is protective and slip-resistant.
---
4
Supportive Neuropathy Slippers
Vionic is a popular brand with some of the most comfortable and supportive shoes and slippers.
I love these models for NNeuropathy because they have such a soft interior and are ideal for all weather conditions.
The Slippers offer a secure fit with a roomy toe box.
They are cushioned and do have a contoured and supportive footbed.
The outsole is a durable rubber ad will protect your feet.
---
5
The Keen Howser is more of an outdoor slipper.
The flexible and smooth uppers are ideal and waterproof.
The outsole is very durable and slip-resistant.
Inside is cushioning and memory foam for comfort and good support.
The slippers have a secure but comfortable fit.
---
6
Boot Slippers for Neuropathy
Then the UGG boot can make for the perfect slipper if you add a bit of cushioning or orthotic of your own.
I find they offer a spacious fit with very supple leather uppers that adapt to the shape of your feet.
The outsole is thick enough to protect your feet from punctures and is durable.
The uppers are genuine sheepskin with a temperature-regulating wool lining.
Furthermore, they are available in many colors, especially for women.
---
7
The Moccasin slippers from Clarks have a comfortable fit for Neuropathy.
They are lined and have soft suede uppers.
There is ample cushioning.
A few neutral colors are available to you.
---
8
The Rock Dove slippers offer comfort and protection for Neuropathy.
They are fabric slippers with a fully cushioned footbed.
The outsole is highly slip-resistant and stable.
The interior also provides good odor resistance.
---
9
The Skechers slipper models are ideal for Neuropathy.
They have soft fabric and synthetic uppers.
The slippers offer excellent cushioning and a more flexible sole.
The outsole is a durable and slip-resistant rubber.
They are also available in more colors.
---
10
From Hush Puppies, we have Orthopedic slippers for Neuropathy.
They have a more supportive and roomy Orthopedic design.
There is a cushioned and adaptive footbed.
The slippers have a moccasin style and fur pile lining.
---
Index Table: Top Rated Slippers for Neuropathy
---
---