Nothing is more comfortable and cozy than slipping into your favorite pair of slippers after a long day.
So why would you now opt for the Clarks slippers brand as your go-to lounge footwear of choice?
Clarks offer a range of some of the most comfortable and best quality slippers that you will find.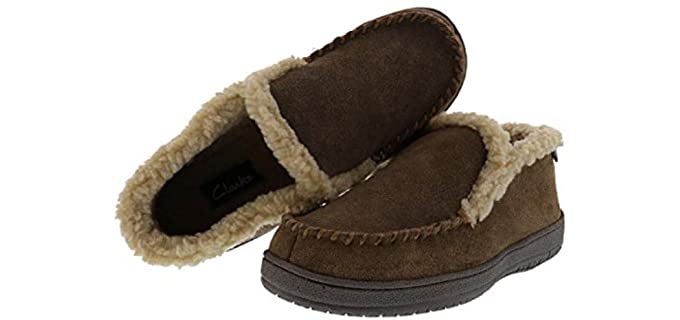 ---
---
Why You Need Good Slippers
Before we get into Clark's slippers, I want to share with you some of the health benefits of wearing slippers as regularly as you can.
Slippers are something other than something your use from getting out of the shower and into bed. They are supportive and comfortable footwear you can exchange for your work or gym shoes when you get home to give your feet a break.
Prevents Illness – Did you know that when your feet are cold, the blood vessels in your nose constrict reflexively to prevent your body from losing heat? However, when this happens, the white blood cells in your blood that fight infections ad keep you healthy are reduced because of the abridged blood flow. Thus cold feet can cause illnesses such as colds and flu. Well, this is where a pair of warm slippers come in handy.
Prevents Infections – In public areas and bathrooms, you risk contracting an infectious foot disease such as athletes' foot and toenail fungus. Sometimes there may even be bacterial and fungal hazards in your own home. Thus walking barefoot is only sometimes ideal. A slipper can help protect you in these instances.
Better Blood Circulation – Slippers give your feet a break from a long day of sometimes wearing constriction footwear that does not offer much comfort and support. A comfortable cushioned slipper with a roomy fit, on the other hand, will improve blood circulation and reduce swelling in your feet and legs.
Reduces Strain on Your Feet – Proper supportive slippers provide excellent cushioning and support for your feet to reduce strain and stress on your feet and joints. This, in turn, will prevent foot pain, fatigue, and knee pain.
Better Stability – Most slippers are designed to offer stability and support, which will help you attain balance and a proper posture.
Improves Comfort – Slippers provide comfort and relaxation when you need them the most with soft cushioning and a warm and cozy feeling.
---
Types of Slippers Clarks Offers
Clarks offer a few different types of slippers that are worthy of mentioning;
Mules – Their modern Mule range comes in soft suede materials, usually with a faux fur warm lining. They are comfortable closed-design slippers ideal for wintertime.
Slide Slippers – Slide slippers are ideal for a quick, easy on and off. The range from Clarks offers much variety in materials and linings for their slide-on range.
Felt Slippers – Clarks also design traditional styled Felt materials slippers that come in many designs; they have a textile lining and are suited for all weather conditions.
Moccasin Slippers – The Moccasin style is also a winter favorite available in leathers and soft suedes with a warm furry lining. The Moccasin toe is a very roomy, comfortable design that looks good.
---
Features of a Good Clarks Slipper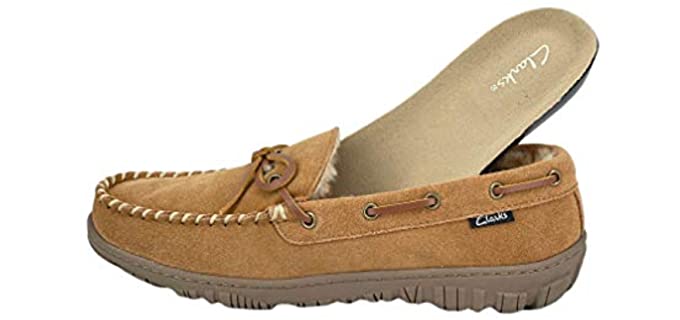 Uppers -Clarks slippers come in various designs, including their Moccasins, slide-ons, mules, and felt ranges. The uppers can consist of fabric or textile materials, leather, or soft suede. Their slippers can also be lined with a faux fur or textile materials for comfort. Leather, faux fur lining, suede, fabric felt
Comfort – Most of the shoe models from Clarks will have and EVA or foam cushioned footbed that may be removable. She has light padding and support features.
Removable EVA cushioned footbed
Outsole – The outsole on most Clarks slippers will consist of a durable or TPR rubber with a high traction tread. The indoor models will have a more flexible EVA or Suede sole.
Options – Clarks slippers offer a range of color options and plenty of sizes depending on the specific models.
---
Reviews: The Best Clarks Slippers
Below are some of our top favorite slipper models from Clarks;
---
1
Here we have two moccasin-style warm winter slippers from Clarks, a favorite of this brand.
The slippers have suede-like leather uppers with a faux fur lining.
The sole is also suede leather, and the slippers are for indoor use only.
They come in a few neutral color options from which you can choose.
They offer comfortable cushioning and an excellent grip on the sole.
---
2
The Clarks Clog models have a closed-toe design and are easy to slip on and off, with an open back.
They have a suede sole for the ladies, and the men's model has a durable rubber outsole for indoor and outdoor use.
The slippers are suede with a soft faux fur lining for warmth and comfort.
They are also available in a few more neutral color options.
---
3
The Indoor and Outdoor design winter slippers from Clarks are very versatile.
They have a durable rubber sole ideal for outdoor slip resistance.
The uppers are comfortable suede leather in the men's model and genuine Cow suede leather in the ladies' model.
Both have a soft faux fur lining and are easy to slip on and off.
You can also choose a few neutral color options in both slipper models.
---
4
Here we have two cozy open-back design comfort slippers from Clarks.
The slippers ate ideal for indoor and outdoor use with a durable rubber outsole that offers good traction.
There are genuine suede leather uppers and a soft-lined interior.
The slippers are likewise available in more neutral color selections.
---
5
These are two stunning Moccasin design slippers from Clarks.
They only have soft suede leather uppers and a soft leather sole for indoor use.
The slippers are cushioned and comfortable, with a soft faux fur lining.
Furthermore, they are available in a range of neutral colors from which you can select.
---
6
These two slipper models are different in design.
For the men, we have a suede sole, a genuine suede leather slipper with a plush faux fur lining, and a Sherpa collar.
For the ladies, we have a Hybrid indoor and outdoor slipper with Cloudstepper technology cushioning and an Ortholite footbed.
Both slippers feature a faux fur lining and durable rubber outsole for indoor and outdoor use.
---
Index Table: Top Rated Clarks Slippers
---
---