In most warmer countries, you would ideally use either slides or flip-flops as an alternative to slippers for camping.
However, in colder weather conditions, or for better comfort, you may want slippers for camping that are actual slippers.
You do get specialized slippers that are designed specifically for camping, for in-tent and out-of-the-tent use.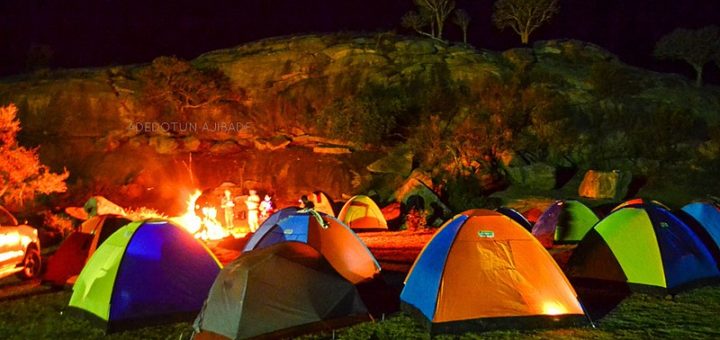 ---
Camping Slippers and Their Uses
Camping slippers are ideally designed to keep[ your feet warm inside your tent or sleeping bag at night and outside your tent in the mornings or evenings before bed.
Camping Slippers are a more comfortable and warmer option after a tough day of hiking in your Hiking boots that may now be wet and hurting your feet.
Because they are so perfect for inside and outside your tent, they are the ideal leisure wear shoe after a long day of hiking or just for general camping at the site.
Camping slippers, however,r are not designed for walking long distances, climbing, or used on hard terrains, however, they can be used at home and outdoors.
There are a few questions surrounding camping slippers, though;

Can You Use Camping Slippers Outside – Depending on the sole of the camping slipper and the overall construction, some are designed for use indoors, whereas some are designed for use outdoors. Most outdoor camping slippers will have a hard or rubber sole and more water-resistant materials, while indoor-only camping slippers may have a soft sole, which also enables you to sleep with them inside your tent.
Are They Waterproof? – You need to keep in mind that not all camping slippers are designed to be fully waterproof, or even water-resistant for that matter. Some camping slippers are designed for use in the tent alone and not for outdoors at all. Your camping slippers need to state on their label or description that they are waterproof and have some kind of waterproof or water-resistant membrane. They will also need a rubber outsole rather than a soft outsole for outdoor use.
---
Types of Camping Slippers
Outdoor Slippers and Indoor Slippers – As we have already mentioned, you get indoor slippers that you wear inside your tent or sleeping bag to keep your feet warm. Indoor slippers usually have a soft sole and non-waterproof materials. On the other hand, you get outdoor camping slippers that you can use inside and outside the tent. Outdoor slippers will have a more rugged and hard sole such as rubber and more water-resistant or durable uppers.
Down and Synthetic Camping Slippers – Then Again, you get Down Filled camping slippers that usually have a waterproof outer shell and warm down filling. Down Fill camping slippers are very warm and packable because they are so lightweight, making them perfect for camping. Synthetic slippers may not be as lightweight, pr packable for hiking, yet suitable for general camping. Synthetic slippers for camping are generally much more durable and affordable than down filled slippers.
Low Cut or High Cut Slippers – Regular low-cut mules, slides, or slippers are comfortable and come in indoor and outdoor models. However, they may not be the most warm option for camping in colder weather conditions. Slipper booties for camping provide better warmth and insulation and have a higher cut for better protection.
---
Features of a Good Slipper for Camping
Here are a few main features to look for in a good slipper for camping;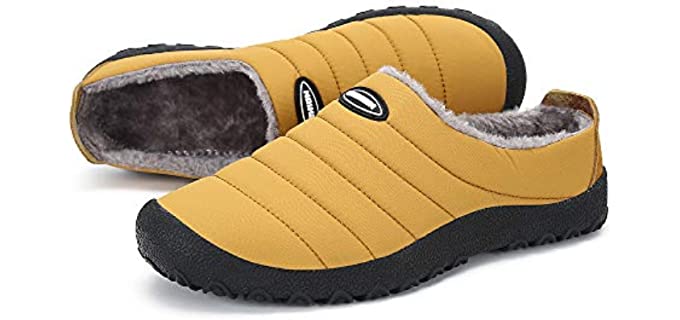 Insulation – You get down filled slippers that offer insulation or synthetic slippers that may have a fleece lining or wool insulation.
Sole – The Sole of camping slippers, especially outdoor slippers, needs to be more rugged and durable with a slip-resistant tread. Thus, rubber is a good choice in general.
Materials – Most Camping slippers will have nylon or water-resistant uppers with a DWR treatments or waterproof membranes. They will have either a soft sole for indoor use or a harder rubber outsole for outdoor and indoor use.
Size – Slippers usually do not come in many sizes, such as half size and widths, so I suggest that you always rather size up if you cannot get your perfect size.
---
Reviews: The Best Slippers for Camping
In our list we have some excellent options in indoor and outdoor model slippers for camping;
---
1
From Kubua, we have the ideal slippers for camping.
They are indoor and outsole.
The inside has terry linings to absorb moisture, and the outer shell is water-resistant.
The slippers are cushioned and comfortable.
They are available in many colors from which you can choose.
---
2
The North Face brings you their outdoor slippers for camping.
The slippers have 100% ripstop PET uppers that are water-resistant.
The outsole is a durable and slip-resistant rubber.
Inside is a warm fabric lining and good insulation.
---
3
The RockDove slippers are a comfortable slip-on design that is ideal for camping.
They have insulated down alternative filled uppers with a water-resistant shell.
There is a durable rubber outsole for traction.
The slippers are machine washable and quick drying.
There is a memory foam cushioned footbed for comfort.
---
4
The Crocs Fuzzy clogs make the most comfortable slippers for camping.
They consist of crosslite foam material that is easy to clean and durable.
The footbed has a comfortable design and is well-cushioned.
They are insulated with a warm and fuzzy lining.
---
5
The KingCamp camping slippers are well insulated and warm for colder weather.
They are polyester with a insulated polyester fill and breathable waterproof design.
There is an indoor and outdoor rubber outsole.
You can choose from a few more available colors.
---
6
Another model from Kubua with a soft cotton fabric lining and water-resistant ripstop uppers,
There is a plush memory foam insole and a more flexible rubber outsole.
The slippers are warm and very comfortable, with durable materials for camping.
They are also available in a few more colors.
---
Index Table: Top Rated Slippers for Camping
---
---