Many studies have suggested that unstable shoes such as flip flops, certain flats, and even some slippers may actually lead to lower back pain.
If you are someone who suffers from back pain and also enjoys lounging in your slippers or working from home in your slippers, they may actually be the culprit in your back pain.
On the other hand, the best slippers for back pain can provide relief and comfort for whichever reason you may be having back pain.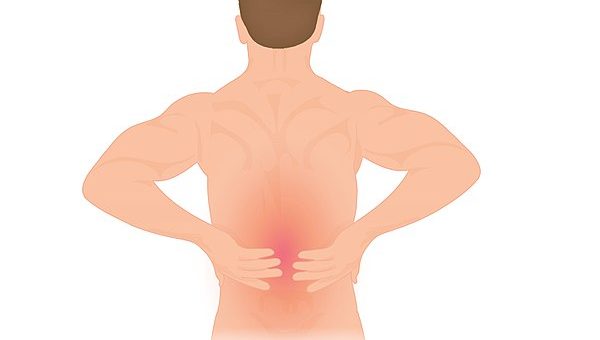 ---
Back Pain and How Your Shoes Affect Your Back
Back pain, in general, can be caused by a whole host of things which can also include what you wear on your feet.
Because your feet form the foundation of your whole body, they play a critical role in your balance when standing, walking, and running. Your feet feel the weight of your entire body and take all the impact when you walk or run.
Thus it is critical to wear proper support and cushioning shoes to avoid issues such as joint pain and back pain, amongst others.
This, in turn, is also true for the slippers that you wear. You may be lounging and moving around in slippers for extended periods of time. Your slippers, too, need to offer proper support and cushioning in order to avoid issues such as back and joint pain.
When it Comes to back pain, there are a definite few do, and don's in footwear;

Never wear high heels for extended periods or regularly.
Also, avoid very flat and unsupportive shoes.
When wearing heels, opt for a lower heel.
Try to avoid shoes with pointed or narrow toes.
Wear slippers and comfortable shoes that offer good cushioning and support, such as proper arch support.
---
How Slippers can Help with Back Pain
Now let us look at how the right slippers will, in turn, help to prevent and relieve back pain;
Improved Circulation – Wearing proper supportive slippers will help to improve blood circulation, which reduces swelling and discomfort in your feet and can improve your health in general.
Less Strain – Because there is less strain on your feet and arches and your slippers provide good shock-absorbing cushioning, there is less strain on your feet, joints, and your back.
Improves Balance and Posture – Proper support and stability features in your slippers will help to improve your balance and posture. This, in turn, prevents issues such as Overpronation that may lead to incorrect mechanics when walking, which in turn may be the cause of your back pain.
Provides Comfort and Cushioning – The right slippers will provide comfort and cushioning that in turn will help to provide back pain relief as well as prevent foot fatigue and other issues.
---
Features of a Good Slipper for Back Pain
To receive all the benefits mentioned and to properly support your feet, you will need slippers with the right features in fit, comfort, and support;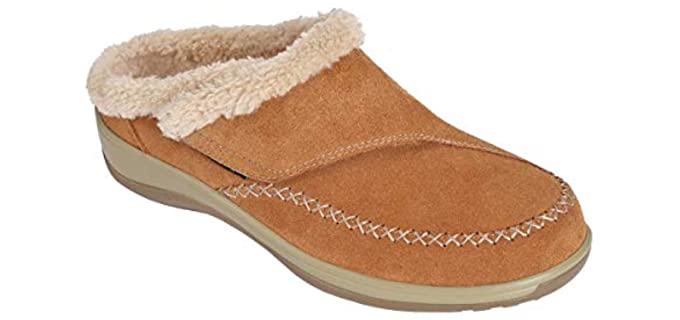 Uppers – Look for slippers that offer a roomy toe box and comfortable fit that will not slip off but that is also not too tight. Slippers come in a variety of materials pertaining to the uppers. These include leather, fabric, wool knit, felt, suede, and they can also have faux fur or genuine wool lining.
Cushioning and Midsole – Make sure the slippers you choose have optimal arch support or a contoured footbed for proper support. Cushioning and light flex in the midsole are ideal. Look for materials such as EVA in the midsole. A deeper heel cup also provides effective support. Cushioning in the footbed or insole ensures a comfortable platform for your feet.
Design – Slippers come in a variety of designs that you can select from. There is the regular closed heel design, ankle boot slippers, Moccasins, Slide on Clog slippers, and even sandal-like slippers.
Outsole – Any good slipper for indoor and outdoor use needs to have a durable rubber outsole with a lug tread for slip resistance. For indoor use only, you can likely opt for an EVA or suede leather outsole, which is also acceptable.
Options – the slippers in our selection are available in sizes, widths and more color options depending on the specific brands.
---
Reviews: The Best Slippers for Back Pain
In our list we have some of the best available slippers brands and models for back pain;
---
1
The Orthofeet Tuscany and Capri camel are similar design slippers that are both ideal for back pain.
They are available in wider width options as well as extended sizes from which you can choose.
The slippers have layered cushioning to provide pillowed support.
They also have an anatomical and biomechanical design footbed with full arch support.
---
2
From RockDove, we have their comfortable memory foam range slippers.
The Two-Tone design offers a different color on the outside and inside of the slippers, and there are more colors from which you can choose.
These slippers easily slide on and off and have no back.
They are more suited to cool or warm weather as they are cotton and spandex slippers.
There is memory foam cushioning in the footbed that absorbs shock and molds to the unique shape of your feet.
---
3
I Love the Hush Puppies range slippers for back pain.
They are Orthopedic design slippers that are extremely comfortable and supportive.
The uppers of the slippers are a moccasin style with a full pile lining for warmth.
They are both cushioned and have a supportive as well as adaptive footbed.
Excellent quality and extremely durable slippers, with a slip-resistant rubber outsole.
---
4
The Propet Cush n Foot range can be used as a slipper or even just a casual shoe for everyday wear.
The slippers come in a few color options as well as extended width options.
They have a Velcro closure so that you can adjust the fit of the uppers.
These are actually Medicare/HCPCS code A5500 diabetic shoes, ideal for back pain.
They likewise offer excellent cushioning and support, with a very durable and thick rubber outsole.
---
5
Here we have the Charlotte and the Asheville from Orthofeet.
Similarly, they are available in wider widths and extended sizes and guarantee you comfort and pain relief.
The slippers have layers of cushioning for the correct support and shock absorbency.
They have arch support and biomechanical footbed with an Orthopedic design.
The outsole is durable and slip-resistant rubber design.
---
6
The Dawson and the Winnie from Hush Puppies are other favorites from this brand. That is ideal for back pain.
Both slippers have a durable and thick rubber outsole for indoor and outdoor use.
They have a comfortable and plush memory foam footbed that molds to the shape of your feet and that provides ample cushioning and support.
The uppers are genuine suede leather and have a luxury warm lining perfect for wintertime.
---
Index Table: Top Rated Slippers for Back Pain
---
---