Generally, we do not take much consideration in terms of foot support and cushioning when choosing a pair of slippers.
I mean, they are just slippers, right? There to keep your feet warm so that you do not have to walk barefoot or maybe stub a toe.
However, slippers are much more than that, and they could be much more comfortable, and in turn, good for your feet if you take some time choosing slippers for foot support and comfort.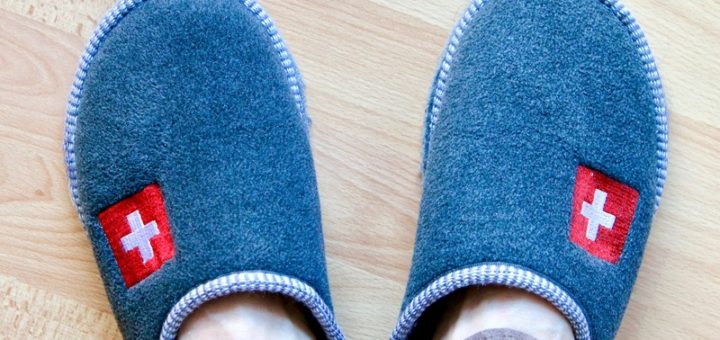 ---
What are Supportive Slippers
Many of us work from home or are full-time parents that stay at home all day, and the most comfortable shoe for home wear is usually a pair of slippers that you can easily slip on and off your feet.
Then again, after a long day at work or out in the town, you want to get out of your shoes, your feet may be aching, and you reach for your slippers.
We reach for slippers because they are roomy and warm, giving you that cozy and nostalgic feeling, right?
However, when you walk in unsupportive flat slippers all day, you may feel that your feet are starting to ache and becoming tired. This is because regular slippers do not cushion and support your feet.
So, in turn, slippers for foot support have two main things, they are well cushioned to absorb shock, and they usually have either full arch support or an anatomical shaped footbed to support your arches.
Slippers for foot support keep your feet in proper alignment to prevent pain and issues and also provide good supportive cushioning, such as a midsole and insole.
---
Slippers are Good for You
Did you know that slippers have many more benefits than just being comfortable leisurewear?

No More Colds and Flu – Did you know that it is actually proven that cold feet cause diseases such as cold and flu. Because cold feet cause your blood vessels to constrict, fewer white blood cells pass, affecting your immune system that fights off infections. Similarly, on a different note, slippers also protect you against infections from fungus and bacteria that could be lurking on your floors.
Hot and Cold – Slippers can help to keep your feet warm in cold weather, and you also get summer slippers that in turn help to prevent sweating excessively.
Keep Your Feet and House Clean – When you are indoors, your feet may also get dirty and even wet. Think about the accidentally slipped coffee on the floor, dust, and other dirt. Then again, your shoes carry dirt and debris from outside that, in turn, may dirt the floors of your home. Thus a good pair of slippers indoors may also keep your home clean.
Grip – Especially on wet, hard, and slippery floors, a good pair of slippers can provide traction and grip that will protect you from slips and falls.
Comfort and Support – The Slippers we will be featuring will have proper support features and cushioning that will help to keep your feet comfortable and pain-free.
---
Features of a Good Slipper for Foot Support
These features are ideal to look for in slippers that are more supportive for your feet, as well as more accommodating for foot pain and certain foot conditions.

Uppers – the Uppers should offer a roomy fit that allows you to easily splay out your toes. Slippers can consist of anything from soft suede leather to synthetic materials, wool, or other materials.
Support Features – The support features will include a cushioned and shock-absorbing foam midsole, a comfortable, softer cushioned insole, and arch support, or a contoured design footbed.
Outsole – Slippers may have an EVA or rubber outdoor and indoor outsole or a soft suede or leather indoor-only sole. However, most support slippers will have a harder outsole or thicker outsole.
---
Reviews: The Best Slippers for Foot Support
In our list, you will find some of the best available slippers that will provide good support and comfort for your feet;
We have included some exceptional orthopedic style slippers, as well as a few well known brands that make some of the most comfortable and supportive slippers.
---
1
The Orthofeet slippers are Orthopedic comfort slippers.
They have soft suede leather uppers and a plush lining.
The fit is roomy, wide, and adjustable with a Velcro closure.
They have an ergonomic footbed with good arch support and removable layers of cushioning.
The slippers are available in more colors and wider width options.
---
2
The Vionic Indulge Relax slippers are an easy slip-on and off design for summer.
They gave a supportive footbed with a deep heel cup, arch support, and good cushioning.
The sole is slightly more flexible for natural movement.
The slippers are plush and fuzzy, with some more colors and prints available from which you can choose.
---
3
The Longbay slippers are a warm closed design with comfort and support features,
They have soft knit uppers and a faux bunny fur lining for warmth.
There is a memory foam supportive footbed that molds to the shape of your feet.
There are more colors and plenty of sizes from which you can choose.
---
4
The RocKDove original slippers are a comfortable and supportive design.
They have cotton and spandex uppers with a comfortable memory foam insole and a supportive footbed.
The slippers are a wide and roomy fit with a two-tone color design.
The outsole is rubber for indoor and outdoor use.
---
5
The Isotoner Moccasin slippers have a gel-infused memory foam footbed with an anatomical design for support and comfort,
The uppers are a soft and flexible textile with a moccasin toe design.
They have a versatile rubber outsole that offers excellent traction and durability.
The slippers are available in neutral color options.
---
6
The Vionic Irving Adler slippers are comfortable and supportive.
They have soft suede leather uppers and a technical faux shearling lining.
The Outsole is EVA, however, suited for indoor use only.
Inside is the three Zone comfort cushioned footbed with arch support and a heel cup.
---
Index Table: Top Rated Slippers for Foot Support
---
---