The word Hammertoes describes a progressive condition in which changes occur in one or more of the joints in your toes.
Your toes end up pointing upward instead of lying flat as they should because muscle sand tendons in your legs and feet start to weaken, which in turn pull the toes up.
With Hammertoes come other issues such as bunions, corns, and calluses that may form from pressure, especially when you wear improper footwear.
Hammertoes can be quite uncomfortable and even painful, and just as you need the right shoes for Hammertoes, you will also need specialized slippers for Hammertoes.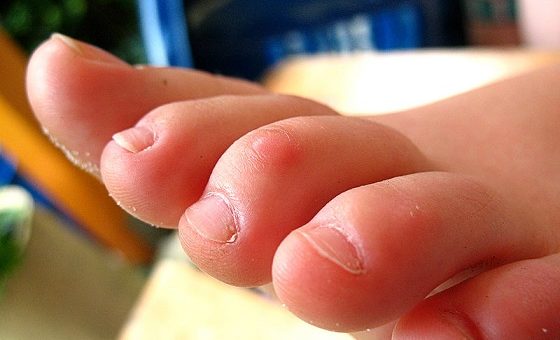 ---
Hammertoes Symptoms and Causes
You get three types, or rather three stages of Hammertoes, Flexible Hammertoes that point up but still move at the joint, semi-rigid Hammertoes that are only starting to stiffen, and Rigid Hammertoes that will no longer move at all because all the tendons and soft tissues have stiffened.
Who is More Likely to Get Hammertoes? – People who wear unsupportive shoes, especially high heels and very narrow-fitting shoes, are at the greatest risk of getting Hammertoes, as well as bunions and other foot issues, and deformities.
Hammertoes VS Bunions – Hammertoes differ much from bunions. A bunion is a large bump at the base of the big toe on the outside, whereas Hammertoes are stiffened toe joints causing your toes to point upwards.
Cause of Hammertoes – Abnormal muscle balance or weakened muscles and tendons may lead to Hammertoes. Hammertoes may also be genetic. Then again high heeled and narrow-fitting shoes are a large culprit. Rarely certain Neuromuscular diseases and trauma to the toes may lead to Hammertoes.
Symptoms of Hammertoes – You may feel that the joints on your toes have become more stiff, and there may be a pain in the area where your toes are bent and n the balls of your feet. Other symptoms include pain and swelling in the joints, redness, inflammation, and corns or calluses that may form.
What Aggravates Hammertoes – As your tendons and muscles tighten, Hammertoes may become worse, and they may progress with time. Unsupportive and ill-fitting shoes or slippers may also worsen Hammertoes.
---
Choosing Slippers for Hammertoes
Ideally, slippers generally do have a more accommodating and roomy fit that is perfect for Hammertoes.
I would suggest that you find Orthopedic style slippers that have extra widths and depth with a roomy toe box and soft stretchable uppers, such as leather, lycra, or knit uppers.
Opt for slippers that offer good underfoot support, such as arch support, and midsole, and insole layered cushioning for shock absorbency and comfort.
Make sure the slippers do not place any pressure on your toes that may cause pain and that they fit properly.
Try to stay clear of slipper designs that are narrow, and have a more flat toe box. Ballet style slippers and narrow-fitting sock-like slippers will not offer a comfortable fit for Hammertoes.
On the other hand, also stay clear of minimalistic slippers in style or sock-like. Your slippers need to have a thicker sole and midsole in order for them to provide support and stability. You will also benefit from the shock absorbency of a thicker sole and reduce pressure and impact on painful hammertoes.
---
Features of a Good Slipper for Hammertoes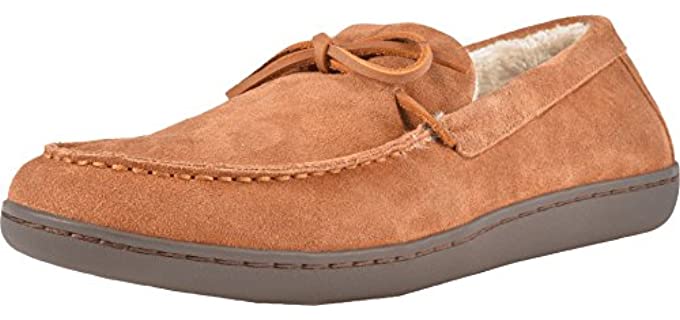 Uppers – The uppers can be leather, suede, textile, knit, wool, or other soft, flexible fabrics. Make sure the toe box is roomy and wide. Opt for Moccasin and Wide styles and try to avoid more narrow and minimalist style slippers in general.
Support and Comfort – The slippers need to have a supportive cushioned foam midsole and a comfortable insole, with an anatomical design or arch support. Slippers with removable insoles are ideal because you can use your own orthotics.
Outsole – Choose indoor and outdoor slippers as they normally have a thicker and more shock-absorbing outsole than indoor-only slippers. Rubber is a good choice for grip and traction.
---
Reviews: The Best Slippers for Hammertoes
In our list we have chosen slipper models that offer a fit and comfort features especially for Hammertoes;
---
1
The Zizor slippers are fully adjustable with an easy entry design that allows you to put them on and off and adjust the fit easily.
They have a soft lining and comfortable, flexible uppers.
There is a plush memory foam insole for underfoot comfort.
The outsole is a durable rubber for indoor and outdoor use.
---
2
The Bobs Ice Angel slippers from Skechers have a comfortable and roomy design for Hammertoes.
They have cable knit sweater uppers and a soft lining.
The rubber outsole is slip-resistant and slightly flexible.
Inside is a Plush memory foam footbed for support and cushioning.
---
3
The LongBay boot style slippers are ideal for those cold winter months.
They have a roomy fit and flexible uppers to accommodate for Hammertoes,
The Uppers are a Chenille velvet with a fuzzy lining for insulation.
The Outsole is a flexible and durable rubber for better traction indoors and outdoors,
The anatomical and cushioned footbed supports the arches and provides excellent shock absorbency.
---
4
Another model from LongBay is their Diabetic Furry slippers.
They have a very roomy fit and are ideal for Hammertoes.
The slippers feature a 3D memory foam cushioned footbed that offers excellent support.
The outsole is a non-slip rubber design.
You can likewise select from a few more available colors.
---
5
The RocKDove Two-Tone slippers are the ideal design for Hammertoes.
They have a roomy fit with flexible cotton and spandex uppers.
There is a Memory foam cushioned insole for comfort and support that is ideal for hammertoes.
The slippers also feature a high traction rubber outsole and are available in more colors.
---
6
The Isotoner Moccasin toe slippers have a roomy toe box and are fit for hammertoes.
They gave soft textile uppers with microsuede and a micro terry lining to wick away moisture.
There is a Gel-infused cushioned memory foam insole for cool comfort that will absorb shock and reduce pain.
The outsole is a durable rubber that offers great slip resistance.
---
Index Table: Top Rated Slippers for Hammertoes
---
---