Birkenstock is one of my absolute favorite sandal models, especially if you have a painful foot condition, or if you are looking for a sandal that is wide-width options, and that is very comfortable.
Birkenstocks are generally more casual style sandals with soft leather uppers, and a comfortable Cork, and a latex footbed, which is ideal if you have conditions such as Morton's Neuroma.
This article will look at some of the best Birkenstock sandals for Morton's Neuroma.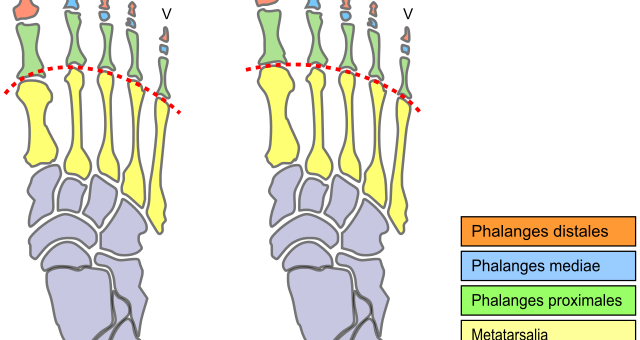 ---
Morton's Neuroma Explained
Before we get started on the best sandals from Birkenstock for Morton's Neuroma, let's first look at what Morton's Neuroma is exactly and how it affects your feet. Let me first explain to you at the bottom of your feet, in the ball of the foot area between the 1st and the 4th toes you've got nerves running across your feet and to your toes.
These nerves also have tissue surrounding them. What happens is this repetitive irritation or stress on these nerves and the surrounding tissues, which eventually causes them to become inflamed and irritated.
Then you will feel pain in the ball of the foot area that feels like a stinging, burning pain, which may radiate to your toes, and which also gives you the feeling of standing on a pebble, which is because of the thickening of these tissues.
There are a few causes and risk factors for Morton's Neuroma however, I just want to highlight two of the main risk factors and causes.
First of all, wearing narrow-fitting shoes that offer little and no support or cushioning for your feet and especially wearing high-heeled shoes are your greatest risk factors. High-heeled and narrow-fitting shoes, push your feet in an unnatural position that causes repetitive stress on the tendons and the muscles in your feet, which may lead to Morton's Neuroma.
Secondly, repetitive sports such as jumping, dancing, running, and jogging, where there is an impact on the balls of your feet and the metatarsal area, can cause repetitive stress, which in turn may lead to the condition of Morton's Neuroma.
---
Choosing Shoes for Morton's Neuroma
Though our article will be focusing mainly on Birkenstock sandals for Morton's Neuroma, here are a few tips when you are choosing either shoes or sandals if you have Morton's Neuroma.

Accommodating Uppers – Firstly, choose shoes that have a comfortable and accommodating uppers look. Look for leather and soft stretchable textiles when choosing sandals or shoes for Morton's Neuroma.
Support and Comfort – Then look for good underfoot, comfort, and support you want to shoe or a sandal that is a slightly contoured footbed that will offer good arch support. You also want comfortable cushioning that will absorb shock and impacts.
Wide Fit – Make sure that your shoes and sandals have a wide and roomy toe box area that allows you to evenly and comfortably spread out your toes on the footbed of the sandal or inside the shoe.
Heel – Though it is based on avoiding heels when you have Morton's Neuroma, a sandal that has a low heel or a more solid sole, is a much better option than a completely flat sandal or shoe is just as bad as high heel shoe.
---
Features of a Good Birkenstock Sandal for Morton's Neuroma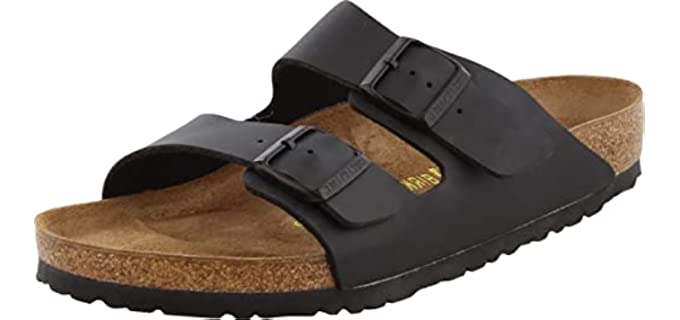 Uppers – Birkenstock sandals generally have either genuine or vegan leather uppers. They are. They are different choices of colors, patterns, and prints in the uppers, as well as textures. You get smooth leather, swayed leather patent, or patent leather options. Birkenstock sandals have adjustable uppers, usually with buckle closure.
Footbed – They have a cork and latex footbed that has a contoured shape. The Cork and the light text also mold to the shape of your feet.
Outsole – The outsole will either be rubber or EVA, with a high traction tread.
Options – Birkenstock sandals are available in wider widths, narrow widths, and medium widths. They are also available in many color options as well as many sizes.
---
Reviews: The Best Birkenstock Sandals for Morton's Neuroma
These are some of our favorite sandal models from Birkenstock, that are ideal for Morton's Neuroma.
---
1
Sandals for Morton's Neuroma
The Birkenstock, Arizona is one of the more classic designs that come in unisex styles, colors, and finishes.
You can choose from smooth leather suede and patent options, as well as printed and many color options.
The footbed has an anatomical design with good arched support an extra layer of super foam cushioning and a deeper hill cup.
The footpath consists of cork and latex.
---
2
Morton's Neuroma Flip Flops
The Gizeh us and Open Toe summer sandal.
It consists of synthetic leather with a T-Strap design
The sandal has an EVA shock-absorbing outsole and a soft leather lining.
The footbed is anatomical in shape for better support.
---
3
Sandals for Morton's Neuroma
Here we have the Toe Loop Model from Birkenstock.
It has leather uppers that are oiled, with a durable synthetic outsole.
There is a cork and latex midsole and built-in arch support making it ideal for Morton's Neuroma.
It has an additional toe grip for added support.
---
4
The Birkenstock open-back mule sandal is ideal for Morton's Neuroma.
They have soft and support oiled leather uppers, with a roomy toe box.
The is a comfortable cork, latex midsole, and soft leather lined insole/
The sole is a durable and high-traction EVA.
---
5
Flip Flop Sandals for Morton's Neuroma
The Birkenstock Honolulu is available in many colors.
It is a comfortable and well-fitting sandal for Morton's Neuroma.
The sandal has an anatomical footbed with a heel cup and arch support.
It is well cushioned with cork and latex.
The uppers are soft leather with a roomy fit, and there is an EVA outsole.
---
6
Leather Sandals for Morton's Neuroma
The Birkenstock Milano has a gorgeous design for men and women and comes in a few more color options.
It has a wide footbed and toe box for Morton's Neuroma comfort.
There is an EVA sole and Molded cork footbed to support your feet, with a luxury suede lining.
The uppers are soft cow leather.
---
Index Table: Top Rated Birkenstock Sandals for Morton's Neuroma
---
---