Birkenstock is one of the top sandal brands with a unique style and quality.
Birkenstock sandals are built for comfort and support, consisting of the finest quality materials, with their signature Cork and Latex footbed. They are available in so many colors and options.
In this article, we concentrate mostly on Birkenstock Sandals for Plantar Fasciitis.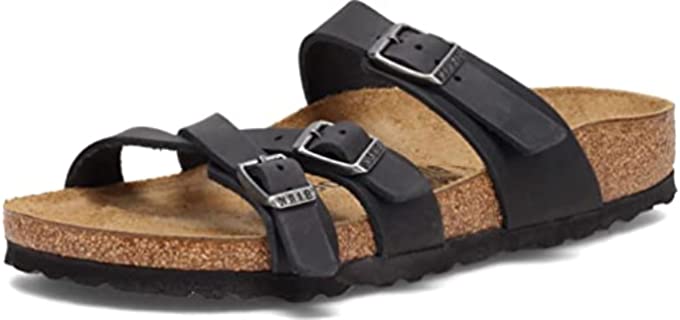 ---
---
Plantar Fasciitis and How it Affects Your Feet
Plantar Fasciitis is one of the most common causes of heel pain.
When the thick band of tissues that runs across the bottom of your feet, connecting your heel bone to your toes, becomes inflamed or damaged, it is known as Plantar Fasciitis.
Plantar Fasciitis causes a stabbing pain in the heel, which is usually felt when you first get up in the morning or stand up after resting for a while.
The initial cause of Plantar Fasciitis is not quite understood. However, there are some risk factors.
Symptoms
You will feel a strong stabbing pain in your heel, which may also be felt in the ankle. Light swelling may occur. However, the pain subsides with activity and is felt after being off your feet for a while.
Causes
Tension on the Plantar Fascia tissue may lead to small tears, which cause pain and inflammation. Improper arch support, such as having flat feet, can cause strain on these tissues and certain activities that impact your feet.
Risk factors
Though Plantar Fasciitis may develop without any cause, there are a few things that can increase your risk of developing the condition;

Plantar Fasciitis is more common in people between 40 and 60.
Certain activities and exercise routines that place impact and stress on your heels can cause Plantar fasciitis. These include long-distance running, dancing, aerobic dancing, and ballet.
Persons with very flat or low arches collapsed arches, or even a high arch are more likely to develop Plantar Fasciitis.
Being overweight can also increase your risk of Plantar fasciitis.
Certain occupations that keep you on your feet all day, especially on hard floor surfaces, cause strain to the muscles and tissues in your feet, which may lead to Plantar Fasciitis.
Complications
If you ignore Plantar Fasciitis, it will eventually result in chronic heel pain that can hinder your daily activities. You will try to avoid placing pressure on the affected heel when walking, which can lead to other foot, knee, hip, or even back issues.
---
So Why choose Birkenstocks for Plantar Fasciitis
The Design and support features that Birkenstock sandals provide are ideal for individuals who have plantar fasciitis;

Footbed Structure – Birkenstock sandals have a footbed with a contoured design and a deep heel cup. This cradles your feet in perfect alignment and properly supports the arch, promoting equal weight distribution. Thus, there is less pressure and strain on our feet, and the Plantar Fascia will reduce pain and prevent the condition.
Footbed Materials – The Footbed has a unique cork and latex structure that provide exceptional cushioning and shock absorbency. Similarly, the materials shape your feet and provide more customizable support.
Outsole Design – The Well-treaded rubber or EVA outsole of Birkenstock sandals provide proper support and traction to prevent awkward foot movements that may strain your feet.
Fit and Uppers – Birkenstock sandals have soft and comfortable uppers with adjustability features for a more secure and stable fit.
---
Features of a Good Birkenstocks for Plantar Fasciitis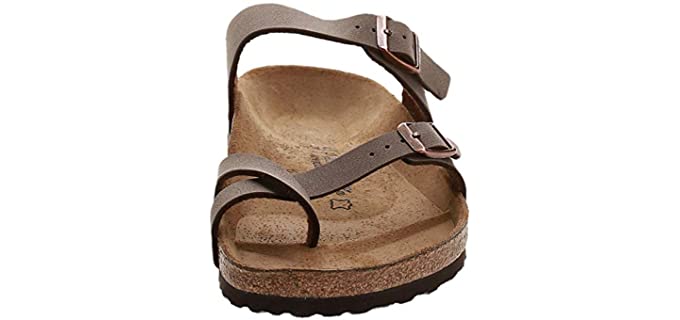 Uppers – Birkenstock sandal models may have genuine cowhide leather uppers that are soft and supple, synthetic leather uppers, or EVA uppers that are more water friendly. They come in different designs, two straps, back straps, and many straps. Some models have buckle closures.
Footbed – Besides the EVA footbed range, you also get the Cork and Latex footbed with a soft suede lining. The footbed may have built-in arc support and an anatomical design for support.
Outsole – Most Birkenstock sandals will have a durable EVA outsole with a grippy pattern on the tread.
Options – Birkenstock sandals offer many options in terms of colors and prints in almost all their sandal models. They are available in extended sizes, wider widths, and unisex sizes.
---
Reviews: The Best Birkenstocks for Plantar Fasciitis
From Birkenstock, we have these favorite models that are just perfect if you suffer from Plantar Fasciitis;
---
1
Sandals for Plantar Fasciitis
The Birkenstock Arizona is the top favorite of this brand.
It is one of the most sold models with a more basic design.
The uppers are leather with two straps and buckle closures.
The footbed is contoured with arch support and a deep heel cup, and it consists of cork and latex with a suede lining.
The sandal is available in many colors and prints.
---
2
Plantar Fasciitis Flip Flops
The Birkenstock Gizeh has thong-style uppers.
It is a synthetic Birko Flor sandal with a synthetic sole.
The footbed offers anatomical arch support and cushioning.
There is an EVA outsole.
---
3
Leather Sandals for Plantar Fasciitis
The Birkenstock Milano is a soft-footbed leather sandal.
The sandal has leather uppers, available in many colors.
It has an EVA sole, cork, and a latex-cushioned footbed with a soft lining.
The uppers are genuine cowhide leather.
---
4
Flip Flops for Plantar Fasciitis
The Birkenstock Honolulu is a fun water-friendly beach flip-flop.
The sandal has a flip-flop design and consists of washable and waterproof EVA.
It is extremely lightweight and comfortable.
The ideal sandal for beach and pool wear.
There are also so many colors available.
---
5
Plantar Fasciitis Sandals
The Birkenstock Open Back Mules are comfortable slip-on sandals.
They have Oil leather uppers available in many colors.
The footbed has an anatomical design and is cushioned.
The outsole is a durable EVA.
---
6
Sandals for Plantar Fasciitis
The Birkenstock Toe Loop sandal is a comfortable and more intricate design.
They have oiled leather uppers with many appealing and comfortable straps.
There are so many colors from which you can choose.
The footbed us a cork-latex with an anatomical design and built-in arch support.
There is a synthetic sole and additional toe grip for support.
---
Index Table: Top Rated Birkenstocks for Plantar Fasciitis
---
---