Birkenstock is a brand that has taken the world by storm. They create some of the best shoes and sandals that have a more natural and casual style to them.
Birkenstock started off with their popular Arizona two-strap sandal with the soft vegan leather uppers, two buckles, and the comfortable cork and latex sole.
Today they have many styles from which you can choose and still hold their iconic comfort features and fit.
For bunions Birkenstock sandals are absolutely ideal. Birkenstock sandals for bunions offer a roomy fit, wider width options, good support, cushioning features, and very soft and comfortable fitting uppers.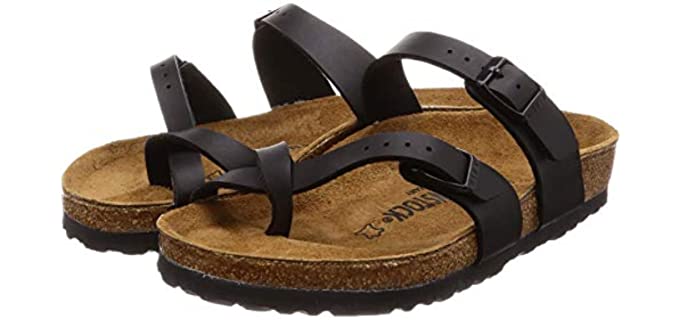 ---
Bunions and How They Affect You
bunions can be painfully unsightly and make it extremely hard to get the right shoes. Though you could wish to stay in slippers or flip-flops all day, they may not be the best choice and are not at all flattering for your feet.
Bunions are caused because of pressure placed on the forefoot forcing the big toe and toes to be pressed together in such a manner that the joint at the base of the big toe starts to stick out and grows because of the pressure.
You have guessed right, the main culprits for bunions are narrow pointy shoes and, of course, a lady's favorite high heels.
If not treated, bunions can become more painful, your toes may stiffen, the rest of your toes can press against each other, causing corns and calluses, and further deformity of the foot may occur. Having a painfully bunions, in the end, will also affect how you walk and run, which in turn can lead to other complications such as back and joint pain.
There are, however, other causes of bunions, such as injuries and arthritis, but these are rarely the cases.

Treating Bunions – Not much can be done to treat bunions when the damage is done, but you can use ice or heat for pain and swelling, as well as pain medication. Wearing more comfortable and accommodating footwear will also help. In more severe cases, there may be surgery as an option.
Prevention – You Can Prevent bunions by wearing proper choose. Choose shoes with a roomy toe box that allows you to splay your toes in the shoes easily. If you do like high heels, opt for low or medium block style heels in a shoe that has a contoured or arch support footbed, and do not stay in heels too long.
---
Sandals for Bunions
You can use these tips to choose the most comfortable sandal for bunions;

Fit – Opt for a sandal that has a wider toe box, or that is available in wider width options. Make sure the design of the sandals, such as the straps or upper part, does cover bunions but does not place any pressure on them.
Materials – Especially for the uppers up, want very soft and flexible materials such as stretchable knit or mesh and leather.
Comfort Features – A comfortable lining can prevent excessive sweating and chafing. Good underfoot cushioning reduces the impact on already painful Bunions.
---
Features of a Good Birkenstock Sandal for Bunions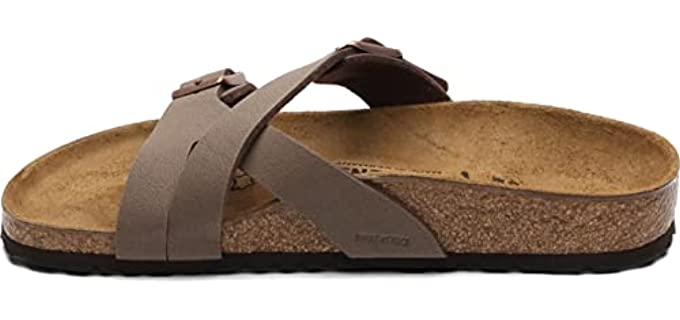 Uppers – Birkenstock sandal may have either genuine, or vegan leather uppers. The leather may be smooth, oiled, metallic, or have a soft suede or nubuck feel. You also get fabric options in the uppers. There are different designs such as the Two or three straps, the Thong, and thinner strappy models.
Footbed – The Footbed has an anatomical design that supports the arch and has a deeper heel cup for support. The footbed consists of cork and latex that molds to the shape of your feet, with an EVA midsole and durable rubber or EVA outsole.
Outsole – As mentioned, most Birkenstock sandals will have either a rubber or an integrated EVA outsole.
Essentials Range – The Essentials range from Birkenstock are water-friendly sandal that is water resistant and can easily be cleaned. They consist mainly of soft plastic and EVA, with an EVA footbed and EVA sole.
Options – Birkenstock sandals are available in a huge range of colors and prints and different feels. They also offer narrow, medium, and wide-width fit options.
---
Reviews: The Best Birkenstock Sandals for Bunions
In our list, we have some of the most ideal Birkenstock sandals for bunions;
---
1
The Birkenstock Arizona is the most favored sandal from this brand.
It has a two-strap design with adjustable buckle straps.
There is a contoured cork and latex footbed and soft leather uppers for a comfortable fit for bunions.
You can likewise choose from many more colors that are available in this model.
---
2
The Birkenstock Gizeh is a T—Strap sandal that will place no pressure at all on a Bunion, though it will be visible.
The sandal has soft leather uppers and is available in more colors.
The footbed is cushioned and contoured for comfort, to support your feet, and provide good pain relief when you have Bunions.
There is a durable high traction outsole.
---
3
The Birkenstock Honolulu is an EVA beach sandal for bunions with a comfortable fit and soft cushioning.
It has an EVA sole and EVA uppers that are gentle against the skin and very cushioning.
Water-friendly, with comfortable cushioning and a high traction outsole.
The sandal is available in more colors.
---
4
The Birkenstock Open Back Mule has a casual and comfortable style and is a fit for bunions.
It has soft leather uppers and an EVA sole.
The footbed has arch support and cushioning.
There are also a few more colors available.
---
5
The Birkenstock Toe Loop sandal has a more flattering design and fits for bunions.
It has oiled leather uppers with a toe loop.
There is a suede-covered footbed that will help to absorb moisture and keep your feet comfortable.
The midsole is cork and latex with shock absorbency.
---
6
The Birkenstock Milano is a comfortable fit and flattering design for bunions.
The uppers are cowhide leather, and the sole is EVA.
There is a Molded cork and a latex footbed.
The uppers are fully adjustable.
---
Index Table: Top Rated Birkenstock Sandals for Bunions
---
---