Birkenstocks are most likely one of the most popular sandal brands that you will find today. The company and brand date back two centuries ago but have yet to lose their touch.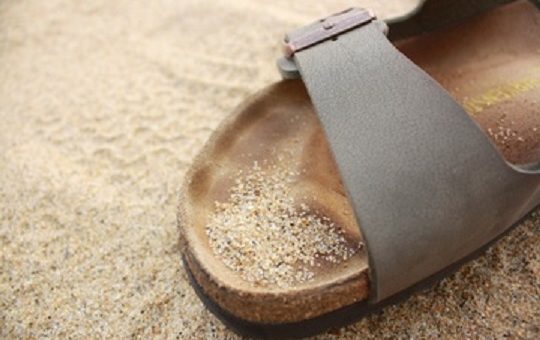 ---
---
The History and Present of Birkenstock® Sandals
The Birkenstock sandal traces its roots back to Johann Birkenstock, a registered shoemaker from 1774. In 1896 Johann's great-grandson Konrad Birkenstock developed the first contoured insole. Then 1902, the first flexible arch-support was discovered, and Karl Birkenstock developed these inserts into a shoe, thus leading to the original prototype of the Birkenstock sandal.
In 1966 the Birkenstock sandal was first introduced in the United States and elsewhere. Nordstrom became the first actual department store to stock Birkenstocks in 1986.
Today Birkenstock is a popular sandal still based on the original prototype, with many different styles and colors.
What makes the Birkenstock so popular is the layered footbed, consisting of a shock-absorbing sole, two layers of Jute fibers, and a firmer Cork footbed, the footbed lined with one soft suede layer.
---
Benefits of the Birkenstock® Sandal
Stylish – The Birkenstock is a stylish sandal that comes in many colors, patterns, styles, and different strap styles today. They are best worn in summer and without socks.
Unisex – Most Birkenstock shoe models are Unisex and can be worn by men and women.
Muscle and Joint Health – Birkenstocks nourish your muscles and joints because the shoe design allows proper blood circulation and relaxes your muscles. The design also prevents fatigue and provides better comfort and support than most sandal brands.
Healing Foot Problems – The Birkenstock Sandal can aid in healing foot issues such as callouses, Bunions, Foot pain, and hammertoe because its comfortable design does not place pressure or strain on your feet.
Durable – The materials used to make a pair of Birkenstock sandals are of the finest and highest quality, ensuring longer durability and longevity.
Comfortable – The Footbed of the Birkenstock is designed to contour and mold to the shape of your foot with time so that you get just the right support, making them extremely comfortable.
---
Features of a Good Birkenstock® Sandal
Uppers – The original Birkenstock sandal has soft, smooth, or suede leather uppers made from genuine leather with buckles on the classic two straps. There are models with synthetic and plastic uppers, which are more recent and easier to wear and clean in wet situations.
Footbed – besides the Plastic model with the EVA footbed, there is the classic and original Birkenstock footbed. The Birkenstock footbed has a leather lining, layers of Cork, and Latex, which cushions and absorbs moisture. The midsole usually consists of either EVA or cork as well. The footbed is contoured and designed for optimal arch support and heel cushioning.
Closures – The Closure and main embellishment on almost all Birkenstock models is the ever-popular BUCKLE closure.
Designs – Birkenstocks' original design is the two-strap leather sandal with buckles on each strap, usually available in neutral and brown shades of color. Yet today, many different upper strap designs, colors, and prints are available for both men and women.
Outsole – The Birkenstock outsole is either EVA or rubber with a patterned tread for better traction and grip.
---
Reviews: The Best Birkenstock® Sandals
From Birkenstock, we have these stunning top favorites, which you should truly consider;
We hope you love the products we recommend!
We may collect a share of sales or other compensation from the links on this page.
---
1
The Birkenstock Sydney is not as popular as Arizona, yet it has some fabulous features.
The Sydney features the original Birko-Flor leather uppers with two straps, each with a single buckle and soft-sided leather for the uppers.
An anatomically contoured cor and latex footbed molds to the shape of your feet over time.
The EVA sole is durable and shock, absorbing with a patterned tread for slip resistance.
The Sydney is also available in a few neutral color designs from which you can choose.
---
2
The Birkenstock Arizona is the original and most loved design in Birkenstock sandals.
Also, feature soft-sided leather Birko-Flor uppers with the two strapped buckle layout and closure.
The footbed consists of cork and latex that contours and molds to your feet and offer excellent cushioning.
This model likewise ensures excellent arch support and has a smooth moisture-wicking footbed lining.
Arizona has a high-grip rubber outsole and is available in neutral color varieties.
---
3
Unlike the original Birkenstock styles, the Gizeh and Zurich are two different models.
The Birkenstock Zurich for the gents has very soft and supple velour-feel leather uppers in two color options and a slip-on and off design, which is extremely lightweight and supportive.
The Gizeh for the ladies also has soft genuine suede leather uppers but with a more slim and comfortable fit.
Bothe this sandal features the popular EVA midsole and cork and latex footbed.
You can choose from a few color options for the Gizeh style.
---
4
The Tokyo from Birkenstock is a super grip sandal that you can use for work and everyday wear.
The front design is more closed and consists of genuine leather with air holes for ventilation.
There is an open back with an adjustable strap for a comfortable fit.
The footbed is contoured and arches supportive, made from cork and latex with an EVA midsole.
The rubber outsole is Certified slip-resistant, ideal for slippery and oily surfaces.
The Tokyo is likewise an easy slip-on-and-off design.
---
5
The Yao from Birkenstock is ideal for a more Narrow or medium foot shape.
A two-strap design sandal with leather and suede leather upper straps that have buckle closures.
The cork and latex footbed has a contoured, supportive design and offers excellent cushioning and absorbency.
There is also a very lightweight and durable EVA outsole.
The Yao accommodates medium and narrow foot types better.
---
6
The Milano from Birkenstock is another favorite in their sandal range.
The uppers straps are made from 100% genuine leather and are adjustable with buckle closures.
A contoured cork and latex footbed with an EVA and cork midsole exists.
The durable rubber outsole ensures excellent traction and longevity.
The Milano is casual, and every occasion wears a sandal.
---
7
The Birkenstock Mayari has a strappy design that is comfortable and elegant.
The Upper consists of Birko Flor materials with buckles on every strap.
There is an anatomically designed comfort and cushioned footbed.
The EVA and rubber sole is durable and absorbs shock.
There is also a suede footbed lining for moisture control.
---
8
The Arizona Essentials is similar in style to the original but constructed of a Waterproof EVA.
The Entire sandal consists of a durable and foamy EVA material.
The footbed has an anatomically supportive and cushioned design.
The is a lining in the upper for comfort and adjustable buckle closures.
The sole is durable.
The sandal is lightweight and completely waterproof..
---
9
The Birkenstock Gizeh Essentials are a waterproof thong sandal.
A thong design sandal with synthetic leather uppers and a waterproof sole.
The sole is EVA with a molded footbed and built-in arch support.
There is also a deeper heel cup for stability and heel support.
As for the outsole, the EVA offers excellent grip and support.
---
10
You will also find children's sandal options in many fun colors and prints in the Arizona range.
There are many fun color and print options available for boys and girls.
The footbed is cork and latex with a contoured, supportive design.
Ther is a suede sole lining and microfiber lining on the synthetic uppers for moisture management and comfort,
The two straps are adjustable with buckle closure.
The EVA sole offers support and good slip resistance.
---
Index Table: Top Rated Birkenstock Sandals
---
---