Vionic sandals come in so many styles for both formal and casual wear.
They are sandals with a podiatrist design footbed and roomy wide toe box, which makes Vionic sandals perfect for Morton's Neuroma.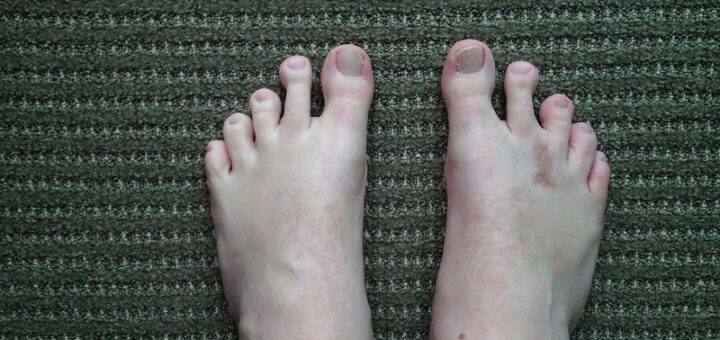 ---
Morton's Neuroma
Morton's Neuroma is a very painful condition that affects the ball of your foot. The ball of your foot is the area which is between your third and your 4th toes at the bottom.
What happens is that the tissues around the nerves in the ball of your foot that lead to your toes become irritated or inflamed, and they start to thicken which may cause of painful feeling in the bowl of the foot, which also feels like you are standing on a pebble.
Mostly, wearing high-heeled shoes or shoes that have a very narrow toe box has been linked to the condition of Morton's neuroma. These types of shoes squeeze your toes in the front of the shoe or sandal, which can then lead to damage to the tissues, which eventually will lead to Morton's neuroma.

Symptoms – Morton's Neuroma feels very much like you have a bunch of sucking your shoe, or like you are standing on a pebble. You may have a burning pain in the ball of your foot, which can radiate into your toes. You also may feel some tingling or numbness in your toes.
Causes – Morton's Neuroma occurs as a response because there is irritation or pressure to one or more of the nerves that are leading to your toes.
Risk Factors – One of the greatest risk factors of Morton's Neuroma is wearing shoes with high heels, or that have a narrow toe box. Some sports that involve high-impact activities, especially landing on the balls of your feet, such as dancing, jogging, and jumping, also place you at a high risk of developing Morton's Neuroma. Individuals who likely have bunions hammertoes, higher arches, or a very flat arch, or also much more likely to develop Morton's Neuroma.
Treatment – Morton's neuroma is quite easy to treat, and most doctors will likely recommend therapy or wearing metatarsal pads or insoles. In more severe cases, there might be surgical procedures that may be needed or cortisone injections.
Home Remedies – You can easily manage Morton's new aroma at home by taking anti-inflammatory medication, or trying to massage the area of the foot that is painful. You can also use ice or heat in the area where the pain is felt. It. It would be advanced to take a break from certain activities that place a high impact on the balls of your feet until your feet have healed. Changing your footwear is one of the best ways and the best home remedies to help with Morton's neuroma. Try to wear footwear that is a wider and more comfortable footbed with proper underfoot cushioning and support.
---
Shoes for Morton's Neuroma
Here are a few characteristics that you can look for in a good shoe or sandal if you have Morton's neuroma.

Accommodating Uppers – OPS for a sandal or a shoe that has more accommodating and flexible uppers that consist of either a soft leather or a stretchable textile material. Sandals that have adjustable uppers or ideal.
Support and Comfort – With the sandals or shoes, you do need shoes that offer good support and cushioning. As we will be dealing with sandals today, look for a sandal that is a more contoured type of footbed with plenty of cushioning, especially in the ball of the foot area.
Wide Width – One of the features you need to look for when you have Morten's Neuroma in any shoe or sandal, is that it has a wide and roomy toe box, or that it is available in wider width options.
Low Heels – Try to stay clear of shoes that have very high or medium-high heels, and rather opt for lower-heeled shoes and sandals when you have Morton's Neuroma. You also do not want a very flat shoe that will offer little support and less cushioning. So try to avoid very flat sole shoes and rather opt for shoes with EVA or rubber in the slightly thicker sole.
---
Features of a Good Vionic Sandal for Morton's Neuroma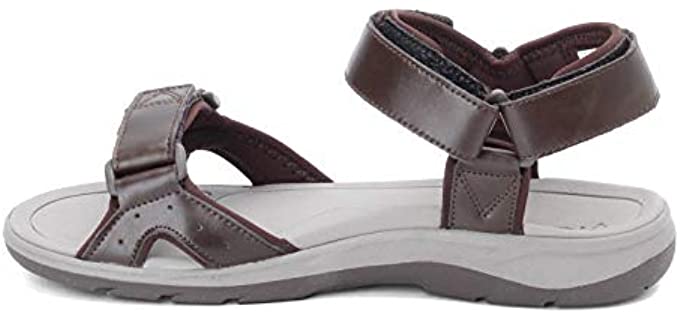 Uppers – Most Vionic sandals will have either leather or textile uppers. They do have a roomy toe box, and many of these sandal models are adjustable so that you can get a more comfortable fit.
Footbed – Violinic sandals have a podiatrist design footbed. This means that the footbed has a contoured design that will support your arch with a heel cup and ample cushioning to absorb shock.
Sole – Vionic shoes generally have rubber or EVA outsoles with a high traction trade.
Options – Vionic sandals are available in more colors and sizes, and some models do offer wider width fits.
---
Reviews: The Best Vionic Sandals for Morton's Neuroma
In our review section, we have some of our favorite sandals from bionic that is ideal for Morton's Neuroma.
---
1
The Vionic Canoe and Colleen are more stylish sandals for Morton's Neuroma.
They both have very low heels and solid sandals, with a roomy toe box.
The sandal has a well-cushioned and supportive footbed.
The uppers are soft leather and fully adjustable.
They are available in more colors and wider widths.
---
2
Arch Support Morton's Neuroma Sandals
The Slingback sandal from Clarks has fully adjustable uppers to accommodate Morton's Neuroma.
They have a closed back and comfortable Cow leather Nubuck uppers.
There is a smooth textile lining, and OrthoLite cushioned footbed.
The Midsole is a PU foam and the outsole is EVA and rubber.
3
---
4
Flip Flop Sandals for Metatarsalgia
---
The Vionic Tide range is ideally flip-flops for Morton's Neuroma that you can wear to the beach or pool.
They are generally water friendly and have a slip-resistant rubber outsole.
They offer Three-zone comfort with arch support, a deep heel cup, and full cushioning.
The flip-flops are available in a few color options.
---
5
Slide Sandals for Metatarsalgia
Here we have two more comfortable slide sandal models from Vionic that are ideal for Morton's Neuroma.
They both have fully adjustable soft suede leather uppers with a Velcro closure and a single strap.
The sandal is available in neutral colors and wider widths.
They have a supportive podiatrist design footbed with arch support, a heel cup, and full cushioning.
The outsole is durable and ensures good traction.
---
6
Morton's Neuroma Dress Sandals
---
Ludlow Charlie

The Ludlow Charlie is an elegant two-strap leather sandal for men who have Morton's Neuroma.
The sandal has genuine leather uppers and is available in a black or brown color.
They have a supportive and cushioned footbed, and a durable rubber outsole.
The Peony is a more formal-styled sandal for ladies with Morton's Neuroma.
The sandal features a lower block heel that is ideal and comfortable leather uppers with a roomy fit.
There is a cushioned and supportive footbed that has a podiatrist design.
Index Table: Top Rated Vionic Sandals for Morton's Neuroma
---
---