Having diabetes means you need to regularly check your blood sugar. Eat healthy food, and have a fun time being active. Take the right medicine and also keep up with your doctor's appointments. Sometimes we forget our feet, which may be the last thing on your mind if you have diabetes, but your feet are one of the areas of your body that can be most affected by this condition.
Diabetes causes poor blood circulation and nerve damage that mostly affects your feet. Injuries to your feet, even the slightest chafing or blisters, can become infected and quickly lead to more severe effects.
Proper protective shoes are always advised if you have diabetes, and many of us do wear the right shoes. However, when it comes to slippers, diabetics may opt for something that doesn't offer as much protection, comfort, or support, or we may even go barefoot. Barefoot can be extremely detrimental to your feet if you have diabetes.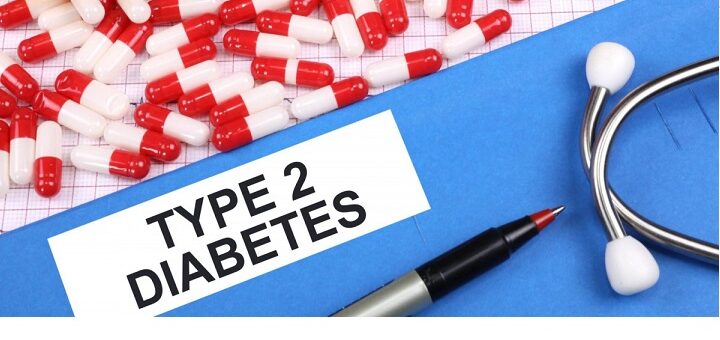 ---
Foot Conditions Caused by Diabetes
Peripheral Neuropathy – Most individuals who have diabetes may suffer from a condition we call peripheral neuropathy. The condition causes damage to your nerves, which can cause your feet to become painful and feel numb. You may have a burning or a tingling sensation in your feet, and you may lose all feeling in your feet. What makes this dangerous is that, without any feeling in your feet, you will not notice should you suffer an injury. You will not notice when your feet are too hot or too cold. And you. And you will not notice if your feet are uncomfortable in the shoes that you wear.
Blisters – You may get blisters from the shoes that you wear. However, some individuals that have diabetes can develop a condition that causes them to spontaneously form blisters on their feet. These blisters can become infected, they can cause pain, and the infection risk can spread through the actual body.
Ulcers – Around 7% of individuals that have peripheral neuropathy caused by diabetes can develop diabetic foot ulcers. With the combination of poor blood circulation and the unit damage, you may not notice that you've got sores or ulcers on your feet until they become very painful and severe, having poor circulation, or also slowing down the healing of ulcers on your feet. Ulcers on your feet can become, infected and cause much damage.
Calluses – Some individuals who have diabetes may also have calluses on their feet. Now, calluses are pieces of hard, thickened skin cells. If these calluses become very large, they can make it hard to walk, and they can even change the way your shoes fit, which can cause other issues. You may now be at greater risk of forming ulcers and getting an infection. That is why it is important to take care of your feet and have calluses cleaned and removed by a professional.
Infections – Even the slightest injury blister or scratch on your feet can become severely affected if you have diabetes. Infection can spray throughout your bloodstream and to your organs, causing disease. Rain with an ulcer or an open saw on your feet that is not healing. The tissues around the also soul can die, which will lead to a condition called gangrene. Gangrene is a very serious condition that can cause you to lose a toe or a foot or even a leg.
---
Diabetic Slippers
Now, when it comes to shoes for diabetics, you may be doing this part right. However, we do not always give much thought to our slippers.
So I want to help you find the best slippers that you can wear inside your home and even outside if you need to make a quick trip outside, they are all comfortable and will protect your feet and that will keep them warm or cool as needed.
Mostly, we will be looking at diabetic slippers that are Orthopedic slippers to be more correct. They generally have a more roomy toe box and extra depth design, and they come with a supportive and cushioned footpath that also provides more stability.
---
Features of a Good Slipper for Diabetics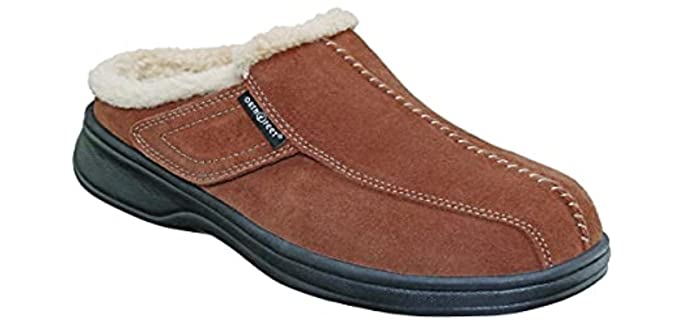 Uppers – Now slippers come in many designs you will have to choose between a slipper for summer and a slipper for winter that won't be warmer and have a lining. Most slippers have leather or fabric uppers and some are all lined with fleece or a wool lining. They are also slipper models that have adjustable uppers. There are closed designs and slide-on designs that you can choose from.
Fit – The fact that we are aiming for is a slipper that has a wider forefoot. So there is enough room for you to evenly and comfortably spread out your toes. You also don't want any pressure on your feet that can cause friction or chafing. You will see many of the slippers that we have chosen also come in wider widths.
Footbed – The footbed of the slippers, or the insole and the midsole, needs to offer good cushioning and support for your feet that will reduce the hard impact on your feet, and will also provide some underfoot protection against bruising.
Outsole – Now, with slippers, you get indoor and outdoor slippers. The basic difference is that your indoor slippers will have a softer type of outsole that you cannot walk outside with. However, we do not recommend this for individuals with diabetes, indoor and outdoor slippers will have harder outsoles that will usually be rubber or EVA, that you can walk inside your house and outside your house with.
---
Reviews: The Best Slippers for Diabetics
So in our review section, we have some of the best available slipper models that you can wear if you have diabetes;
---
1
Slippers for Diabetic Feet
Here we have two slides on slipper models from Orthofeet for all seasons.
They are Orthopedic slippers ideal for Diabetic feet.
The uppers are a soft lined leather and they are adjustable in fit.
The slippers have extra depth and a roomy design, with a well-cushioned insole.
They have good arch support and extra foam padding.
The outsole is a durable and high-traction rubber for stability and protection.
---
2
I love the furry-lined Crocs as a slipper option.
They have a roomy toe box and wide fit for Diabetic feet.
There is a back strap for heel stability and a heel cup.
The shoes are well cushioned and have a thick sole for underfoot protection.
They come in fun colors and designs and are also more breathable and soft on your feet.
---
3
Diabetes Slip On Slipper Shoe
The innovative slipper models from Orthofeet are more suitable for warmer weather.
They are a slip-on model with a wide toe box and adjustable uppers.
The slippers are orthotic-friendly and have extra depth.
The uppers are soft and flexible with padding and a lining,
The footbed is well-cushioned and supportive.
They provide good stability and have an ergonomic sole and durable outsole.
---
4
Warm Moccasin Slippers for Diabetic Feet
The UGG Slippers are a low-cut design ideal for cold and cooler weather.
They are genuine soft leather with a wool lining that will be gentle on your feet.
They will mold to the shape of your feet for the perfect fit.
The slippers have a very thick and durable rubber outsole for good underfoot protection.
They have a comfortable cushioned insole.
---
5
Memory Foam Slip On Slippers for Diabetics
The Rockdove slippers have very soft and flexible knit uppers for comfort.
They are more breathable for warmer weather conditions consisting of cotton and spandex.
The slippers have a thick and stable rubber outsole for indoor and outdoor use.
They have moldable memory foam cushioning.
---
6
Cold Feet Diabetic Slippers
The Dearfoams Bootie slippers are ideal for colder conditions.
They are cozy and comfortable with a moisture-wicking and warm lining.
The slippers have gel-infused memory foam cushioning.
They have a durable and secure outsole and can be worn indoors and outdoors.
---
Index Table: Top Rated Slippers for Diabetics
---
---