Dansko sandals are truly the best available sandals for wide feet. As you have noticed by the style of Dansko sandals, they are more of a Swedish, Dutch clog design with a very wide toe box and generally wide fit, with extra depth and a high upper area.
Besides this, Dansko sandals for Wide feet are also available in Wider widths so you can choose your perfect fit and size option.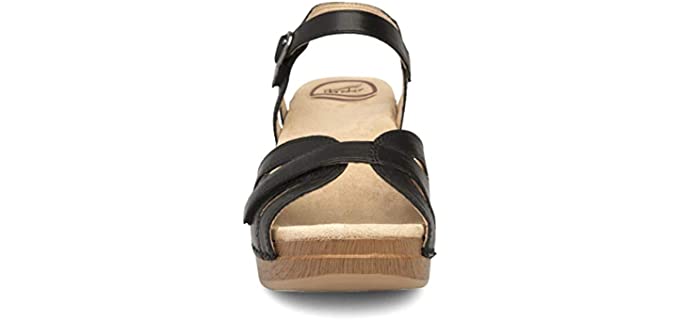 ---
Why are My Feet Wide
When you have wide feet, you must get shoes, especially sandals, that accommodate the wide shape of your foot. Not just the uppers of the shoe but also the footbed and the soul of the shoe should provide good support and comfortable space for you to spread your toes easily and your feet out on.
One of the most important features of any shoe for wider feet, most obviously, is wide wet shoes that offer enough space and do not squeeze feet. In some cases, you may generally have wider than normal feet you may have been born with them, or there are a few other reasons for having wider feet. Let us have a look at some of the possible causes;

Flat Feet – Now, flat feet is not a condition. It's' more of a foot shape. People who have flat feet do not have arch support in their feet. So they have a completely collapsed and flat arch in the foot. Now, the arches of your feet are the area on the underside of your feet between your toes and your heel on the sides that you can see that forms a small dent that looks like an arch. When you have flat feet, these arches are completely flat and collapsed; generally, most individuals with flat feet will also have wider feet.
Deformity – It may also be that your feet have become wider because of the deformity or an issue with the bones in your feet. You may have growths on your feet, such as bunions, that can cause them to be wider in shape.
Overweight – If you have gained some weight or are generally overweight, your feed might also be wider in shape, which comes with the territory. In this case, you must get a more comfortable, wider-width shoe or sandal.
Swollen Feet – Your feet may become wider in shape or need a wider-fitting sandal or shoe if they swell. Many individuals suffer from conditions that cause edema or swelling of their feet, in which case they need a more accommodating, fitting shoe and sandal to deal with the width of their feet.
Regular shape – Mostly, I want to mention that some of us naturally have wider than normal feats or slightly wider feet. Your foot could be a medium width, a wide width, or an extra wide width. It could just be your natural foot shape that you were Blessed with. It is nothing serious as so many shoes and sandals today generally have a more roomy and wide fit and are available in widths for us that need them.
---
Issues with Wide Feet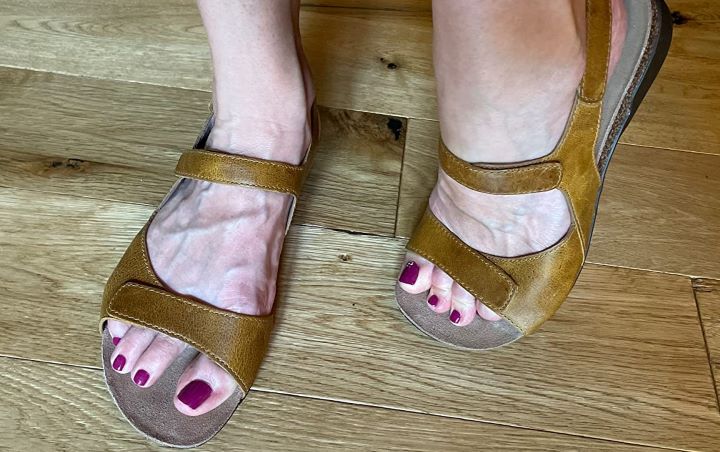 One of the biggest issues I have found in individuals with white feet is that they wear shoes that are not appropriate fact. They will wear shoes and sandals that squeeze and chafe and cause friction against their feet.
Now, squeezing your feet, especially the total feet, into an unnatural and uncomfortable position can cause deformities in the bones and joints, leading to issues such as hammertoes and bunions. It is also painful and uncomfortable for your feet to be squeezed inside the shoe and sandal, which, in turn, can affect the way you walk and your alignment that can cause other issues, such as back pain, knee pain, and heat pain.
So you see, the problem does not lie with having wide feet, but more with not wearing proper shoes and sandals for the width of your feet some individuals have wider feet because of conditions such as swelling or hammertoes and other deformities or people who have wider feet because they have a fallen or collapsed arch. In these cases, the issues and the problems with their feet will be more related to the condition rather than the shape of their feet.
---
Features of a Good Dansko Sandal for Wide Feet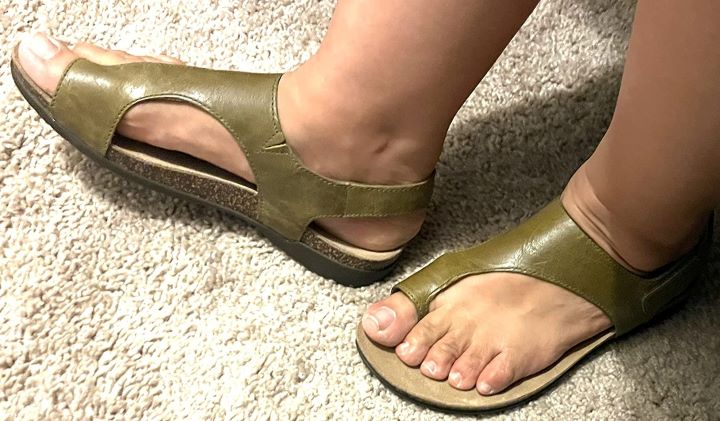 Uppers – Dansko sandals for wide feet have adjustable uppers and a generally roomy toe box. They are genuine leather and may be lined with fabric.
Support and Cushioning – Most Dansko sandals have either an EVA or memory foam footbed, with an EVA midsole and good arch support technology.
Outsole – Dansko sandals generally have wedge or flat soles. The outsole can be rubber TPR rubber or PU and rubber.
Options – Dansko sandals are mostly available in full and half sizes and more colors.
---
Reviews: The Best Dansko Sandals for Wide Feet
In our list, we have some excellent choices for Dansko brand sandals, especially for women with wide feet;
We hope you love the products we recommend!
So that you know, We may collect a share of sales or other compensation from the links on this page.
---
1
The Ronda is a Cork sandal that is roomy and comfortable for wide feet.
It has fully adjustable leather uppers.
There is a molded memory foam footbed for comfort.
The EVA and cork midsole absorbs shock, and the rubber outsole provides good traction.
---
2
The Dansko Maddy is a comfortable slip-on shoe for wide feet.
It is genuine leather and has an EVA soft sole.
The fit is roomy and wide, with half sizes available.
There is an EVA and Cork molded footbed and durable rubber outsole.
---
3
The Dansko Reece sandal has a roomy and comfortable fit for wide feet.
The uppers are adjustable with a hook and loop strap and are genuine leather.
There is a molded memory foam footbed and an EVA midsole.
The outsole is a durable rubber.
---
4
The Marcy sandals are elegant and ideal for wide feet.
They are leather with a heel strap and peep toe.
The fit is roomy and comfortable with a wide toe box.
The sandal has an EVA and cork footbed, and leather lining.
There is a durable wedge-style EVA outsole.
---
5
The Seasonal sandal is a formal sandal for wide feet.
They are genuine leather with a PU wedge sole.
There is a Dri-Lex sock liner for moisture management.
The midsole is shock-absorbing and durable.
There is a wedge sole with a rubber outsole.
---
6
The Karl Mules have a closed and wide toe box and open heel.
The heel is wider for better stability.
They are genuine leather and available in more colors.
The mules have a cushioned and supportive footbed for wide and flat feet.
---
Index Table: Top Rated Dansko Sandals for Wide Feet
---
---