Skechers is a shoe brand that has gone far and beyond just regular athletic shoes; they have large varieties of athletic, formal, and work shoes, as well as large varieties of athletic and more formal sandals.
Skechers have some of the most comfortable Flip-Flops on the Market.
Skechers Wide Width Flip Flips offer a larger platform for your feet, with comfortable cushioning and support features, making their flip-flops much more than most regular flip-flops.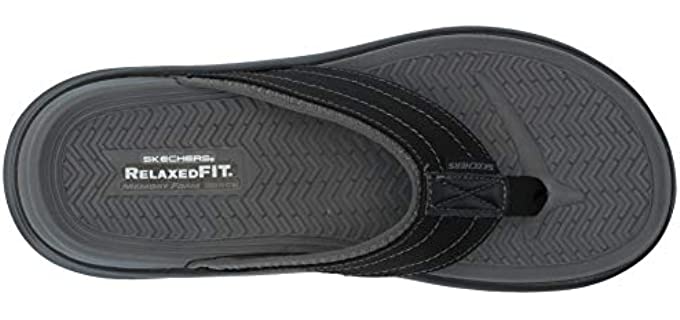 ---
Why Choose Skechers Flip Flops?
Skechers Flip Flops offer a wide and relaxed fit in which you can easily spread your toes and feel comfortable.
Their flip-flops of different comfort features, such as Memory foam cushioning, Goga Mat, and 5Gen cushioning, with good arch support and shock absorbency.
Skechers flip flops have durable outsoles that are slip resistant, and the uppers are comfortable and lined with a roomy fit.
---
Benefits of Wearing Flip Flops
Though Flip Flops are generally frowned upon as they are not always the most supportive sandal, models such as the Flip Flops from Skechers that offer better features can be quite beneficial;
Versatile – Flips Flops are versatile for all occasions. Depending on the style, you can wear them as casual and formal shoes.
Breathable – Flip Flops allow your feet to breathe, keeping them cool and sweat-free and resisting odors.
They are Comfortable – Flip Flops, especially Skechers Wide Width Flip flops, offer a very relaxed and comfortable fit, with cushioning ad support features that keep your feet more comfortable.
They are Relaxing – Flip flops place no pressure on your feet; they keep them cool and relaxed, which in turn helps you to relax.
Styles and Designs – Most Flip Flops come in a variety of colors, styles and designs. From plain and basic to embellished and heeled flip-flops, there is a style for every occasion.
Easy On and Off – Flip Flops easily slip on and off your feet when you need them and are an ideal option for quick excursions, in and out of a pool or beach.
---
Features of a Good Skechers Wide Width Flip Flops
Uppers – Skechers Wide Width Flip Flops will have a much roomier and wider fit, especially in the toe box. The uppers strap may be leather, polyester, or a soft knit option that may be padded or lined and may be decorated with flowers and other embellishments.
Support and Cushioning -Skechers Flip Flops may have a Yoga Foam footbed that offers soft cushioning or a Contoured and molded EVA Footbed. Some models have a Hyperburst responsive cushioning footbed or an Arch Fit design with additional arch support. You also get the more resilient and firmer Goga Mat footbed options.
Outsole – Skechers Flip Flops will have a high traction rubber or EVA outsole.
Heel – Skechers Flip Flops may be flat or have a heel of 1/2 inches or two 1/4-inch in their wedge sole models.
Options – Skechers wide fit flip flops may be available in wider width fits, as well as more colors options.
---
Reviews: The Best Skechers Wide Width Flip Flops
These are some of our favorite Skechers Flip Flop models that offer a wider and more roomy fit;
---
1
The Skechers Performance sandal has a roomy fit and sole with a wider forefoot.
They have synthetic quick-drying uppers and a durable rubber outsole for traction.
The sandal features a high rebound cushioning footbed and Goga Mat technology for shock absorbency and support.
The uppers have a soft fabric lining to wick away moisture.
They are available in more colors and full and half-size options.
---
2
The Skechers Cali and Cobano flip-flops offer a wider, more relaxed fit.
They have Crochet and synthetic fabric uppers that are quick drying and comfortable on your skin.
Both sandals have a foam and Yoga foam footbed that offers soft and pliable underfoot cushioning.
There is also memory foam in the insole for comfort and cushioning.
The outsole is a durable and high traction rubber.
The sandal is available in half and full sizes and more colors.
---
3
The Skechers Performance Walk flip-flops are ideal for walking and daily wear.
They offer a wider and more relaxed fit, with half and full sizes available so that you can get the perfect fit.
The sandals have soft woven canvas and textile uppers with a thong style.
There is a podiatrist-certified arch fit design cushioned footbed for comfort and support.
The high traction rubber outsole is more flexible and offers excellent grip.
The sandals are both full of vegan designs.
---
4
Wide Width Fit Flip Flops
Here we have the popular arch Fit design Flip Flops sandal from Skechers.
They are a roomy and wide fit for wider feet, with an excellent arch support system for flat feet and individuals that tend to overpronate.
The sandals are well cushioned with a contoured and supportive footbed that features Ultra Go responsive cushioning.
The Uppers for the ladies' model is a knit fabric with rhinestone embellishments, while the men's model has a lined leather uppers strap.
Both sandals have a durable rubber outsole.
---
5
Here we have two casual flip-flop sandal models from Skechers with a more relaxed and roomy fit for wider feet.
The sandals have comfortable and quick-drying textile and fabric uppers and are available in more colors.
For comfort, a foam sole and memory foam cushioning will mold to the shape of your feet.
The women's flip-flop model has a durable rubber outsole that will offer good traction on a variety of surfaces and wet surfaces.
---
6
The Sargo Flip Flops for men have leather and textile uppers with a foam sole and a memory foam footbed for comfort; they also offer a wide and roomy fit.
The Sunny flip-flops for ladies are a wide-fit sporty style flip-flop with soft knit uppers and a durable rubber outsole.
The Sunny flip-flops have a Goga Mat footbed for energizing cushioning and a responsive 5Gen cushioned insole for comfort and support.
Both flip-flops are available in more color and size options, also half sizes, from which you can choose as you wish.
---
Index Table: Top Rated Skechers Plantar Fasciitis Wide Width Flip Flops
---
---