If you are looking for the most comfortable and flattering sandal for hiding and accommodating bunions, the Skechers sandal for bunions is the best option.
Skechers sandals offer similar comfort and cushioning features such as memory foam and Goga Max foam systems in their sandals as their shoes. Skechers sandals, in general, have a roomier fit and come in some stunning designs that will hide bunions and flatter your feet.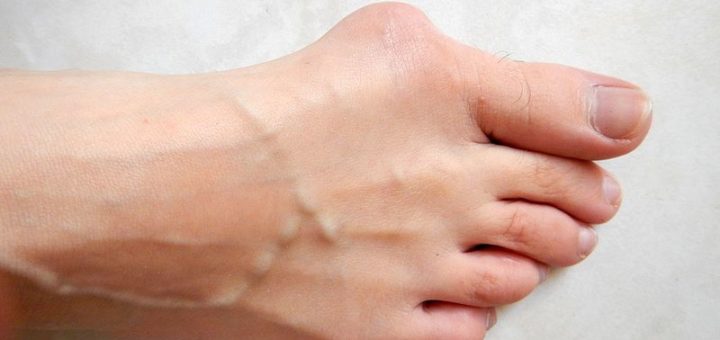 ---
Bunions and How They Affect You
bunions can cause issues in many ways. Here are a few ways in which they affect your daily life;

Pain and Discomfort – Bunions can sometimes be painful and cause much discomfort, especially when you wear shoes or when there is any pressure or a bump on the toe.
Choice in Shoes – Bunions will affect your choice in shoes, especially sandals, because they look unappealing, and anything that is tight or presses against them may cause much pain.
Walking and Running – It may be harder to walk and run when you have bunions because of the impact against them and the pressure from shoes.
Corns and Calluses – The Pressure from your big toe pushing against the other toes when you have bunions may cause corns and calluses on the other toes.
---
Skechers Sandals for Bunions
We have chosen Skechers sandals for Bunions because they offer a large variety of sandals with lower heels and a more supportive fit that you can use to hide your bunions, which will look feminine and flattering.
Skechers sandal has support and cushioning systems such as the 5Gen Cushioning, Memory Foam, Air Cooled Memory Foam, and Goga Max Cushioning that provide good impact absorption will support your feet.
---
Features of a Good Skechers Sandal for Bunions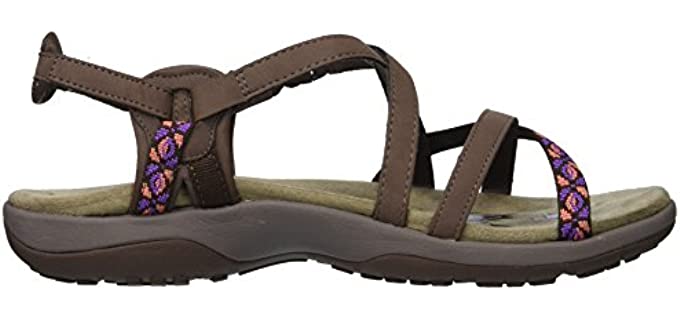 Uppers – Skechers sandals generally have a roomy toe box fit and flattering uppers that are ideal for bunions. Depending on the sandal's design and model, they may have Faux Leather, Leather, Soft Knit fabric, or textile uppers. They may also have a lining to wick away moisture.
Support and Comfort – Skechers employs three types of comfort systems in their sandal. They have the Giga Max High rebound insole for cushioning, the more responsive 5Gen cushioning, or their more plush Memory foam cushioning. The arch fit range has built-in arch support and a podiatrist-certified arch support design.
Outsole – Most Skechers sandals have a rubber or synthetic sole that offers good traction and grip. The sandal heel may vary in height, and the sole may be a flat, wedge, or platform design. We recommend lower heels, though, if you have bunions.
Options – Depending on the specific model, Skechers sandals come in various colors, more size options, and sometimes wider width fits.
---
Reviews: The Best Skechers Sandals for Bunions
In our review section, we have some sandals from Skechers that have comfort features, and a more accommodating fit, especially for bunions;
---
1
The Skechers On The Go 600 Brilliancy is a very comfortable sporty sandal with the perfect fit and design for bunions.
The Uppers are a soft, heathered fabric that is flexible and adjustable for a more secure fit.
The straps will hide bunions and are very gentle against your skin.
The sandal has a Platform style sole around 0.75 inches in height with a synthetic high traction sole.
For comfort, a Skechers Goga Max high rebound insole cushions your feet and absorbs shock to reduce the hard impact on bunions.
The sandal does come in a few more colors and wider width fits.
---
2
The Skechers Cali is more formal styled Wedge style sandals for bunions.
As you can see, they come with glittery uppers and a low wedge heel that is elegant and glamorous for an evening out.
The uppers straps are textile, synthetic, and quite flexible and roomy to hide and accommodate bunions.
There is a backstrap that is adjustable so that you can get a more secure fit.
The sandal has a lightweight platform wedge sile hat that offers good traction.
For comfort, the footbed has to cushion and a supportive design.
The sandal is available in a few more colors with the black contrasting sole.
---
3
The Skechers Reggae Slim Simply Stretch sandal has comfortable stretchable uppers that are accommodating in fit for bunions and have a design that will slightly cover them.
They are casual sandals with soft stretch uppers and a comfortable slingback design.
There is a durable and high traction rubber outsole for slip resistance.
The footbed has a cushioned and contoured design for stability and shock absorbency, which helps if you have bunions.
You can get these sandals in a few more colors and wider widths.
---
4
The Skechers Arch Fit Granola Sandals look similar to Birkenstocks and are even more comfortable.
They have a wide and roomy fit with strappy uppers that will hide your bunions.
The sandals are easy to slide on and off, and the soft suede uppers are adjustable.
There is a soft suede sole to absorb moisture.
The footbed has an Arch fit contoured design for full support and cushioning under your feet.
There is a cork midsole and a high traction synthetic outsole.
The sandal is available in more colors and wider widths options.
---
5
The Skechers n the Go 600 slides are extremely comfortable casual sandals that completely hide your bunions with a roomy fit.
The single uppers strap is a soft and stretchable Knitted fabric band that will stretch and be gentle on bunions, hiding them completely.
The sandal is easy to slip on and off for casual wear,
It has a Goga Max High rebound cushioned insole and responsive 5Gen cushioning for good shock absorbency and underfoot comfort.
The sole is synthetic and offers excellent traction.
More colors and wider widths are available from which you can choose as needed.
---
6
The Skechers Reggae Slim Vacay sandal is comfortable and casual sandals you can wear anywhere.
The strappy uppers will hide bunions and give you a gentle and comfortable fit against bunions.
The uppers are soft-lined Faux leather with a secure back strap and adjustable fit.
There is a comfortable, supportive footbed with soft memory foam underfoot cushioning to reduce pressure on painful bunions.
The outsole is a very durable and high traction rubber.
The sandal is available in a few more color varieties and wider widths.
---
Index Table: Top Rated Skechers Sandals for Bunions
---
---