Wider feet are common today for many reasons, from genetics to medical conditions and wearing inappropriate footwear.
We tend to think that sandals, in general, offer a wider fit, though this is not always true. You will need to look out for wider width options, even for your sandals, if you have a wider foot.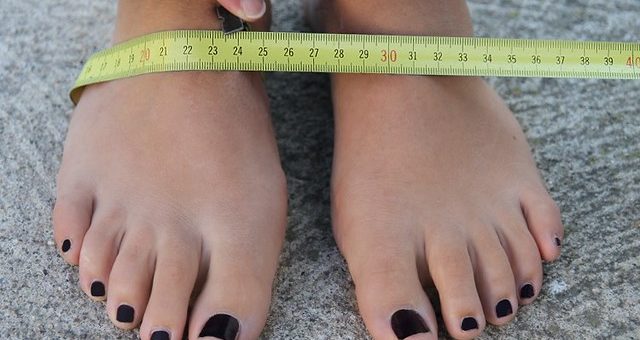 ---
Wide Feet Causes and Concerns
Maybe you are born with wide feet, or they have become wider with age, certain health conditions, or even the wearing of improper footwear. Here are a few common reasons, though;
Genetics – The most basic reason for a wider foot is just being born with it, and if you have a flat foot, you are genetically inclined to have a wider foot.
Age – As we get older, the tendons and ligaments in our feet loosen, and our feet may grow longer and wider.
Improper Footwear – Improper footwear may cause foot conditions and deformities that widen your feet or create the need for a wide-width shoe.
Pregnancy – The Pregnancy hormone Relaxin cause the ligaments and joints to loosen around your feet, which results in a wider foot shape that maybe just during pregnancy or permanent in some cases.
Swelling – Adema or swelling of the feet may be a temporary or frequent condition that causes your feet to become larger and wider, requiring a wider width shoe.
---
Tight Shoes may cause the following:
Bunions – Enlarged Bone tissue can form at the base of your big toe from tight footwear, which causes excess pressure and strain on your toe.
Calluses – Tight shoes places much pressure on the skin causing the skin to harden and develop Calluses.
Crossover Toe – When your toes are squeezed too tightly in a shoe, they may cross over each other.
Hammer Toes – Toes start to curl up and do not lay flat because of excess pressure and a narrow fitting shoe.
---
Why Choose a Wide Width Shoe
Extra Width – A wide-width shoe will accommodate a wider foot and give much more toe room and space for your feet to relax and be comfortable. The extra width prevents friction and squeezing that may harm your feet and cause pain and chafing.
Toe Room – With more toe room, your feet and toes can splay out and relax, and you have less risk of developing foot conditions from pressure, such as Bunions and Hammertoes.
Loose Fit – A loose and comfortable fit is much roomier for a wider foot and will prevent excessive pressure and provide a much more supportive and comfortable fit for your foot type.
Less Irritation – With less pressure and friction against your feet in narrow and small shoes that squash and scrape against your feet, you are less prone to irritation, chafing, and blisters in general.
Foot Conditions and Deformities – A wider width or extra depth design sandal likewise accommodates various foot conditions such as Bunions, hammertoe, sesamoiditis, and other conditions and deformities which require a bit of extra room and less pressure.
---
Features of a Good Sandal for Wide Feet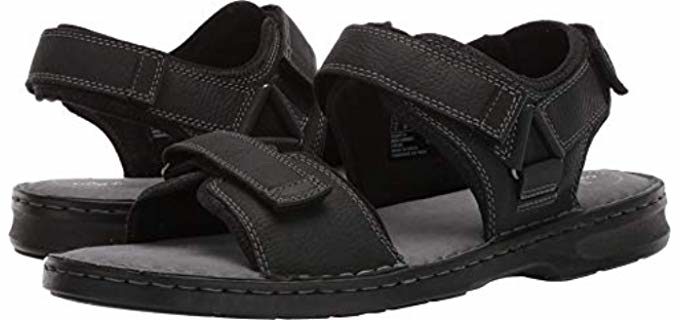 Uppers – It is available in wide, extra wide, or XX up to XXX wide width options for you to choose from. Adjustable straps for a customizable fit for all foot types.Extra-depth or roomy toe design. Soft and comfortable straps and smooth interior linings.
Support and Cushioning – Comfortably cushioned and supportive footbed or insole. Shock absorbing midsole.
Outsole – Durable rubber outsole that offers excellent grip and traction.
---
Reviews: The Best Sandals for Wide Feet
Below are some exceptional sandal models and brands available in wider width options;
---
1
Walking Sandal for Wider Feet
The Propet Pedic Walker and Jordy are two wide-width sandals with a comfortably cushioned insole and a high grip rubber outsole for superior comfort and support.
Smooth and supple leather uppers that are very durable and have fully adjustable straps for the perfect fit.
A removable cushioned footbed that allows you the use of your own orthotic devices.
Features a highly durable and shock-absorbing rubber outsole.
A slight heel for stability and excellent traction.
It is available in a wide to 3x Etra Wide width option for all foot shapes, sizes, and conditions.
---
2
Fisherman's Sandal for Wide Feet
The Orthofeet Alpine and Naples are two orthopedic design sandals with added depth and wider width options.
A wider-width sandal likewise accommodates a variety of foot conditions and provides effective pain relief.
Features a smooth and comfortable seamless interior design for less irritation and pressure.
Wider widths are available and have an extra depth design for more toe room.
An Ortho-Cushioning system is lightweight with an air-cushioned sole, For ideal comfort, shock absorbency, and support.
Durable and thick rubber sole for shock absorbency and traction.
---
3
The Vionic Wave is a comfortable and casual wearing flip-flop style toe post sandal ideal for everyday wear in the summertime.
Soft and durable synthetic upper toe post straps.
A comfortable and cushioned EVA footbed.
APMA seal of acceptance as a medical footwear design.
The footbed is designed by a podiatrist and biomechanically engineered for optimal comfort and support.
Available in wider widths and a few color designs.
Unisex design with a durable rubber outsole.
---
4
Fashionable Sandal for Wide Feet
Clarks is a well-known and much-trusted sandal brand with some gorgeous styles and exceptional comfort features.
The Clarks Arla Jacory has an Open Cell PU footbed and cushion soft padding along with a durable Pu outsole and adjustable Riptape Straps.
The Clarks Malone for men has a Cloudtseppers technology cushioned footbed and cushion soft technology and a secure hook and loop closure system.
Both sandals have synthetic and leather uppers that are flexible and comfortable with a smooth lining.
These sandals likewise feature high traction, durable outsole.
Both are available in wider width options as well as other color designs.
---
5
Sports Sandal for Wide Feet
The Skechers on the Go Sports sandal is a comfortable and cushioned sandal available in wider width options and some color and pattern options for you to choose from as needed.
Soft and breathable, quick-drying textile uppers with an adjustable design for a more custom fit.
Comfortable and shock absorbing 5Gen cushioning system.
Shock absorbing midsole and a durable high traction rubber outsole.
Very lightweight and durable design.
Comes in wider widths options and many different color and patterns to choose from as you require.
---
6
The Propet June and Propet Vero are two wide and extra wide width available sandals with some exceptional orthopedic comfort features.
The upper straps are adjustable to accommodate all foot types and conditions.
A Comfortably cushioned insole that is removable, allowing you the use of your orthotics.
On the inside is a smooth Microfiber lining on the top-sole to keep feet dry and prevent friction.
A superb shock-absorbing heel and midsole.
The uppers are made from very durable and comfortable leather.
Available in Wider width Options and color options to choose from as you wish.
Durable and high traction, Thermal rubber outsole.
---
7
Sports Sandals for Wide Feet
The Chaco Classic Z2 is a comfortable and sporty style sandal that comes in wider width options.
The upper of the Chaco Classic consists of soft polyester that dries quickly.
There are adjustability options on the straps so that you get a good fit, along with wider width options.
There are a comfortable Luvseat PU midsole and a durable outsole for support and cushioning.
The Chaco Classic is likewise available in many selections in colors and patterns.
---
8
Outdoor Sandals for Wide Feet
The Keen Newport H20 and Whisper Slipesr are comfortable Fisherman-style sandals that are available in wider options and other color options.
Both sandals have Polyester webbing and adjustability in the straps.
The footbed is supportive and cushioned, and there is a durable rubber outsole.
A TPU shank offers excellent stability for flat feet.
You can likewise machine wash both these sandal models.
---
9
The Smiles and Barcelona from Drew are adjustable, come in wider widths and also accommodate orthotics. Both wide and extra wide width options
These sandals are ideal for foot conditions where you need to use your won orthotics.
The leather uppers are entirely adjustable for the perfect fit, and you can choose between different width options in these sandals.
There is a comfortable double-depth footbed with which you can remove a layer to use your orthotics.
The outsole is constructed of EVA and shock-absorbing rubber.
There is also a steel shank to protect your feet underneath.
---
10
Wide Fit Cushioned Sandal
The Under Armour Ignite is a slide-on sandal that has an adjustable fit for wider feet.
The synthetic uppers are lined for comfort and have an adjustable Velcro strap for a wider fit.
The Footbed is fully cushioned with Performance 4D foam for comfort and shock absorbency.
There is an anatomically designed footbed for optimal support.
The Re-Eninerred EVA outsole is durable and has Traction pods for a better grip.
---
Index Table: Top Rated Sandals for Wide Feet
---
---