It may not always be the easiest task to find a water-friendly sandal that is comfortable and durable, not to mention that it look good.
Yet, today I bring good news with regards to the Teva sandal brand.
Teva offers some very appealing and rugged sandal models that are ideal for water sandals or wet conditions. In this article, we will look at some of the favorite Water sandal models from Teva.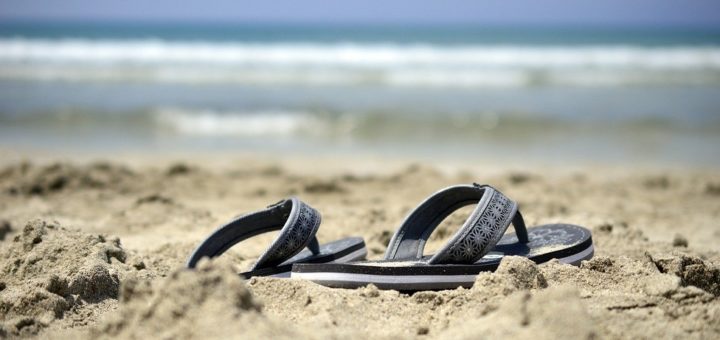 ---
The Teva Brand
Teva Sandals have a unique water-friendly design that floats in water and stays put on your feet.
The Original Teva sandal came to be as a river guide struggling with his Flip Flops floating away used his watch wrist straps to tie them to his feet. The Initial Teva Original Canyon design was born in 1984 in the Grand Canyon because of the necessity of the River Guide to keep his sandal on his feet.
Teva is a brand that encourages exploring and hiking through all terrains and elements of nature, even wet conditions. The brand is an environmentally friendly and community-conscious brand that uses ethically sourced plant-based sources, skillful artisans, and constant innovative ideas.
The best water-friendly sandal design from Teva employs a water-resistant EVA material to construct a soft and foamy sandal that floats on water and cleans easily. Almost all of their designs are water friendly with quick Drying materials.
---
What Makes Teva Water Sandals so Special
Here are some Technologies that Teva Uses in their Sandals for Water;
EVA – Eva, whether in the footbed, midsole, or for the entire sandal, such as with the Drift models, is a water-resistant and quick-drying material, durable, and offers to cushion for comfort. EVA will not damage in water, and it will rinse easily when dirty.
Polyester – Most EVA sandal ranges have either mesh or Quick-drying Repreve Polyester uppers, consisting of polyester fibers made from recycled plastic. This material will not cause friction when wet, hold water or deteriorate when wet and dry quickly.
Slip Resistance – Lets face it, wet surfaces can be quite slippery. Teva uses rubber in its outsole with lug treads and technologies to enable optimal grip on wet and slippery surfaces.
---
Features of a Good Sandal for Water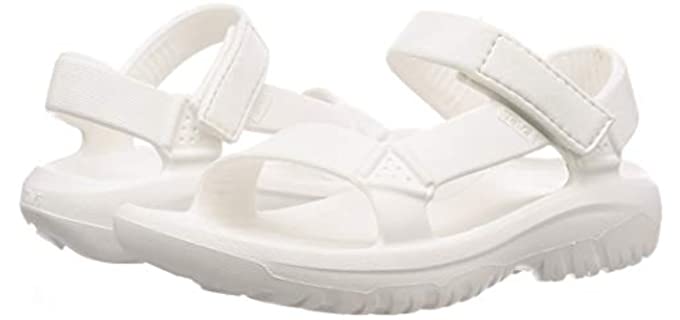 Teva Original Universal Styles – The Teva Original design features universal adjustable straps with hook and loop closures. The uppers comprise a verifiable recycled plastic created into Polyester fibers that dry quickly and are water friendly. The Rubber Outsole offers excellent grip and traction in wet conditions, and the EVA midsole is also water-friendly. For comfort, there is a heel cup and arch support in the cushioned EVA midsole. Microban treatment n the sole keeps odors and bacteria at bay.
The Teva Hurricane Style – My favorite water-friendly Teva sandal is the Teva Hurricane Drift, which is ideal for wearing to the beach and pool because of its lightweight and foamy Injection Molded EVA design in the entire sandal that si water-friendly and resistant. The Hurricane XLT is a more robust and rugged sandal with Repreve Polyester upper that likewise dry quickly and an EVA and Rubber Sole. The robust EVA midsole and stability shank work together for support and stability and cushioning the feet. A rubber outsole provides exce[ptional traction and grip on wet and dry surfaces.
The Teva Tirra Design – The Teva Tirra comes in a large variety of styles and colors and is also a good sandal for use in and out of water. The uppers consist of the quick-drying Repreve technology Polyester fibers that are fully adjustable and have hook and loop closures. A water-ready EVA midsole with cushioned Shoc-Pad technology in the heel and a high grip Spider Rubber outsole specific to wet environments.
The Teva Terra F1 5 Universal for Men Range – The Teva Terra F1 5 is a rugged outdoor and water-friendly sandal with a verifiable Repreve Polyester upper that dries quickly. The uppers are adjustable for a comfortable fit, with quick on and off-hook and loop closures. There is a comfortable and water-friendly molded PU midsole with a TPU shank for stability on uneven terrains. The Rugged Spider Web outsole provides excellent traction in wet conditions, particularly.
---
Reviews: The Best Teva Water Sandals
Below are some of the best options in Teva sandal that are ideal for use in water and wet conditions.
---
1
A sandal designed specifically for Water Sports is the Hurricane Drift from Teva.
The Hurricane Drift comprises entirely of Injection Molded EVA that is water-resistant and quick-drying.
The Synthetic sole has a lug tread for good grip on wet surfaces.
You can get the Hurricane Drift in many color options and sizes.
The footbed has a comfortable cushioned and contoured design for full support.
The uppers are adjustable with a hook and loop closure system.
---
2
The Terra-Float Knit sandal is ideal for Lite and Day Hikes in wet conditions and water. The Teva Terra-Float is a Knit sandal with quick-drying and water-resistant materials.
The Upper consists of flexible and quick-drying knit polyester, and there are more color options available.
There is a cushioned EVA footbed with anti-microbial treatment for support.
A Durabrasion outsole provides excellent durable traction on wet surfaces.
The uppers are adjustable with easy hook and loop closures.
---
3
sandals for Water Wearing
The Teva Hurricane XLT is durable and water-friendly for all adventures wt and dry.
The uppers consist of Nylon, Recycled PET webbing, and Polyester that is durable and dries quickly.
There is a robust cushioned EVA midsole with a nylon shank for stability on uneven terrains.
The uppers are fully adjustable with hook and loop closures and Injection Molded strap ends for quick and easy grip.
A durable rubber outsole provides excellent traction and slip resistance.
The Textile uppers are available in a large range of colors and prints for your perusal.
---
4
Water Friendly Casual Sandals
The Teva Original Universal is a Multi-Purpose Water-friendly sandal for all occasions.
The soft upper is fully adjustable with hook and loop closure straps.
The quick Drying polyester is water-ready, durable, and available in many colors and prints.
There is an EVA midsole with a heel cup and cookie arch support for comfort and support.
A durable rubber outsole provides excellent traction on wet surfaces.
The Microban zinc-based treated top sole will keep bacteria and odors away.
---
5
The Teva Dorado is Lightweight and quick-drying, making it ideal for Water use.
You can get the Teva Dorado in a Large range of colors and prints from which you can choose.
The Dorado has a lightweight and quick-drying Polyester upper.
Tere is a PUEVA cushioned footbed that is also water-resistant.
A durable rubber outsole provides excellent traction on wet and slippery surfaces.
---
6
The Terra Fi 5 is a rugged outdoor sandal with water-friendly materials for hiking in wet conditions.
The synthetic and polyester uppers will dry quickly and not hold water.
The PU midsole offers good cushioning, and there are EVA uppers posts for more comfort.
EVA also dries quickly and is completely water-friendly.
A Durabrasion rubber outsole provides excellent traction on wet and dry surfaces.
---
7
Sandals for Hiking and Water
The sandal has textile uppers that are water-friendly and that dry quickly.
They are adjustable and comfortable in fit.
The footbed is an EVA foam and contoured.
A dermabrasion rubber outsole provides excellent traction.
---
8
Comfortable beach and water-friendly pool sandal.
Both sandal models have quick-drying adjustable straps.
The footbed is a cushioning EVA foam.
The rubber outsole provides good traction.
---
9
A sporty water-friendly sandal.
The uppers are lightweight in quick drying.
You can adjust the fit universally.
There are an EVA foam footbed and Nylon shank for stability.
The rubber outsole is durable and offers a good grip.
---
10
Both sandals have textile and mesh uppers that are quick-drying and water-friendly.
They are cushioned with an EVA footbed that is contoured.
There is a shoc pad on the heel of the Women's shoe model.
The rubber outsole is durable and slip-resistant.
---
Index Table: Top Rated Sandals for Water
---
---