When you have a low arch or flat foot, it is advisable to look for shoes and sandals that offer the best support and comfort for your specific arch type, as well as stability or motion control features, as individuals with flat feet tend to overpronate.
It is also important to choose sandals that provide cushioning to help reduce strain on your feet and alleviate discomfort. Here are some tips for choosing the best sandals for flat feet:
Look for sandals with a wide, stable base: A wide, stable base can help distribute your weight evenly across your foot and provide better support for flat feet.
Choose sandals with good arch support: Arch support can help reduce strain on your feet and alleviate pain caused by flat feet.
Opt for sandals with a cushioned footbed: A cushioned footbed can help absorb shock and provide added comfort for flat feet.
Consider sandals with adjustable straps: Adjustable straps can help you achieve a secure, customized fit that supports your flat feet.
Avoid sandals with a thin or flat sole: Sandals with a thin or flat sole can put extra pressure on your feet and worsen the discomfort associated with flat feet.
It is also a good idea to see a doctor or podiatrist if you have flat feet and are experiencing discomfort or pain. They can help determine the cause of your flat feet and recommend appropriate treatment options.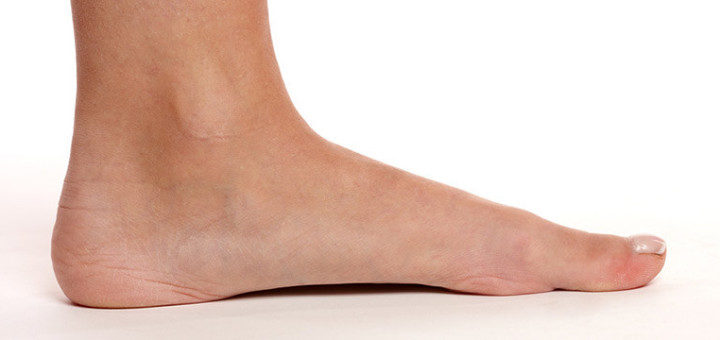 ---
---
Flat feet and Symptoms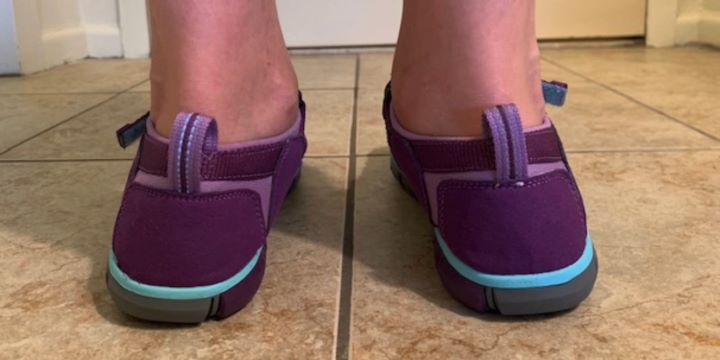 Individuals with flat feet have either an extremely low or no arch in their feet. Your arch is the inner gap beneath the inner part of your foot; when you stand, this mid-area should be raised slightly from the ground. If this area is completely flat on the floor or extremely low, you have flat feet.
The Arch of the foot is required to keep you sturdy and flexible when walking, running, or standing on a surface and to keep you balanced. When you have flat feet, your feet may roll inwards when you stand, walk or run, which is called overpronation.
Many individuals with flat feet have no issues or symptoms, although others may develop pain and discomfort in the calf, knee, hips, heel, arch of the foot, or lower back area.
Plantar Fasciitis is a prevalent condition related to flat feet, which is sharp heel pain that occurs mostly when you get up off your feet after resting for a while or sleeping.
---
Causes and Preventative Measures for Flat Feet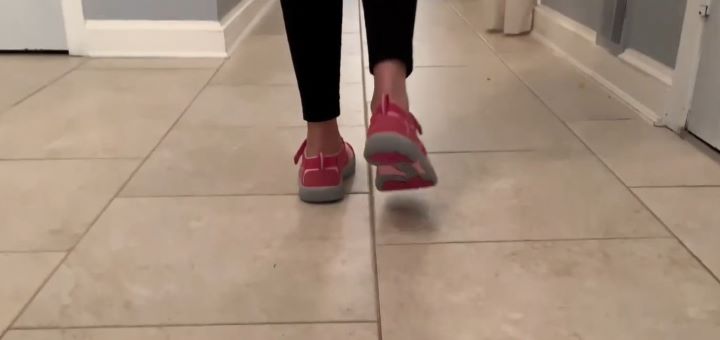 Some Causes of Flat feet may include;
You may be born with flat feet; that is a genetic trait.
Overstretched or injured tendons and muscles in the feet.
Obesity and excess weight can cause the bones and tendons in the arch to be flat.
Pregnancy releases a hormone called Relaxin, which relaxes joints and tendons, leading to a flat arch, which may or may not return to normal after birth.
Conditions such as rheumatoid arthritis and nerve damage can lead to flat feet.
Broken bones may cause the arch to collapse.
There is no cure for flat feet though you can manage the symptoms. Try to avoid high-impact activities that place strain on the feet, wear appropriate and supportive footwear, and you may need to take pain medication and rest a bit if pain increases.
In more severe pain and symptoms cases, you need to see a medical practitioner for help.
---
Features of a Good Sandal for Flat Feet

Arch Support – Look for shoes with a low arch and arch support specific to a low arch.
Cushioning – Slight cushioning and a shock-absorbing midsole are advised.
Support – STABILITY and MOTION Control is your most preferred feature to control overpronation and to provide the best support. Look for a firmer sole and a good heel fit or cup. Contoured and cushioned footbed.
Outsole – Durable and supportive rubber outsole with a low or no heel.
---
Reviews: The Best Sandals for Flat Feet
Here are our best sandals for a flat foot or lower arch type.
We hope you love the sandals we recommend!
So that you know: We may collect a share of sales or other compensation from the links on this page.
---
1
Dress Sandals for Flat Feet
The Vionic amber and Ludlow are two exceptional sandals with ideal support and comfort features aimed at Flat feet and lower arches and availability in wider width options.
Available in wider widths for every foot shape and type.
The Biomechanical design hugs your feet and ensures excellent stability.
A supportive and cushioned heel cup to reduce heel pain.
A cushioned footbed and smooth upper linings for less friction.
Superb arch support for a low and flat arch.
A thick shock-absorbing rubber outsole.
---
2
The Rockport Fiona and Rocklake are two perfect sporty sandals that are durable and the right fit for flat feet.
It has a durable, thick, shock-absorbing rubber outsole for high traction and slips resistance.
A cushioned and soft insole design with an EVA midsole for cushioning and shock absorbency.
The Soft leather and fabric upper straps offer a comfortable fit and are adjustable.
Sporty design for outdoor wear.
---
3
Flat Feet Fishermans Sandal
The Timberland Fisherman's and Adley Shore are two comfortable and durable Fisherman and strap style sandals made by one of the top shoe brands, Timberland Pro.
Features a durable rubber Multi-density outsole that provides exceptional shock absorption and cushioning.
Inside is a Removable multi-density anatomical footbed that provides comfort and excellent support while allowing you to use your orthotics.
It is lined with a climate-controlling lining to keep your feet warm or cool and improve temperature control.
The nylon shank provides support and shock dispersion and is airport-friendly.
A supportive polyurethane midsole and comfortable leather and synthetic uppers
The Smart Comfort System technology will give you all-day comfort, support, and a customized fit.
Available in a variety of color designs.
---
4
Sports Sandal for Flat Feet
Teva is a top brand in casual and comfortable sandals with great features for flat feet and lower arches.
A cushioned Compression molded EVA midsole for better support and comfort.
It comes with a Stability shank and Shock pad Heel, the perfect features for a low arch or flat foot.
A High traction rubber outsole with water channeling lugs.
Available in color as well as wider width options for men and women.
---
5
Casual and comfortable slide-on sandals from Teva and Megnya offer excellent cushioning and support.
Nubuck leather uppers are soft and seam-free with an adjustable setting velcro strip to ensure you are the most comfortable and adaptable fit.
A Dual Density Midsole and integrated post and shank are ideal for better stability and motion control for flat feet and overpronation.
There is a cushioned comfort footbed for all-day support and comfort.
This shoe is available in wider widths and extra-large size options for every foot shape, size, and type.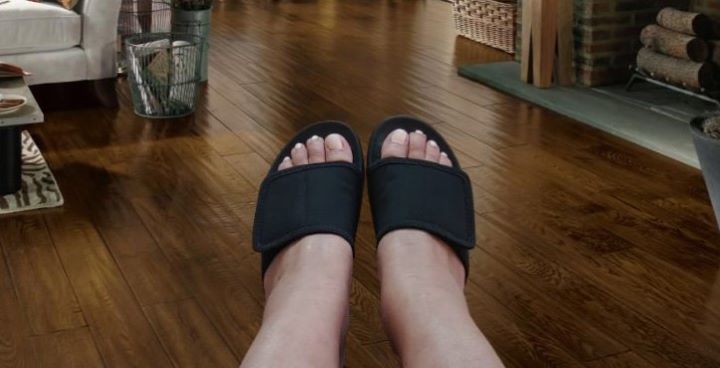 ---
6
Flat Feet and Plantar Fasciitis Dress Sandals
Dr. Scholls bring you their orthopedic comfort Fisherman-style sandals for men and women with a flatter foot or lower arch type.
The insole has an anatomical design and is cushioned for comfort and support in a low and flat arch type.
It has an instep strap with a hook and loop closure for an adjustable fit.
In the men's model, we have a memory foam insole and smooth leather uppers with a neoprene lining.
Casual and sporty Fisherman sandal design for casual and leisurewear indoors and outdoors.
Lug and durable rubber outsole for better grip.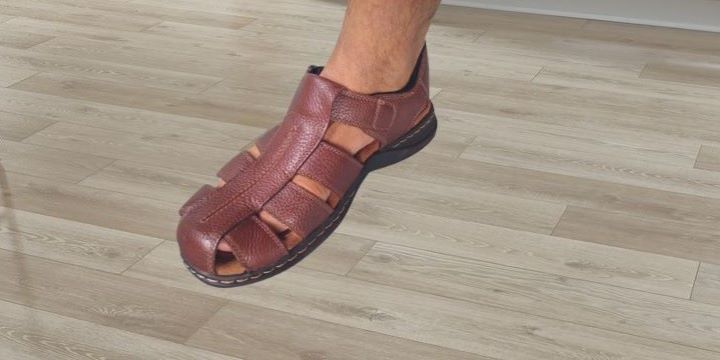 ---
7
Sports Sandals for Flat Feet
The Chaco Classic Z2 has a supportive and arch-contoured footbed that can help with flat feet.
The upper is a soft and water-friendly polyester material.
The Loveseat PU midsole and the cushioned sole are designed for optimal arch support and cushioning in the heel and forefoot.
The ChacoGrip rubber outsole offers excellent grip and stability.
You can choose between a few color selections and different width options in these shoe models.
---
8
Flat Feet Stability Outdoor Sandals
The Keen Newport H2 is the perfect fisherman-style sandal for flat feet.
It features a soft textile and polyester upper webbing for a comfortable fit.
What I love about most Keen sandal models is that they are machine washable.
There is a contoured and supportive footbed with excellent cushioning.
The TPU shank also offers excellent stability along with a durable rubber outsole.
---
9
Outdoor Sandals for Flat Feet
The Sanborn and Hudson from Teva are casual comfort sandals for flat feet.
The Upper consists of a durable and comfortable mesh-lined Suede.
There is an Injected EVA foam sole with a contoured design and Microban zinc-based anti-microbial tops sole to keep you comfortable and odor-free all day.
The rubber outsole offers excellent stability and grip.
Easy Hook and Loop closures allow you to adjust the fit of the sandal to your liking.
---
10
The Contoured and cushioned footbed of the Teva Omnium offers ideal support and comfort for flat feet.
The uppers are made of synthetic material with a soft textile lining and a lace-up bungee closure for a customizable fit.
There is a Molded EVA foamy midsole and comfortably cushioned footbed.
The ShockPad technology in the footbed is ideal for flat-foot shock absorbency.
The Spider Web design rubber outsole will also ensure excellent traction.
---
Index Table: Top Rated Sandals for Flat Feet
---
---