However, flip flops are not always the most comfortable or supportive sandals, especially when you have flat feet or fallen arches.
That is why we are here to help you to find the best available flip flops for flat feet that provide proper support and cushioning, specifically for this arch type.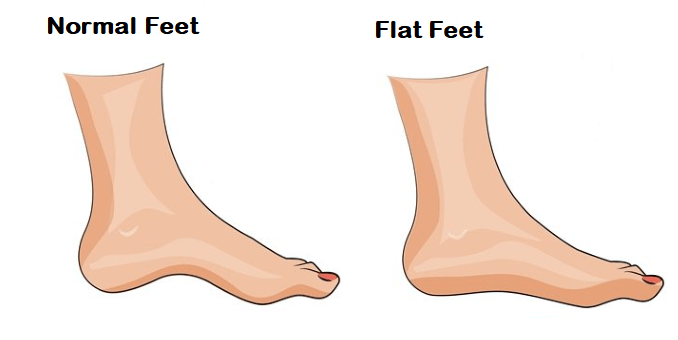 ---
Flat Feet Issues
Flat feet basically occur when your foot flattens completely when you stand, there will be no visible gap in the center. This means that your arches are extremely low or completely fallen.
Flat feet may be genetic or caused by medical conditions and injuries to the arches, or excess weight gain.
However, flat feet can cause quite a few issues, which include;

Chronic Muscle Pain – Flat feet generally do not keep your body stable and well balanced as feet with normal arches. They can cause strain on your muscles chronically because certain muscles in the body have to compensate for your feet' lack of support and stability. While your body may generally adapt to everyday activities and provide stability with less strain, any new activities will initially cause extra strain and pain in your muscles.
Leg and Back Pain – Normal arched feet are designed to initially you're your entire lower body in a suitable configuration when you are walking, running, or standing. Unfortunately, flat feet do not provide the same stable foundation for the rest of your body and also affect your posture. As your feet collapse to the ground, your lower legs may rotate inward more, which can lead to long-term leg and back pain.
Musculoskeletal Problems – Flat feet are a common cause of general musculoskeletal pain and issues. The balance of your entire body begins at your feet. When your feet do not provide the support they need to, it raises your risk of joint problems, causes poor posture, and an unnatural gait when walking or running. This, in turn, makes you more prone to injuries and pain in your feet, ankles, knees, and your hips.
Flat Feet and Overpronation – You may have heard of the term Overpronation. This refers to the way your foot strikes the ground when walking or running, known as Pronation. When you Overpronate, your feet roll inward excessively, and when you underpronate, they roll outward excessively. When the arches of your feet collapse downward excessively in flat feet, this is when Overpronation may occur. Overpronation, in turn, increases your risk of injuries and can have some significant effects on your body entirely.
Flat Feet Can Lead to Plantar Fasciitis – If you have structural foot issues, including high arches or very flat feet, you have a large chance of developing a condition called Plantar Fasciitis. Without proper arch support, the tissue band connecting your heel to your toes, running at the bottom of your feet, may become damaged or get small tears, causing pain and inflammation in this area or the heel of the foot. The pain is mostly noted after being off your feet for a while and usually not during any activity.
Wider Foot Shape – People with flat feet will generally have a wider foot shape as the collapsed arch will cause the forefoot to stretch out more and become more relaxed. Thus, you may also need to look for wider-fit footwear when you have a flat arch.
---
Do You Actually Get Flip Flops for Flat Feet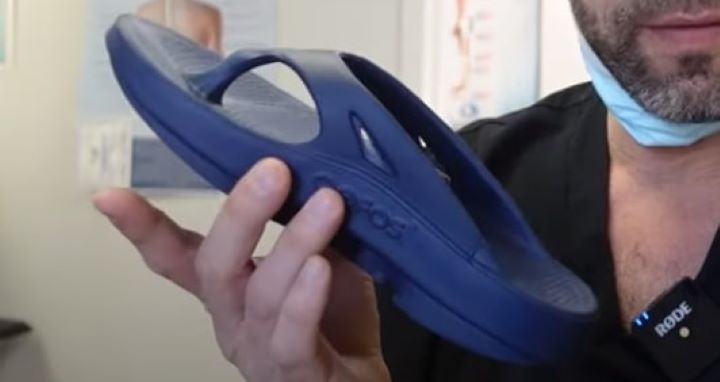 Generally speaking, most Flip Flops are not designed to offer good support, particularly arch support or any form of cushioning.
Most cheaper version flip flops are for quick-wear to the beach and generally consist of a solid sole layer and upper webbing.
However, yes, you do get some brands and models of flip flops that are actually designed to provide support and cushioning, like the ones we have listed in the review section.
These Flip Flop sandals may have a contoured or anatomical footbed in shape or have arch support, along with cushioning materials and stability features needed for flat feet.
---
Features of a Good Flip Flops for Flat Feet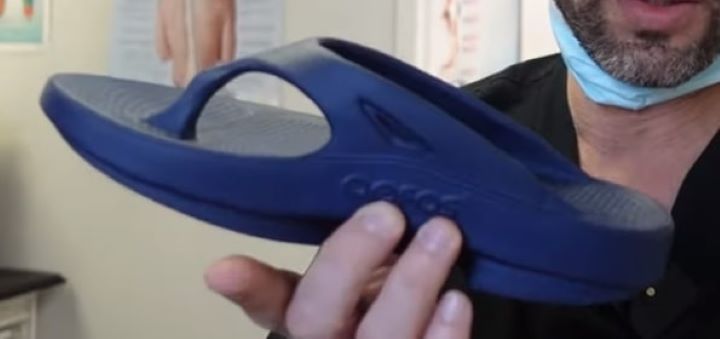 Stability – Stability features in a flip flop helps persons who Overpronate excessively because of flat feet and lack of arch support. They will also prevent your arches from collapsing completely.
Support – A firmer sole and contoured or anatomical design footbed in your flip flops, or even arch support, is the ideal feature for flat feet support.
Straight Last – The Last indicates the shape of the sole of the flip flop. A straight last is less curved and more solid, allowing flat feet more room for natural movement.
Arch Support – Some flip flop designs may actually come with proper arch support that is ideal for flat feet or a shallow arch type. They are not a cure for flat feet but generally curb the symptoms caused by flat feet more.
Cushioning – Flip Flops for flat feet provide good cushioning under your feet, particularly in the ball of the foot and heel area that may take more impact. Because of the lack of arch, there is very little impact resistance, and your weight is not dispersed properly. This is where cushioning is ideal for providing underfoot impact protection and helping to distribute your weight more evenly. However, shoes with features like cushioning, stability, and medial posts are most likely to work for people with flat feet.
---
Reviews: The Best Flip Flops for Flat Feet
These are some of the best available Flip Flop sandals for Flat feet;
We hope you love the products we recommend!
So that you know, We may collect a share of sales or other compensation from the links on this page.
---
1
The Vionic Tide Flip Flop has one of the best-shaped footbeds for flat feet.
The uppers are genuine leather, and there is a slip-resistant rubber sole.
The flip flop received the APMA (American Podiatric Medical Association) Seal of Acceptance.
The Footbed is podiatrist-designed and cushioned for support and comfort.
---
2
The Birkenstock Gizeh is a flip flop, thong style casual sandal for flat feet.
The Footbed has a contoured design with cork and latex midsole that molds to the shape of your feet for optimal support.
The uppers are leather, and the sole is EVA.
There are plenty of colors to choose from for men and women.
---
3
The Olukai Ohana flip flop has a cushioned and nd supportive footbed for flat feet.
The flip flop has an EVA footbed and rubber outsole with neoprene webbing for the uppers.
The footbed is compression molded for stability and comfort.
There are also more colors available to you.
---
4
Clarks Step beat Dune and Breeze sandal are similar in design.
They are a flip flop with a supportive and ultra-lightweight EVA footbed.
There is a durable and slip-resistant TPR outsole and textile uppers that are quick drying.
There are also more colors available.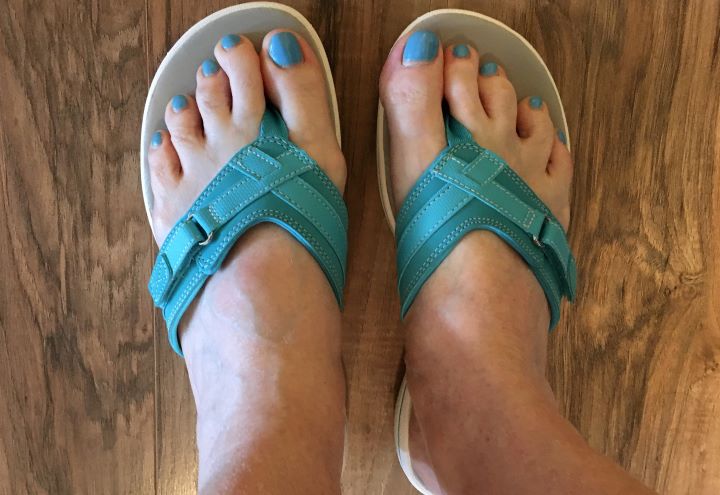 ---
5
The Crocs Flip Flop range comes in many fun colors for men and women.
They have a supportive contoured footbed with foamy crosslite materials for cushioning.
The sole is slip-resistant, and the uppers are breathable.
The footbed likewise has soft massaging nubs on it.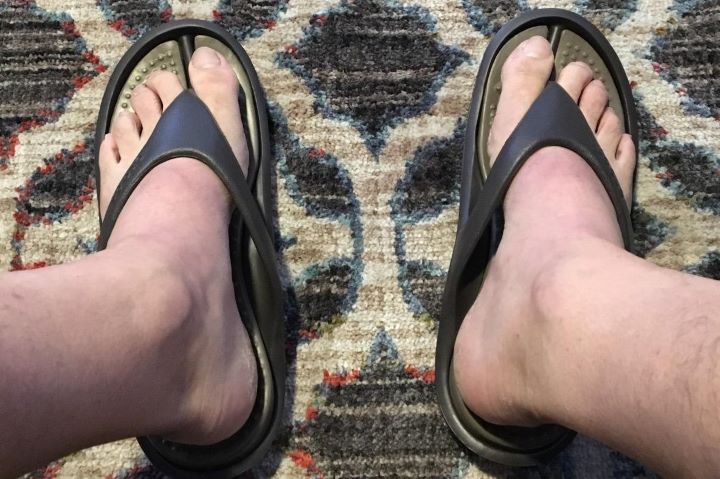 ---
6
One of my absolute favorites for flat feet and plantar fasciitis is the Iqushion from FitFlop.
They come in so many gorgeous colors.
There is a heel cushion and ball of foot cushion as well as arch support.
The design offers good stability and cushioning.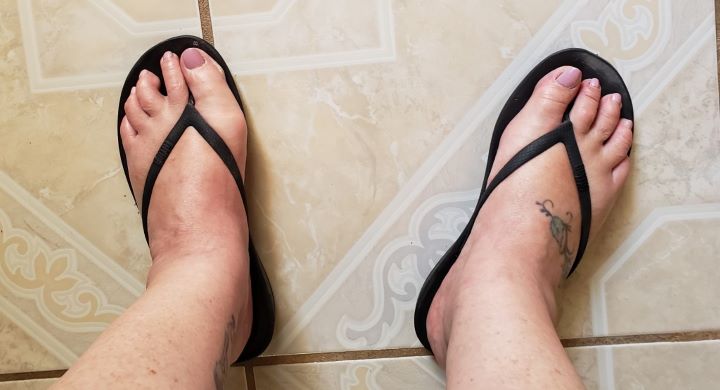 ---
7
The Voya and Pajaro Flip flops are the perfect design for flat feet.
They have fabric and leather uppers and are available in a few more color options.
The flip flops have an EVA foam sole and MUSH top sole for foot conforming cushioning.
The durable rubber outsole offers a good grip and traction.
---
8
These are two leather flip flops with a classic design and perfect fit for flat feet.
The Footbed offers a podiatrist cushioned and supportive design.
The uppers are leather, and there is a durable rubber outsole.
More colors are also available for your perusal.
---
9
The Vionic Tide Flip Flop has support features for flat feet.
The footbed features a stable and cushioned design.
The uppers are synthetic and quick drying.
There is a durable and shock-absorbing rubber outsole.
---
10
The Oofos recovery flip flop is ideal for flat feet.
It takes the pressure off painful feet and provides excellent support.
The foamy materials are soft and cushioning s well as easy to clean.
More colors are likewise available to you.
---
Index Table: Top Rated Flip Flops for Flat Feet
---
---