Having Flat Feet means that you require proper footwear support to prevent pain and issues associated with this foot type.
Teva Sandal offers a more contoured and supportive design in the footbed of their sandal and stabilizing features that are all ideal for flat feet.
We will look further into some of the best available sandal models from Teva that are ideal for Flat feet.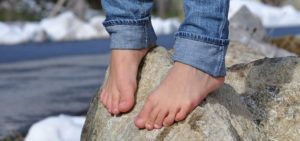 ---
How Flat Feet Affect You
Many individuals who have Flat Feet will find that it can influence their overall health and many aspects of their day;
Foot Pain – because Flat feet are basically the effects of a Fallen Arch, weight is not distributed evenly, and much pressure is placed on the heel, forefoot, or both when you walk and run. Thus flat feet can cause pain in not only your feet but your lower limbs, back, and joints in turn.
Plantar Fasciitis – The Condition Plantar Fasciitis, which causes a shape pain in your heels, is mainly prevalent in persons who have flat feet or fallen arches. Plantar Fasciitis occurs when the tendons from your arch to heel, called the Plantar Fascia, become overstretched and inflamed. This condition causes severe heel pain.
Overpronation – Persons who have flat feet also tend to Overpronate, which occurs when your ankles roll inward when you walk. In turn, this can lead to foot and ankle pain and a risk of injuries.
Spinal Alignment – Because your feet are the basis for your entire body and carry your weight, having flat feet and Overpronation will disturb the overall balance and weight distribution, causing many other issues. One of the main issues is an improper spinal alignment that can cause issues with your back, knees, and hips.
---
What to Look for in a Sandal for Flat Feet
If you have flat feet and are stiff and rigid, you will need a sandal that provides more soft and flexible cushioning with good arch support.
While, if you have Flat Feet that are more Flexible, you will need something more rigid in support with a firmer sole, arch support, and stability features.
Features for stability such as an Interior shank or contoured footbed are necessary if you have flat feet and tend to Over[ronate.
---
Features of a Good Sandal for Flat Feet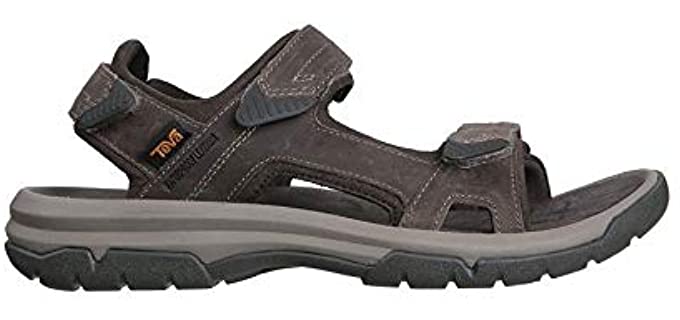 Teva Original Universal Styles – What I love about the Teva Original Universal design is the Molded EVA midsole with a heel cup and cookie arch that provides exceptional support and cushioning a flat foot type. The Upper is a soft Polyester webbing made from sustainable Repereve Polyester from recycled plastics that are fully adjustable with hook and loop closures. The Top Sole is also treated with Microban technology for the prevention of bacteria growth and dors. Furthermore, the durable rubber outsole provides good traction and stability on uneven terrains. This lightweight sandal is available in a huge range of colors and prints for your own personal styles.
The Teva Hurricane Style – The Teva Hurrican is available in two designs, the Hurricane XLT, an outdoor sandal, and the Hurrican Drift, which is designed for water use and sports. Let's start with the Drift, a very lightweight design with Full Injection Molded EVA in materials and adjustable hook and loop straps. The Hurrican XLT is a more durable and robust work quick drying Polyester webbing that is also adjustable with the hook and loop straps and an injection-molded back strap for easy grip. The robust EVA footbed is ideal for all-day adventures. Additionally, for better stability, particularly in flat feet, there is a Nylon shank in the sole. The rubber outsole has a durable design and lug tread for optimal grip and traction.
The Teva Tirra Design – The Teva Tirra is designed specifically for ladies with a Quick-dry Polyester upper consisting of Repreve Polyester Fibers and an easy adjustable Hook and Loop design. There are strappy and a closed-toe design available in the Tirra, as well as plenty of colors to choose from. The midsole consist of cushioning EVA with a Shoc-Pad heel and good arch support, ideal for Flat feet. A rugged Spider design outsole will ensure excellent stability and grip in wet conditions and on uneven surfaces.
The Teva Omnium Fisherman Style Sandal Range – The Teva Omnium is an all-purpose sandal with a closed Fisherman's style design and a protective rubber toe cap. The uppers are mesh and synthetic, as well as adjustable in fit. The footbed likewise has Shoc-Pad heel cushioning technology, which is perfect for flat feet. The footbed is a cushioned EVA treaded with Microban technology for odor and bacteria resistance. There is a Rugged Spider Rubber outsole for better grip on wet and slippery surfaces. The all-purpose Omnium delivers support, protection, and supreme stay-put-ness. The premium mesh upper keeps you cool and comfortable.
The Original Mush – The original Mush and Mush 2 from Teva refer to their plush cushioned footbed design that conforms to the shape of your feet. This sandal style is available in a Flip Flop and other designs for men and women. The Top Sole will conform to the shape of your feet, while the lightweight EVA midsole provides shock-absorbing cushioning, and the rubber outsole ensures excellent traction.
Teva Voya Sandals for Women – Similarly, the Voya strappy sandal range for women offers the comfort ao f a conforming and moldable cushioned MUSH footbed with lightweight EAV in the midsole. Additionally, this model has Mocroban zinc-based treated Top Sole and a variety of designs available. There are usually polyester upper straps or webbing and a closed heel or slide on style availability.
The Original Dorado Teva Sandal – The Dorado sandal is an earth-friendly and water-ready design sandal with Repreve sourced Polyester upper straps that are fully adjustable hook and loop straps and a plastic adjustable buckle closure. The Top Sole is treated with Microban zinc-based technology, and the midsole;e is EVA with a heel cup and arch support perfect for flat feet. Along with a durable rubber outsole, this is the perfect adventure sandal.
The Teva Terra F1 5 Universal for Men Range – The Teva terra F1 5 for men is an outdoor sports design sandal rugged and water-ready for all adventures. The Upper is a soft Polyester that is quick-drying and durable, with adjustable hook and loop straps. The Molded PU midsole cushioned and supports flat feet, while the TPU shank provides excellent stability on uneven surfaces. A Spider Rubber design outsole is rugged and ensures the best grip on wet and slippery surface areas.
---
Reviews: The Best Sandals for Flat Feet
These are some of our top choices in Teva sandal modesl for Flat Feet.
---
1
Casual Outdoor Sandals for Flat Feet
The Teva Verra and Teva Hudson are two ideal sandal models for Flat Feet.
The Hudson features a suede leather upper with a moisture-wicking mesh lining, while the Verra has recycled Polyester Upper webbings.
Both sandals have adjustable upper with hook and loop closures.
While the Hudson features a supportive Contoured EVA midsole, the Verra also has an EVA midsole with arch support and a Nylon stability shank.
The Hudson has a durable Durabrasion rubber outsole, and the Verra has a Spider Rubber outsole, which is ideal for wet conditions.\Both sandals are available in more color options.
---
2
Leather Flip Flop Sandal for Flat Feet
The Voya Flip Flop sandal has a Mush Topsole providing plush comfort and cushioning for Flat feet.
The Voya Flip has a Premium leather upper with a soft Microfiber lining for comfort.
There is a MUSH technology Top Sole for cushioning that conforms to your feet.
A lightweight EVA midsole provides firmer support and durability.
Furthermore, there are also quite a few color options available in the Voya Flip range.
---
3
Leather Casual Flat Feet Sandals
The Katavi and Elzada Lea from Teva are stylish and fashionable sandals for everyday wear if you have Flat Feet.
The Katavi has mixed materials in the upper, consisting of leather and textiles, while the lea has leather uppers from premium rich leather.
Both sandals offer full adjustability with hook and loop closures.
The footbed in both sandals contains EVA for cushioning and support, and the Lea has a Pu drop in the Footbed and microfiber cover.
The Katavi features a durable Durabrasion outsole, while the Lea has a Rubber outsole with a lug tread for grip.
---
4
Outdoor Sandals for Flat Feet
The Teva Hurrican XLT has some unique and functional technologies ideal for people who have flat feet.
Firstly, you can get the Teva Hurricane XLt is a large variety of color and print options for your personal preference.
The uppers are a quick-drying Repreve Polyetsre that is ethically sourced.
Ther is an Injection-molded strap that ends on the ends of the straps and adjustability, with hook and loop closures.
A robust Eva footbed ensures all-day cushioned comfort, and the Nylon shank provides optimal stability.
Furthermore, a durable rubber outsole ensures excellent traction and grip on various wet and slippery surfaces.
---
5
Flip Flop Sandal for Flat Feet
The Teva Mush Flip Flop is a very comfortable casual wearing sandal that conforms to the shape of your feet and provides plush comfort.
The Upper webbing consists of quick-drying, Repreve Polyester created from recycled plastic.
There is availability in quite a few different color options.
The Mush technology footbed will conform to the shape of your feet and provide plush cushioned comfort,
The Lightweight EVA midsole ensures durable comfort and shock absorbency.
---
6
Adjustable Sandals for Flat Feet
The Teva Original Universal truly is a Jack of All trades and ideal for all foot types, even flat feet.
The Uppers consist of Repreve Polyester that is water ready and quick drying.
The Uppers are fully adjustable with hook and loop closures and available in a large variety of colors and prints.
The Molded EVA midsole ensures superb support with a cookie arch and a heel cup. The Top Sole is treated with zinc-based Microban technology.
A durable rubber outsole provides good traction and durability on most surfaces.
---
Index Table: Top Rated Sandals for Flat Feet by Teva®
---
---