Flat feet mean that either one or both of your feet have a very low or completely flattened arch.
The best flat-foot slides will support the arch and provide cushioning to absorb impact.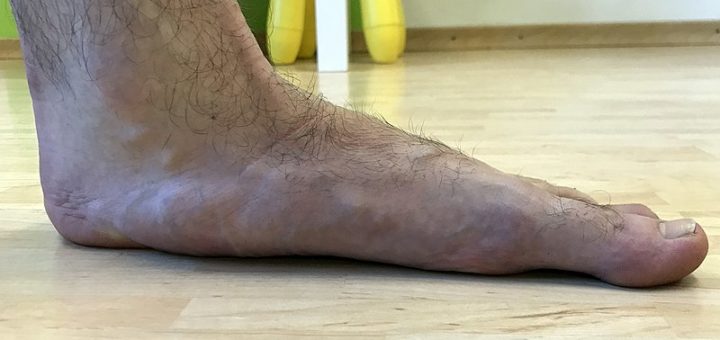 ---
---
Flat Feet Symptoms and Causes
Flat feet or flatfoot is a condition where your feet may have no arch, so when you stand, the pads of your feet will be completely flat on the ground.
All babies are born with flat feet. However, they develop an arch at around six years of age, but unfortunately, two out of ten children are left with flat feet.
In adults, the arches of their feet may collapse for a few reasons that lead to fallen arches that also cause flat feet.
You essentially do get a few different types of flat feet;
Fleixble – Flexible Flat feet are the most common type you can see the arches of when not standing. However, when you stand, they are completely flat. Flexible Flat feet usually come during childhood and teen years.
Rigid Flat Feet – Someone with rigid flat feet has no arches when standing or sitting down. This condition may develop during the teen years and worsen with age. It may also become painful and cause some issues later on.
Fallen Arches – Fallen arches are acquired in adults, mostly where the foot's arch unexpectedly drops and collapses. This can affect both feet or one foot.
Vertical Talus – Many babies may have a birth defect called vertical talus, where the talus bone in their ankles is in the wrong position, and the bottom of their feet may have a flat arch or rocking shape.
If not genetic or for a medical reason, flat feet may occur in overweight individuals during pregnancy and from unsupportive footwear.
Medical reasons include Achilles Tendon injuries, Cerebral palsy, Diabetes, Down Syndrome, broken bones, and Rheumatoid Arthritis.
Flat feet can generally cause symptoms such as leg cramps, muscle pain, and fatigue in your feet or legs.
---
How Flat feet Affect Your Overall Health
Many individuals with flat feet can find that it does affect some aspects of their health. Flat feet or fallen arches do not give your feet the support they need, and they do not offer any weight balance or shock absorbency,
This means that much impact is taken by the heels and balls of the feet, which can lead to issues such as Plantar Fasciitis and heel pain.
Flat feet can also cause issues with walking, such as Overpronation, which means your ankles roll inward excessively when you walk or run, leading to foot or ankle pain.
Your feet form the basis of your entire body, and having flat feet and overpronation mats cause problems with your spinal alignment and walking mechanics.
Flat feet can be treated by wearing arch-support footwear or orthotics to accommodate for the lack of arch support in your feet. You can use over-the-counter medications for pain and inflammation and see a doctor for more severe issues.
Slide sandals can provide much comfort and relief, especially after an injury or when your feet are tired and aching.
Slide sandals with a properly supportive footbed will provide a comfortable and supportive option when you need something casual to wear for the day.
---
Features of a Good Slide Sandal for Flat Feet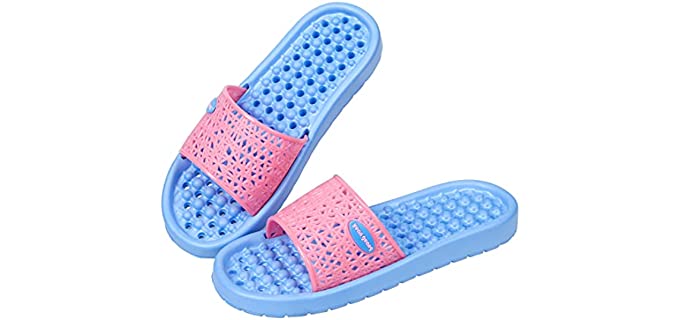 Options – Some colors and wider widths in specific models are available from our chosen range of slide sandals.
Uppers – Slide sandals have either single or double-strap uppers that are usually either leather, synthetic, or plastic. They can also have a Velcro or buckle design closure.
Cushioning and Support – As you will note from most of our choices, they all offer good support and cushioning. A contoured or anatomical-shaped footbed ensures good arch support and foot alignments. Furthermore, good cushioning such as Phylon, EVA, foam, or memory foam helps to absorb shock and provides comfort.
Outsole – Slide sandals may have a durable rubber outsole or an EVA outsole offering good grip and traction.
Adjustability – Some slide sandals have adjustable upper straps with Velcro or buckle closure.
---
Reviews: The Best Slide Sandals for Flat Feet
In our review section, you will find some of the most sought after slide sandals that, in particular, are ideal for Flat feet;
We hope you love the products we recommend!
We may collect a share of sales or other compensation from the links on this page.
---
1
Slide Sandals for Flat Feet
From Dr. Comfort, we have the Kelly and Connor slide sandals.
They offer proper support and a more anatomical fit for flat feet to support your arches and absorb impact.
The Connor and Kelly slides are available in more colors to choose your favorite.
They have leather uppers and a dual-density foam midsole for cushioning and support.
---
2
Slide Comfort Sandal for Flat Feet
The Reviva sandals from Crocs are perfect for flat feet.
They are Crosslite foam and very lightweight, which provides comfort and a foamy base for flat feet.
The footbed offers optimal support and cushioning for flat feet.
There are also more color options availabl from which you can choose.
---
3
Slide Sandal for Flat Feet
The Oofos slide sandal ranges are posted recovery sandals after exercise or injury.
They are soft and foamy, with plenty of cushioning.
The rocker design sole is ideal for taking pressure off your feet.
The sandal is available in a few more colors.
---
4
Memory Foam Slide for Flat Feet
From Nike, I have chosen the Benassi. Could you do it for flat feet?
They have very comfortable cushioning and a Phylon midsole.
The uppers strap is lined for comfort.
There are also quite a few color options available.
---
5
Sporty Slide Sandals for Flat Feet
The Under Armour Ignite sandal is fully cushioned and has an anatomical shape footbed for flat feet.
They are slide designed sandal that has synthetic and polyester lined uppers,
The EVA outsole is durable and shock-absorbing.
There are also more colors available.
---
6
Slide Sandals for Flat Feet
The Kiwi slides are a top favorite for flat feet.
They have a contoured and supportive footbed.
There is ample cushioning for shock absorbency and comfort.
The uppers are also adjustable fur a comfortable fit.
---
Index Table: Top Rated Slide Sandals for Flat Feet
---
---